Creating epic family vacations doesn't happen by accident. Lots of emotional labor goes into planning every successful vacation. I've taken my years of trial and error and bundled them all into this article. This is to help with your family vacation planning.
We believe every journey with your loved ones should be nothing short of epic. It's not just about the destinations, it's about crafting those unforgettable moments that become your family's treasured stories.
Skip to:
Why Choose an Epic Family Vacation?
Epic family vacations are the perfect backdrop for quality time with your loved ones. They're not just breaks from the daily grind, they are pages in your family memory books. These amazing trips offer a mix of adventure, relaxation, and the joy of experiencing something new together.
The best things in life aren't things, they're the experiences you share. Share with your family the thrill of amusement parks, the serenity of sandy beaches, and the excitement of exploring new cities like New York or San Francisco.
The Journey Begins Here
Setting out on your next family vacation is a great way to indulge in the great outdoors. It is an opportunity to dive into the hustle and bustle of big cities. PL, or unwind in the tranquil settings of small towns. From the lush landscapes of Yellowstone National Park to the sun-kissed shores of Myrtle Beach, there's an epic vacation waiting for every family.
Now, pack your bags, gather your family, and get ready for an adventure. This will have you reminiscing for years to come. Let's embark on this journey together and make your next family vacation the best one yet!
Why Epic Family Vacations Matter
Embarking on an epic family vacation is more than just a trip. it's an opportunity to forge unforgettable bonds and create lifelong memories. Let's dissect why these adventures are pivotal for every family.
The Heart of Family Bonding
Great place, grand adventure, and the joy of togetherness – epic family vacations encapsulate all of these and more.
Setting off on a journey with your family, is not just booking hotel room and picking seats on a plane. You're actually creating a mosaic of memories that will be cherished by every family member. These shared experiences are the lifeblood of family bonds, strengthening relationships in a way that no other activity can.
Beyond the Four Walls
So much of our lives revolves around what we are doing to entertain ourselves in the living room. This is also true to how we are feeding ourselves in the dining room. As well as to what work we are doing in the office. Daily life is all about life inside whereas vacations is about breaking free of that monotony.
From the majestic landscapes of Glacier National Park to the enchanting streets of European cities, the world is a classroom. This is where young explorers and adults alike learn and grow.
Life Experiences
Epic family vacations can happen over a long weekend or constantly over summer months. You can visit a classic dude ranch or one of the United States most visited national parks.
Whether it's the thrill of horseback riding in the rugged trails of the Grand Canyon or the laughter that comes from a simple ice cream treat in Central Park, these moments create lasting memories.
The Joy of Shared Discovery
There's no better place to witness the wonder in your children's eyes than in a new, unexplored destination. Everything you do on epic family vacations is intended to put a giant smile on your kids face.
From the sandy beaches of San Diego to the historical richness of destinations like the Lincoln Memorial, these experiences enrich the soul. If you've never been to the Hawaiian Islands or Niagara Falls, doing so with your children as motivation to finally make it happen is totally worth it.
The Legacy of Travel
Embarking on epic family vacations can become a legacy you build with every passport stamp and every trip mile. Instilling a love for travel early is a blessing and a privilege.
It's about passing on a love for travel, an open-minded approach to different cultures, and a zest for life that your family will carry forward.
So, why wait?
The amazing place for your next epic family vacation is just a horizon away.
Epic Family Vacations in North America
As we recognize the lasting impact and joy that epic family vacations can bring, let's journey into some of the most breathtaking and family-friendly destinations closer to home. Firstly, we'll explore the diverse and exciting options for epic family vacations in North America.
California Coastal Journeys for the Whole Family
Set out on a California road trip that promises the excitement of theme parks and the calm of beautiful beaches. Take a family selfie with the Golden Gate Bridge as your backdrop. Take a short walk to the yelping of seals at San Francisco's Pier 39. Let our young ones giggling on merry-go-rounds in sunny San Diego. This is the stuff of epic family vacations, where every stop is a beautiful place for family fun and square miles brings new discoveries.
Outdoors Adventure in Yellowstone's Natural Majesty
In the heart of North America lies Yellowstone National Park, a good place for an epic family vacation. There's a major thrill watching Old Faithful's eruption or the awe of seeing a bison herd roam free. It's a place where the great outdoors becomes your playground. It offers hiking trails, hot springs, and starry nights that transform a simple family trip into an extraordinary expedition.
City Charms and Urban Gems
From the bustling streets of New York City to the musical soul of New Orleans, North America's cities are a treasure trove for family adventures. Take a horseback ride through Central Park, or experience live music in the historic French Quarter. These cities are not just great spots for an epic family vacation. They're vibrant classrooms for young minds eager to learn and explore.
Canada's Calling – From Mountain Ranges to Cityscapes
Head north to Canada and find yourself amidst the towering peaks of Banff National Park or the urban allure of Toronto. A Canadian Rockies road trip is a journey through some of the most breathtaking scenery on the continent. It offers family adventures that range from skiing down pristine slopes to spotting wildlife in their natural habitat. Here, the epic family vacation becomes a panoramic experience.
Your North American Odyssey
Every visit to little towns, water parks, or golf courses in North America can contribute to the epic family vacation ever.
Whether it's the amusement parks of Southern California, the historic monuments of Washington, D.C., or the rugged beauty of the Colorado River, these destinations promise an epic family vacation that's rich in experiences and brimming with memories.
European Escapades Epic Family Vacations
Europe's Living Museums
Europe's tapestry of countries offers a rich palette for an epic family vacations. Walk the cobblestone streets of Rome, where ancient history stands tall amidst modern bustle. It offers a beautiful experience that brings textbooks to life. In London, take a short walk through centuries at the Tower of London or marvel at the Crown Jewels. These aren't just trips, they're epic family vacations that educate and excite in equal measure.
Christmas Markets and More
The magic and sparkle of European Christmas markets is a festive treat that makes for an epic family vacation. Sip hot chocolate in the shadow of Germany's cathedrals or skate on an ice rink in the heart of Vienna. These markets are not just places to shop. They are wonderlands that transform a family journey into a winter fairy tale. Its weaving memories sure to warm your and your little kids hearts for years to come.
Adventure Trails with Kids
Think backpacking is just for solo travelers? Think again. Europe's diverse landscapes make it an epic family vacation spot for those wanting to bond over shared adventures.
From the green hills of Ireland to the sun-soaked shores of Greece, backpacking Europe can be tailored to suit families with young children. It offers a great way to see the best places while spending quality time together.
Road Tripping
A road trip through Ireland's rolling hills, France's lavender fields, or along Italy's Amalfi Coast offers an unparalleled family travel experience. With easy access to stunning landscapes, quaint towns, and historical sites, a European road trip is a perfect recipe for an epic family vacation. It's a chance for the family to forge a path filled with discovery and togetherness.
Europe Awaits
Europe's blend of history, culture, and natural beauty makes it a bucket list destination for an epic family vacation.
Whether it's marveling at the Northern Lights in Iceland or enjoying the sunny, sandy beaches of Spain, Europe is a continent that promises an epic family vacations, brimming with experiences that cater to every age and interest.
Asian Adventures Beyond the Horizon
Japan's Family Delights
Embark on an epic family vacation to Japan, where ancient traditions blend seamlessly with futuristic excitement. Witness the wonderful outdoors come alive in the serene Arashiyama Bamboo Grove. Watch your kids' eyes widen in wonder at the dazzling neon lights of Tokyo. Japan is not just a dream destination. It's an all-encompassing experience that stands as one of the best family vacations. Japan is rich in cultural immersion and fun activities for the entire family.
Ethical Animal Encounters in Thailand and Borneo
For an epic family vacation that teaches compassion and conservation, visit an ethical elephant sanctuary in Thailand.
It's an experience that allows for close encounters with majestic creatures while ensuring their well-being. In Borneo, witness orangutans in their natural habitat. This is a perfect experience that combines adventure with education. Something like this is a best place for little ones and adults alike to learn and connect with nature.
Bali's Family Paradise
The island of Bali offers more than just beautiful beaches. It's an epic family vacation destination where every family member can find joy.
Engage in water sports, explore lush rice terraces, or indulge in a family spa day. Bali is the ideal place for families looking to combine relaxation with adventure. This make it one of the best places for a memorable family adventure.
Discovering Jordan and the UAE
Take your family through the deserts of Jordan and the United Arab Emirates, where history and luxury coexist. Visit Petra, an archaeological wonder, or feel the thrill of a desert safari in Dubai. These destinations offer a blend of learning and luxury. It makes them great spots for those looking to add a touch of opulence to their epic family vacations.
Asia's Endless Wonders
From the hustle and bustle of the cities to the tranquility of the beaches and the excitement of wildlife sanctuaries, Asia is a continent that beckons families to discover its many wonders. As one of the best family vacation destinations, it offers an array of experiences that promise to make your family vacation an epic adventure in every sense of the word.
South and Central American Treasures
Costa Rica
Dive into the heart of Central America with an epic family vacation to Costa Rica. Here, the amazing outdoors beckons with its lush rainforests, active volcanoes, and rich wildlife. It's a nice place for families who crave a mix of adventure and relaxation. Zip-lining over the canopy or spotting a sloth in the wild, Costa Rica offers endless fun activities. It is a fantastic spot for families to spend quality time together.
From Machu Picchu to the Amazon
Step back in time with a family trip to Machu Picchu. This is an ancient wonder that captivates every visitor, young or old.
Extend your adventure into the Amazon Rainforest for an epic family vacation filled with exploration and discovery. Peru is not just a destination, it's a journey through history and nature. It promises a wonderful experience and is one of the best family vacation spots for the culturally curious. Explore the delights of South America with your family. Create good times in family-friendly resort or in best hotels and various locales across the continent.
Galapagos Islands
The Galapagos Islands offer an unparalleled experience for families to witness evolution in motion. It's a place where you can swim with sea lions and walk among giant tortoises, making it one of the most unique and best family vacation destinations. An epic family vacation here means daily nature lessons and an unforgettable adventure in a pristine natural habitat.
Embrace the Adventure in South and Central America
Whether it's the call of the wild in Costa Rica, the historical allure of Peru, or the natural wonders of the Galapagos, South and Central America are filled with destinations that promise an epic family vacation.
These places are not just stops on a map. This is a collection of experiences that offer something for the entire family. They ensure a great time is had by all, from the youngest kids to the oldest adults.
Epic Family Vacations Down Under
New Zealand's Epic Scenery
Embark on an epic family vacation with a New Zealand trip, where the scenic routes lead to adventures as grand as the landscapes. With easy access to the best outdoors, it's a great place for the family to immerse themselves in activities like hiking and kayaking. This journey offers young kids and adults alike a chance to experience the thrill of 'Middle-earth', making it one of the best family vacation spots for those who love epic tales and nature.
Australia's Coastal Wonders
Experience the diverse beauty of Australia, from Cairns to Sydney. This epic family vacation offers a blend of golden beaches, vibrant cities, and the best experience of the Great Barrier Reef. It's a better way to introduce the whole family to the joys of the outdoors and the relaxed Aussie lifestyle, making it one of the best places to create cherished family memories.
Australia's Hidden Gems
Venture off the beaten path and discover the hidden gems of Australia.
Whether it's the rugged beauty of Tasmania or the cultural richness of the Maori villages in New Zealand, these destinations offer a remarkable experience that can turn any family trip into an epic family vacation.
These are the places where family travel becomes an adventure in discovery, offering something new and exciting around every corner.
Australia Awaits Your Family
From the epic natural wonders of New Zealand to the sun-soaked coasts of Australia, Australia offers a range of experiences and the best way that can turn any trip into the best family vacation.
These destinations are not just spots on a map, they're an invitation to explore, learn, and create memories that will last a lifetime, ensuring your family's next vacation is truly epic.
United State's Greatest Family Playgrounds
Glacier National Park
Glacier National Park, located in Montana's Rocky Mountains, is an exceptional destination for an epic family vacation. With over 700 miles of trails, it's a hiker's paradise, offering routes that range from the easy strolls around stunning Lake McDonald to more challenging hikes like the Grinnell Glacier trail. Families can enjoy the chance to spot diverse wildlife, from mountain goats to grizzly bears, in their natural environment. The park's dramatic landscapes, crowned by rugged peaks and interspersed with pristine lakes, provide a spectacular backdrop for a memorable family adventure.
Yosemite National Park
Yosemite's towering waterfalls, ancient giant sequoias, and breathtaking valley views make it one of the best family vacation destinations. It offers a great way to explore the amazing outdoors, with activities suitable for all ages, from rock climbing for the adventurous to gentle nature walks for those seeking a peaceful retreat. It's an awesome place to create lasting family memories in one of America's most iconic landscapes.
Grand Canyon National Park
An epic family vacation awaits at the Grand Canyon, where you can marvel at the colorful vistas carved out over millions of years. Take your family along the South Rim, enjoy a mule ride down into the canyon, or for an unforgettable experience, venture out on the Skywalk over the canyon's edge. This natural wonder is a great spot for families to experience the grandeur of the majestic outdoors.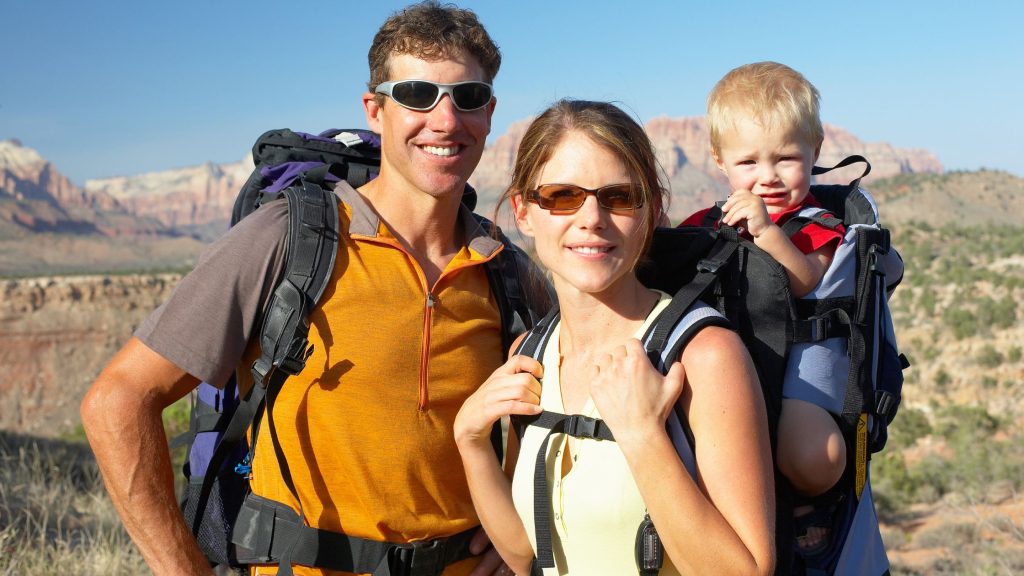 Zion National Park
For families seeking both adventure and relaxation, Zion National Park offers a extraordinary experience with its stunning red rock formations and serene river valleys.
Young ones will love splashing in the Virgin River, while older family members enjoy the challenge of hiking The Narrows.
Zion is not just a park; it's a great place for a family to connect with nature and with each other.
Acadia National Park
Nestled on the coast of Maine, Acadia National Park offers a blend of sea and mountain that is rare and captivating.
With carriage roads ideal for family biking and trails leading to lighthouses and rocky beaches, it's a beautiful place for families to enjoy outdoors. The park's Cadillac Mountain provides a stunning backdrop for watching the sunrise or sunset together, making every moment an epic part of your family vacation.
All-Inclusive Resorts for Epic Family Vacations
All-Inclusive Resorts in the U.S.
When it comes to epic family vacations, all-inclusive resorts in the U.S. provide the perfect blend of relaxation and fun without the stress of planning every detail. Imagine a family vacation where meals, activities, and entertainment are all taken care of – from the sun-kissed beaches of Florida to the rugged charm of Colorado ranches. Places like the Walt Disney World Resort in Florida not only promise magical experiences for the little ones but also provide a great spot for parents to unwind.
Mexico and the Caribbean
Venture a little further to Mexico and the Caribbean for an epic family vacation at all-inclusive resorts where the ocean is your backyard and the beach, a playground for all ages. These family-friendly resorts offer a plethora of activities, from water sports in Cancun to cultural experiences in the Dominican Republic, ensuring that every family member has the time of their lives.
Adventure and Ease
For families that love adventure but also appreciate the ease of an all-inclusive vacation, resorts in places like Costa Rica and Belize offer the best of both worlds. You can find yourself zip-lining through the rainforest one day and lounging by the pool the next. These destinations offer a rare experience that combines the thrill of the great outdoors with the comfort of an all-inclusive stay, making them some of the best family vacation spots.
All-Inclusive, All Amazing
All-inclusive resorts are a fantastic way to enjoy an epic family vacation without the hassle of endless planning. Whether it's enjoying the luxury of a Caribbean beach resort or the adventure of a ranch in the American West, these vacations offer an effortless way to create memories that the entire family will treasure for a lifetime.
Planning Tips for Your Most Epic Family Vacation
Expert Planning Tips
Epic family vacations start with smart planning, and we're here to ensure your next trip is as stress-free as it is thrilling.
Begin by choosing destinations that promise a great time for every family member, from theme parks for the kids to cultural hubs for the adults.
Research the best family vacation destinations and consider the best times to visit to ensure you're met with the perfect mix of weather and activities.
Booking the Trip
Your two biggest expenses will be hotel accommodations and airfare. If you need help with affordability make sure you've researched loyalty programs for hotels and the best credit cards for travel rewards.
Deciding to take epic family vacations is a financial commitment, but I believe it's well worth the investment. Nobody can convince me that their kid understands more about WW2 from a textbook and classroom than my kid who's visited an internment camp in California, museum and bomb site in Hiroshima, and a tomb of an unknown warrior in the United Kingdom. There's just no comparison between book learning and really feeling and experiencing the lessons.
Balancing Adventure and Relaxation
Crafting the ideal family itinerary is about striking the right balance.
Mix high-energy activities like a visit to Universal Studios or a day exploring the grandeur of the Grand Canyon, with downtime at serene beaches or leisurely walks through historic neighborhoods.
The ideal place for your family might include a mix of amusement parks, natural parks, and unique local attractions.
Smart Packing
Packing can make or break your trip, so keep it simple and smart.
Focus on the essentials and remember that the best family vacations are the ones where you're not weighed down by excess luggage.
Pack comfortable shoes for long walks, layerable clothing for variable climates, and a few fun items to keep young ones entertained during travel.
Financial Tips for Family Travel
Epic family vacations don't have to break the bank. Look for the best family vacation spots that offer fun things to do at little to no cost, like public beaches, state parks, and free museums.
Consider booking accommodations with kitchen facilities to save on dining out, and keep an eye out for family discounts and deals.
The Start of Something Wonderful
The best family vacations are within reach with a bit of forethought and creativity. By incorporating these planning tips, you're well on your way to creating an epic family vacation that will be talked about for decades. Remember, the most cherished family moments come from time spent together, discovering new places, and making new stories.
The Journey Awaits for Your Most Epic Family Vacation
Reflecting on Unforgettable Family Moments
As we wrap up our journey through the planning stages of an epic family vacation, let's take a moment to envision the laughter, the excitement, and the shared wonder that awaits. Your next family vacation is not just a break from routine, it's a chapter in your family's story that will be told for years to come.
The World is Your Playground
We may be dreaming of the great outdoors, the thrill of amusement parks, or the serenity of beautiful beaches. Just remember that the best family vacations are those that fit your family's unique style. The sunny shores to the majestic landscapes of National Parks, there's an epic vacation waiting for every family.
Making Every Vacation Epic
The key to an epic family vacation lies in enjoying the journey as much as the destination. It's about the quality time spent together. This is true even when it is only navigating the streets of a city and taking a short walk through a certain place. Also true when exploring the natural wonders of different places.
Your Next Adventure Starts Now
So, what are you waiting for? Begin planning, packing, and setting out on your family's most epic vacation yet. Every destination promises a unique experience, creating lifelong memories. The perfect place for your next grand adventure is just a decision away. Get ready to make your next family vacation the best one yet!
FAQ: Epic Family Vacations