As a full-time traveler I am often asked what are the best credit cards for nomads. I want to be clear, the best credit card is the one that will accumulate the most spendable points for your lifestyle.
The credit cards I've personally chosen are based on a variety of factors such as my spending habits, travel preferences, and credit profile.
Credit card points deserve thought and strategy because they are a valuable currency. Instead of spending cash money for your nomad travel expenses, you can spend credit card points. For that reason, your points act as currency for travel, while you retain cash currency in your bank account.
Earning Points
Selecting the right credit card is not about getting the same card your friend has. Your unique spending habits should be the primary deciding factor as you select which credit card to keep in your wallet.
Large attractive sign-up bonuses are one time marketing promotions. High starting bonuses can be a fantastic addition to your point accumulation plan, but it won't be the only element to consider.
Each credit card has unique categories which allow you to earn points more quickly. It would be a mistake to think that credit cards for nomads need to earn higher point accumulation on the travel category. If I'm honest, because I use my points so frequently, I don't spend very much on travel. Instead, having a points multiplier on restaurants, supermarkets, or streaming services is far more important for my spending habits.
Spending Points
Influencers have a strong emphasis on how to earn a maximum number of points via credit cards. However, the other side of the equation is how to wisely spend your accumulated points. Spending points wisely is quite possibly even more important than your point accumulation strategy.
My personal strategy includes having points available under the American Express, Citi, and Chase brands. The transfer partners from those three companies allow you to get free seats in most planes on the planet.
Before you're even considering booking a trip using points, you should start to get familiar with how many points theoretical vacations would cost. Plan out fantasy routes leaving from various airports, look at flexible date ranges, and consider less common destinations.
I'm always looking for business or first class seats for the low low price of 50,000 miles. It's tricky to find four seats on the same plane for such a low cost, but once in a while I hit the jackpot. Keep your options open to flexible dates and locations for the best opportunities for a deal.
Credit Cards for Nomads Key Points
International nomads should absolutely never consider a card with a foreign transaction fee. In fact, putting expenses on a credit card and if prompted, selecting to pay in local currency is often the most cost effective way to pay for things. However, the currency conversion savings would go out the window if your card had foreign transaction fees.
Smaller international businesses are more likely to be selective about which brand of credit card they accept. For that reason it is very beneficial to not get stuck with only one brand of credit card. When I say brand of credit card I mean, American Express, Visa, Mastercard, or Discover. Of those brands I carry two American Express, one Visa, and one Mastercard.
Always use the card which will multiply your points. A points multiplier simply means instead of earning one point per dollar spent, a particular card will offer 2 points or 3 points or 4 points per dollar spent on a certain category. Memorize which card is best to be used for each spending category.
Using Credit Cards Wisely
It wouldn't be right for me to write a credit card article without clarifying that accumulating points is only cost effective if you aren't paying interest. These travel point strategies should not be taken as advice to rack up credit card debt.
If you are using credit cards without paying them off each month, I highly suggest you stop using your credit cards. Credit card points are amazing, but not at the expense of getting into debt.
My Favorite 4 Credit Cards
In case you aren't familiar with my lifestyle, I'll give you a little run down. My family consists of two adults and two children. We are minimalists and slowmads residing currently in Tokyo Japan.
Our monthly spend is around $5,000 on credit cards. Both my husband and I hover between 765 to 780 credit score. Neither of us has ever hit the coveted 800 credit score. My husband has 12 credit cards and I have seven credit cards. Both of us have significantly over $100k in available credit.
Below you will find the 4 most used credit cards in our wallets. Take the advice that works for your lifestyle and ignore the bits that don't apply to you. Travel hacking for nomads is as unique as a fingerprint. Your digital nomad life will be greatly enhanced by having the proper credit card lineup for your unique adventure.
I keep this card in my wallet to pay at any restaurant. As you earn points within the American Express ecosystem, you will be earning currency called Membership Rewards®.
You earn 4X points for worldwide restaurant purchases. Eating out is my largest expense aside from rent, so this card accounts for a large portion of my points accumulation.
There is a $250 annual fee for this card. Regardless of the fee it is still my most used card and well worth the price. If you are someone who lives in the United States, there are two big ways to chip away at the $250 annual fee. Firstly, you get $10 per month towards either Uber rides or UberEats expenses. Secondly, you get $10 per month towards GrubHub expenses. Both of those credits are valid only for transactions in the United States.
I keep this card in my wallet because having a Visa backup is a must when a restaurant doesn't take my American Express. Earning points with Chase accumulates a currency called Ultimate Rewards. Additionally, I love getting 3X points on Hulu, Netflix, and Apple Music. The 3X multiple is offered on other streaming services, but those are the only three I personally pay for.
There is a small $95 annual fee. Half of that fee is wiped out with a $50 credit towards travel booked through the Chase portal. All that requires is to book one hotel per year through Chase to realize that benefit. Another loved benefit of this card for those living in Lyft operation areas is the 5X multiplier on your dollars spent with that company.
Again, if you regularly go to the United States there are a couple key benefits you will enjoy with this card. You will receive complimentary membership to DashPass level service on DoorDash as long as you sign up with and keep your Chase as the default payment. Additionally, you will get a $10 monthly credit towards GoPuff which delivers groceries, food, and alcohol in select markets.
To round out my credit card from every company collection is this MasterCard. The currency you earn through Citi is called Thank You points. I keep this card to accumulate 3X points for groceries. If I had a car, the other benefit is 3X points on gas.
This card comes with a $95 annual fee. In order to offset the fee you are eligible to get $100 off of a $500+ hotel stay if booked through the ThankYou point portal.
You could also consider using this card as your restaurant back up when American Express is not accepted. Citi Premier has a 3X multiplier on restaurants. At this time I'm working on building my Ultimate Rewards points so I use Chase as my back up at restaurants, but after I hit my point target I'll switch to using this Citi card as my restaurant back up card.
The final card I keep in my wallet is often referred to among travel circles as the coupon book credit card. This card isn't ideal for very many purchases, but in terms of credit cards for nomads, it's essential in my book.
I'll start with the elephant in the room, it has a $695 annual fee. Most people's eyes pop out and write this card off as soon as they hear about the high fee. What do you get for that fee? A LOT!
Why I Still Love American Express Business Platinum
Moving through airports as a digital nomad is much more pleasant with Clear ($189 value), Global Entry ($100 value), and TSA Pre-check, all of which are paid for in full via direct statement credits. Relax in airports with Centurion lounges (priceless), you'll get to sit with the bougie people. Plus, you get complimentary membership to Priority Pass ($429 value) which opens the door to thousands of other lounges around the globe. You get $200 direct expense credit towards airline incidentals, which I used on overweight bag fees when I moved to Japan. Those expenses alone account for $918 in benefits.
Sleeping at a Hilton or Marriott is a little more pleasant with automatic Gold status because of your card. If you maintain a cellular plan in the United States, you get a $10 per month direct credit towards your bill. Car rental discounts and upgrades are offered for Avis, Hertz, and National. There is a free car rental day offered through National Emerald Club. Additional direct credit opportunities include $400 towards Dell, $360 for Indeed, and $150 for Adobe.
As you can see, there are a lot of perks. But, and this is a huge but, this is not a card you pull out of your wallet to pay for normal transactions. You keep this card in your wallet simply for the access to the Centurion lounges or direct credit opportunities.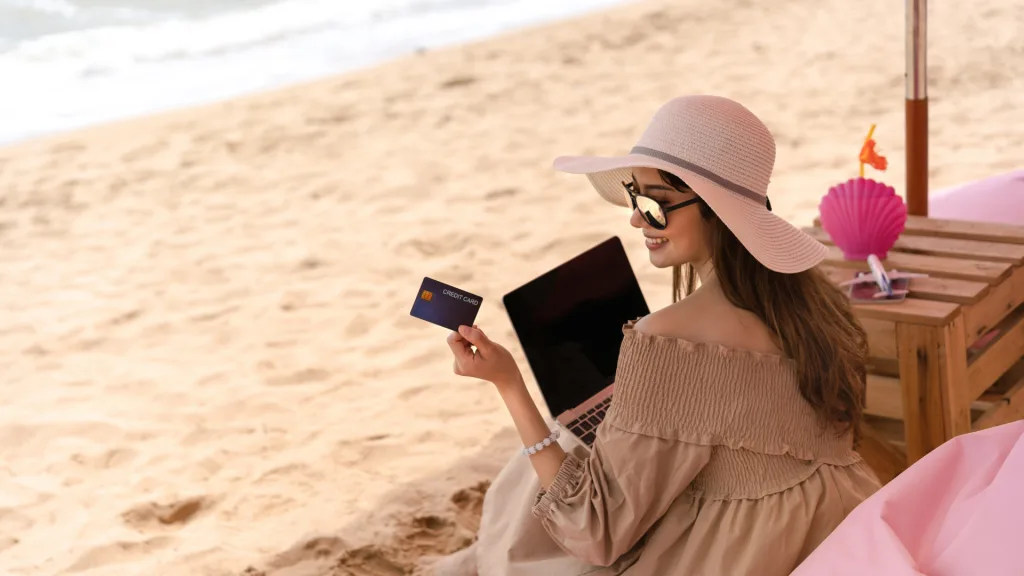 Worst Credit Cards for Nomads
Almost everyone I know thinks they are rocking the points game with their co-branded credit card. What's a co-branded credit card? A Delta American Express or Chase Marriott Visa are examples of co-branded credit cards. I get it, you like Delta and you love Marriott, me too!
The reason co-branded credit cards are the worst credit cards for nomads is because they lock your points up with a particular company. It's hard to foresee your travel needs until you become a digital nomad, but Delta miles are not going to help get you from Cairo to Bangkok. Full-time travel will find you searching for flights from random corners of the globe. Having a diverse collection of airline partners to choose from is crucial.
Later in your travel hacking for nomads journey you might expand to co-branded cards. If you do decide to add co-branded cards to your credit card collection, do it strategically. The only purchases you would put on those cards are charges from that co-branded company. Your Marriott card would only be used for Marriott charges. Your Delta card would only be used for Delta charges. Get the card when there is a high sign-up offer, right before you need to spend money on that brand.