Hey! If we haven't met yet, I'm Veronica. My family has been slow traveling the world for three years now. Read this guide so you can fly the best airlines for kids.
We have traveled on budget airlines like Air India and RyanAir all the way to bougie situations like DeltaOne from New York to Paris.
Learn from our years of experience so you can make an excellent choice at the time of booking instead of regretting the purchase.
Skip to:
The Importance of Choosing Kid-Friendly Airlines
We have always pushed back on the idea that traveling with young children is out of the question. Sure, we do things differently, but we still take the trip.
In order to have a great experience you will carefully select flight times for a smooth travel day. Additionally, you'll even select airports based on the distance from your house.
But, on top of all of that, it's essential to select an airline that understands and accommodates families traveling with children.
Air Travel With Kids
How do you even define the concept of kid-friendly airlines?
It's probably a lot easier to explain all the ways which an airline makes itself extremely un-kid friendly.
Airlines are making it increasingly more difficult or costly to pick your own seat on the plane. I call it the sitting together tax. As if some stranger wants to sit next to your kid for a long flight, and more importantly, putting strangers next to unaccompanied minors unnecessarily is dangerous.
After a while on a long haul flights, even the most prepared moms snack supply will be depleted. Some airlines don't provide kids' meals and even good eaters can struggle with the adult meal boxes.
Anyway, by the end of this, our goal is to help you make the best-informed decision for your family's next journey and avoid worst airlines.
Kid-Friendly Airlines All Have One Thing In Common
What sets apart the most kid-friendly airlines from the companies you vow to never fly again?
Let's unravel this essential characteristic that defines the best airlines for kids.
A Family-Centric Approach
Kid-friendly airlines prioritize the needs and comfort of families without an additional fee.
From the moment reserve your economy class window seat to the time you reach your destination, these airlines ensure that your family can stay together.
This family-centric approach is what sets them apart and lands them on our list of the best airlines for kids.
So, which airlines embody this approach, and why should you consider them for your family adventures?
Get Ready to Travel
Join us as we explore the top four airlines that have mastered the art of making family travel much less stressful.
Let's dive in!
The 4 Best Airlines For Kids
When it comes to family travel, some airlines stand out for their unwavering dedication to creating a memorable journey for both parents and children. These airlines recognize that flying with young ones isn't just about getting from point A to point B; it's about the entire experience.
Now that you know the biggest red flags for anti-kid airlines, it's time to introduce you to the stars of the show—the four best airlines for kids and families.
These airlines have consistently earned their reputation for going above and beyond to make family travel a breeze.
We'll dive deeper into each of these airlines, exploring their pros and cons so that you can make an informed decision for your family's next adventure. Whether you're a nomadic family or a first time flyer with kids, I would fly all these airlines again.
So, let's get started on our journey through the world of most family-friendly airlines with JetBlue, Alaska Airlines, Southwest Airlines, and Frontier Airlines.
1. JetBlue – Best Overall Airline for Kids and Families (U.S. and International Combined)
JetBlue takes the top spot as the best overall airline for families, whether you're flying within the U.S. or embarking on an international adventure.
With a track record of exceptional service, spacious seating, and a wide range of amenities for kids, JetBlue ensures your family travels in style and comfort.
Pros of JetBlue for Families:
Extensive and Free In-Flight Entertainment: JetBlue is renowned for its in-flight entertainment options, including video games, TV shows, cartoon network, movies, and more.
Comfortable Seating: Spacious seats and a reputation for customer comfort make JetBlue a great choice for families.
Special Services for Kids: JetBlue provides special services and kid-friendly options, amenities for children, including activity packs with a coloring book.
Diverse Route Network: JetBlue serves both domestic and international destinations, offering flexibility for family vacations.
Free Seat Reservations: While you can't pick the exact seat for free, children under 13 will automatically be seated next to a parent.
Cons of JetBlue for Families:
Limited First Class Options: JetBlue's first-class offerings are somewhat limited compared to other carriers.
2. Alaska Airlines – Best Overall Airline for Families (U.S. Only)
If you're planning domestic travel within the United States, look no further than Alaska Airlines. For domestic flights within the United States this is our overall top pick.
Known for its family-friendly policies, Alaska Airlines offers a host of perks, including early boarding, accommodating seating options, and a warm, welcoming atmosphere for families of all sizes.
Pros of Alaska Airlines for Families:
Early Boarding: Families with children under the age of two are invited to board early, providing extra time to settle in.
Comprehensive Domestic Network: Alaska Airlines covers a wide range of domestic destinations, making it convenient for U.S. travel.
Friendly Staff: The airline is known for its friendly and accommodating flight attendants and cabin crew, which can make all the difference on a family trip.
Automatic Parent Partner: Alaska Airlines assigns all children 13 and younger to sit next to their parent at no additional cost.
Cons of Alaska Airlines for Families:
Limited International Routes: If you're planning international travel beyond North America, you to need to consider alternative airlines.
3. Delta Airlines – Best Airline for Families Who Travel a Lot
If your family is always on the go, Delta Airlines is your top choice. Delta excels in providing a family-friendly flying experience, especially for earning elite status during their travels.
Delta's comprehensive services and extensive route network make it an excellent choice for hassle-free journeys.
Pros of Delta Airlines for Families Who Travel a Lot:
Extensive Route Network: Delta offers an extensive network of domestic and international destinations, perfect for families with diverse travel preferences.
Premium Cabin Options: If you seek a touch of luxury, Delta's DeltaOne pods, business class, and first-class cabins provide a comfortable and refined flying experience.
Kid-Friendly Amenities: Delta caters to young travelers with in-flight entertainment, activity packs, and kid-friendly snacks in the back of the plane on long international flights.
Dedicated Family Check-In: Enjoy a smooth check-in process with a dedicated family check-in area at select airports.
Cons of Delta Airlines for Families Who Travel a Lot:
Ticket Prices: While Delta provides a premium experience, it may come at a higher cost compared to some other carriers.
Change Fees: Be aware of potential change fees, so it's essential to finalize your travel plans before booking.
Family Seat Assignments: The Delta Air Lines policy is much looser than other airlines, making the basic fare ticket not the ideal choice for families.
4. RyanAir – Best Cheap Airline for Families
For budget-conscious families, Ryanair is your go-to option for affordable family travel in Europe. Despite being a budget airline, Ryanair doesn't compromise on providing a family-friendly experience. With options like free seat selection for children 11 and under, Ryanair offers great value for family vacations.
When considering Ryanair, remember that while they may offer cost savings upfront, you'll need to weigh the additional fees and potential trade-offs carefully.
Pros of Ryanair for Families:
Budget-Friendly Fares: Ryanair is known for its budget-friendly pricing, making it an attractive option for families on a tight budget.
Free Seat Selection: Ryanair ensures your children up to 11 years of age can sit with a parent for no extra charge.
Diverse Destinations: The airline serves Europe and a small bit of northern Africa.
Cons of Ryanair for Families:
A La Carte Services: Ryanair charges for many amenities, including in flight food and drinks and carry-on bags, which can add up quickly.
Limited In-Flight Amenities: Expect fewer in-flight entertainment options and fee based cabin service.
Factors that Influence What Airline Is Best for Your Traveling Family
When it comes to selecting the perfect airline for your family, it's not a one-size-fits-all situation.
Several factors come into play, and understanding them can help you make the best choice.
Let's delve into the key considerations that should influence your decision: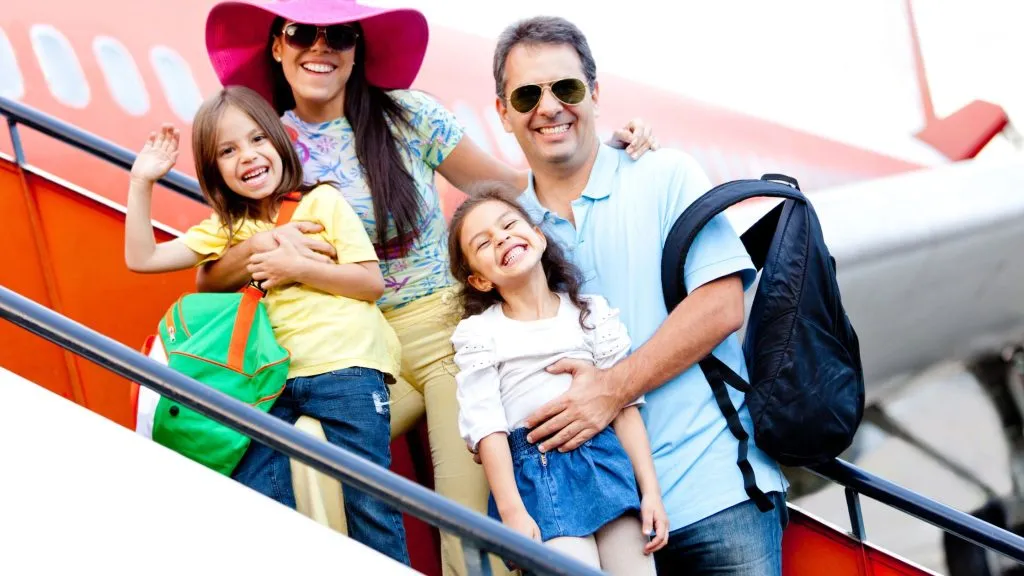 1. Where is Your Home Base?
Your starting point matters more than you might think. If you reside in a major city or near a hub airport, you'll likely have access to a wider range of airlines and flight options.
On the other hand, if you live in a smaller town or a region with limited airport choices, your airline options may be more restricted.
You may have a choice between two reasonably close airports. If one is hub to Virgin Atlantic while the other has a heavy American Airlines presence, you'll need to decide which airline partners with a kid-friendly airline for future best flight options. In these examples Virgin Atlantic shares flight services with Delta, whereas American Airlines is in the OneWorld alliance with Alaska Airlines.
2. Where Do You Regularly Travel To?
Consider your typical travel destinations. Are you jetting off to international locales or mostly exploring domestic destinations?
Some airlines specialize in being international carriers and offer services tailored to long-haul flights, while others excel at serving domestic travelers.
Positioning yourself to be earning miles and status towards a dream vacation destination is important. United Airlines won't get you to your bucket list New Zealand trip, but their Star Alliance partner Air New Zealand can. Be strategic about which companies you align with so that future upgrade and points perks benefit you.
3. How Old are Your Kids?
Age plays a significant role in your choice of airline. For infants and toddlers, airlines with spacious seating and amenities like bassinets can be a game-changer.
Older kids may appreciate airlines with a wide range of entertainment options to keep them engaged during the flight.
Children under two generally qualify as lap infants and can either be free or you just need to pay taxes and an infant fee. For families on a budget avoiding the extra fees of an entire other seat can be a game changer.
4. Do You Have Airline Status?
Frequent travelers often enjoy elite status with certain airlines, which can provide a host of benefits such as priority boarding, complimentary seat upgrades, free checked baggage allowance, and access to airport lounges.
If you have such status with an airline, it might make sense to stick with that carrier to maximize your perks either immediately or down the road.
By considering these factors, you can narrow down your options and find the airline that aligns best with your family's needs and preferences.
Useful Tips for Traveling with Kids
Traveling with kids can be both exciting and challenging, but with the right strategies and preparation, you can make your family trips more enjoyable and stress-free. Here are some useful tips for traveling with kids:
Plan Ahead
Book Early: Secure your flights and accommodations well in advance since seats are on a first come first-served basis.
Create an Itinerary: Plan your daily activities and have a backup plan in case of unexpected changes.
Pack Wisely: Make a checklist of essential items like clothing, medications, entertainment for the kids including activity books and soft toys, and diaper bag for small children
Choose Kid-Friendly Airlines
Refer to Our Guide: Use our guide to select the best airlines for kids and families that cater to your specific needs.
Consider Direct Flights: Whenever possible, opt for nonstop flights to minimize travel time and disruptions.
En Route
Limit Your Stuff: On your way to the check-in desks everyone should be able to manage their own possessions so that nobody has their hands full.
Travel Version: Try to bring travel friendly versions such as a collapsible stroller and inflatable infant seats.
Entertainment is Key
Bring Activities: Pack coloring books, puzzles, and other quiet activities to keep kids occupied during travel.
Download Apps and Movies: Load up tablets or smartphones with kid-friendly apps and movies for in-flight entertainment.
Audiobooks and Music: Consider audio books and music playlists to make long journeys more enjoyable.
Snacks and Hydration
Healthy Snacks: Pack a variety of healthy, kid-friendly snacks and special meals to curb hunger and avoid the need for frequent stops.
Feeding Babies: Bringing breast milk and baby food is a TSA liquid exception, but arrive early for extra security time.
Stay Hydrated: Keep water bottles handy to ensure everyone stays hydrated throughout the trip.
Safety First
Car Seat and Booster Seat: Depending on your child's age and size, bring appropriate car seats or booster seats.
First Aid Kit: Carry a basic first aid kit with essentials like band-aids, antiseptic wipes, and pain relievers.
Sleep Comfort
Getting Kids to Sleep: Invest in travel beds, blankets and plush toys to help kids sleep better during long journeys.
Maintain Sleep Schedule: Try to stick to your child's regular sleep schedule as closely as possible.
Stay Informed
Check for Travel Advisories: Stay updated on any travel advisories or restrictions related to your destination.
Know Airline Policies: Familiarize yourself with airline policies regarding carry-on bag allowance, family boarding, and complimentary stroller service.
Be Patient and Flexible
Expect the Unexpected: Traveling with kids can be unpredictable, so remain patient and adaptable to changes.
Take Breaks: Plan breaks during road trips to let kids stretch their legs and release pent-up energy.
Play Areas: Always be willing to stop at dedicated airport kids areas for a sanity break.
Involve Kids in Planning
Engage Kids: Let kids participate in planning activities or choosing restaurants to make them feel involved.
Educational Opportunities: Look for opportunities to incorporate learning experiences into your travel.
Travel Insurance
Consider Coverage: Explore travel insurance options that provide coverage for unexpected events or cancellations.
Peace of Mind: Having insurance can provide peace of mind, especially when traveling with young kids.
Take Your Kids on Vacation
Remember that every child is different, so what works for one family may not work for another.
These tips are meant to serve as a starting point for planning your family vacation.
Tailor your approach to suit your family's unique needs and preferences, and most importantly, savor the moments and create lasting memories with your loved ones.
FAQ: Best Airlines for Kids