Asia, a land brimming with mystique, culture, and breathtaking landscapes, has always been a magnet for travelers. But when it comes to family vacations, Asia truly shines like no other.
From the bustling streets of Hong Kong to the pristine beaches of Sri Lanka, there's a world waiting to be explored. But, are those places worth bringing your whole family?
After living in Asia for nearly two years my family wants to share the best places for your next vacation. Whether you're seeking tranquil beaches, bustling markets, or the thrill of world-class theme parks, Asia has it all. Let me break down the best destinations for family travel in Asia!
Best Spots for Family Vacations in Asia
2023 is your year to discover the magic of Asia! Dive deep into its diverse culture, explore ancient ruins, indulge in great food, and create memories with fun activities tailored for kids of all ages. Whether it's the thrill of Shanghai Disneyland or the serenity of Bali's rice fields, there's a perfect place for every family member.
Get ready to embark on a journey of a lifetime, including the best family holiday destinations. From Southeast Asia's tropical paradises to East Asia's bustling metropolises, there's a treasure trove of experiences awaiting. With so many beautiful beaches, historical sites, and theme parks to choose from, where should you begin?
Stick around as we guide you through the Top 4 Most Unforgettable Asia Family Vacations for 2023, ensuring that your next family trip is nothing short of extraordinary.
1. Thailand: The Land of Smiles Awaits!
We love Thailand. In fact, we almost moved to Thailand. We headed to Thailand in December of 2021 with the intention of touring schools and finding a long-term rental house. But alas, life had other plans that pulled us away.
Thailand is fondly referred to as the 'Land of Smiles.' This Southeast Asian gem is an excellent choice for family vacations. Its rich culture, beautiful beaches, and delectable food are just the tip of the iceberg. The variety of landscapes in Thailand make it one of the best family vacations in Asia.
Bangkok: A City of Wonders
Bangkok, the heart of Thailand, is a bustling metropolis filled with great places to explore. Kickstart your journey at the Grand Palace, a testament to Thailand's rich history. Nearby, the Wat Phra Kaew stands tall, enchanting visitors with its intricate design and sacred aura. But that's not all.
For a day of fun and excitement, head to Central World to ice skate or see a movie. Don't forget to stand before the movie to honor the Kind of Thailand, it's a tradition that surprised me a bit.
As the sun sets, indulge in the myriad of flavors that Bangkok's street food stalls offer. It's a feast for the senses! Hotel rooms in Bangkok can be ultra luxurious without breaking the bank, think private pools and butler service.
Chiang Mai: Where Tradition Meets Nature
Nestled among lush jungles, Chiang Mai is a blend of natural beauty and cultural sites. Marvel at the ancient ruins and learn about Thailand's diverse culture.
For a truly unforgettable experience, take a day trip to an elephant sanctuary and help the majestic creatures bathe in their natural habitat. It's a sight that both older kids and younger children will treasure forever. Chiang Mai also boasts a range of water activities, ensuring fun-filled days for the whole family.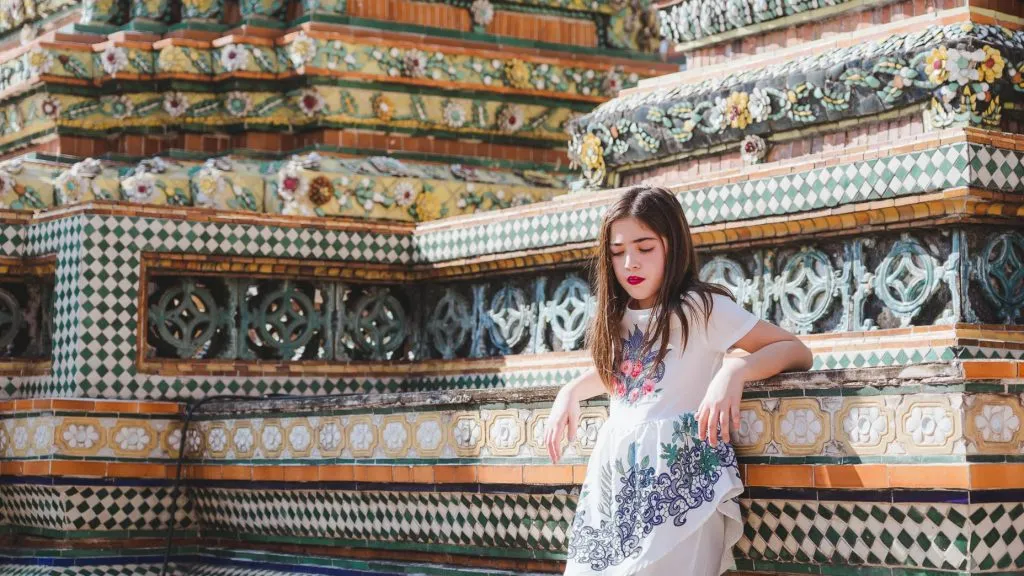 Koh Samui: A Slice of Paradise
Koh Samui is your tropical paradise. With its white sandy beaches and crystal-clear waters, it's a great place for relaxation. And if you're in the mood for some adventure, explore the island's hidden waterfalls and vibrant local markets.
Dive into the world of marine life with a boat trip to nearby islands or simply soak up the sun while the kids build sandcastles. Try your hand at scuba diving to see whale sharks, stingrays, eels, and turtles among the coral.
Budget Friendly Asian Family Vacation
Thailand is more than just a popular destination, it's a land where memories are forged. Whether it's the hustle and bustle of Bangkok, the cultural tapestry of Chiang Mai, or the pristine beaches of Koh Samui, Thailand guarantees unforgettable experiences for every family member.
One of the best things about Thailand is just how affordable your trip will be if you are visiting with the financial resources of American money. So, when planning your next family trip, remember the land of smiles is waiting with open arms.
2. Japan: A Blend of Modernity and Tradition
Right after Thailand didn't work out we ended up moving to Japan in March of 2022. We've lived in the beautiful country of Japan for eighteen months now. For seven months even my parents moved to Japan and lived as a multigenerational household.
Japan seamlessly marries the charm of the past with the innovations of the future. From the snow festival of Hokkaido to the beaches of Okinawa, Japan offers a myriad of experiences perfect for family vacations in Asia. Let's journey through this land where rich culture and cutting-edge technology coexist.
Tokyo: A Futuristic Playground
Step into Tokyo, and you'll be greeted by a whirlwind of sights and sounds. For families Tokyo Disneyland and Tokyo DisneySea are must-visits, promising unforgettable experiences for kids of all ages. But Tokyo isn't just about theme parks. The Imperial Palace stands as a beacon of Japan's rich history amidst the city's modern skyline. And if you're looking to treat your taste buds, our favorite Yakiniku place in Tokyo is a great choice, offering a culinary experience like nowhere else.
Kyoto: A Journey Back in Time
Kyoto, once the imperial capital, is the perfect place to immerse in Japan's age-old traditions. Wander through the ancient temples and shrines, and you might just feel like you've stepped into another era. Be sure to take the short hike up to feed the macaque at Iwatayama Monkey Park.
Grab lunch at this lovely cafe and wave to the camera live streaming your meal on YouTube. After lunch be sure to get some dango from a street window, the sweet sauce in Kyoto is our daughters favorite.
The bamboo groves of Arashiyama and the geisha district of Gion are sights that the entire family will cherish. And for a touch of natural beauty? A boat trip along the Hozu River provides a tranquil escape from city life.
Osaka: The Kitchen of Japan
Osaka, often dubbed the "Kitchen of Japan", is a food lover's paradise. The most famous dishes are Takoyaki or Okonomiyaki which you can find on Shinsaibashi-Suji Street. If your kids are into reptiles I highly recommend the Reptile Cafe for lunch and holding some snakes.
But Osaka isn't just about food. The Osaka Castle, with its beautiful gardens, is a great place to learn about Japan's feudal history. And for those with young kids, Universal Studios Japan has a Mario Land that people rave about.
We have visited the Nara deer park right outside of Osaka several times now. My kids love feeding the deer and frantically licking soft cream before it melts.
Of course, no trip to Osaka is complete without taking a photo with the Glico man on the Dotombori canal. In fact, if you have some extra time, take a boat tour where locals wave and you enjoy the city from a different angle.
Best Asian Multigenerational Family Trip
Japan, with its diverse cities and experiences, ensures that every family trip is packed with memories. Whether it's the hustle of Tokyo, the historical allure of Kyoto, or the culinary delights of Osaka, Japan promises a rich tapestry of adventures.
Our aging relatives have come to join us numerous times to visit different areas of Japan. With seamless mass transit and low intensity activities Japan is one of the best family vacations for multigenerational travel in Asia.
Dive into the land of the rising sun, and discover the perfect blend of modernity and tradition.
3. Malaysia: A Melting Pot of Cultures
When it comes to up and coming areas in Asia, Malaysia, is an up and coming gem. It's a land where diverse cultures, from Malay to Chinese to Indian, harmoniously converge. You will benefit from their constant improvements to join the ranks of major tourist hubs around the world.
For family vacations in Asia, Malaysia offers a vibrant blend of history, nature, and mouth-watering cuisine. Let's delve into this beautiful country where every city tells a different story.
Kuala Lumpur: The Heartbeat of Malaysia
The capital city, Kuala Lumpur, is a bustling metropolis that has something for every family member. The iconic Petronas Twin Towers offer a panoramic view of the cityscape, a sight that leaves both kids and adults in awe. Not far from the city center, the Batu Caves invite adventurers to explore its limestone wonders. And for a dose of green spaces amidst urban sprawl? The KL Bird Park and its feathered residents promise a delightful day for the whole family.
George Town, Penang: A UNESCO World Heritage Site
George Town is a testament to Malaysia's rich history and diverse culture. Wander its streets, and you'll find a mosaic of colonial buildings, ancient temples, and vibrant street art. The Penang Interactive Museum is an educational stop for kids, offering interactive insights into the island's past. And food? Penang is often dubbed the food capital of Malaysia. From Char Kway Teow to Penang Laksa, every dish is a journey of flavors.
Langkawi: An Island Paradise
When it comes to beautiful beaches and pristine nature, Langkawi stands out. Its white-sand beaches are perfect for families looking to unwind. The Langkawi Cable Car and Sky Bridge offer breathtaking views, while Underwater World Langkawi provides a peek into marine life. For those seeking water slides and splashes, the island's water parks guarantee a day of exhilarating fun.
Best Family Holidays Destination
If your family is ready to take your holidays on the road, Malaysia is one of the best holiday destinations in Asia. They take Christmas very seriously. You'll find giant Christmas trees, light displays, and holiday sales, just like you would back home.
Malaysia, with its blend of urban marvels and natural beauty, is a top pick for best family vacations in Asia. Its cities, each unique in its offerings, provide a spectrum of experiences. From Kuala Lumpur's skyline to George Town's historical charm to Langkawi's tropical paradise, Malaysia beckons with open arms, promising unforgettable experiences.
4. South Korea: A Fusion of Heritage and K-pop Culture
Nestled in East Asia, South Korea is a land where age-old traditions seamlessly merge with the dynamic wave of K-pop and technology. For families eyeing memorable vacations in Asia, South Korea is a vibrant tapestry of history, entertainment, and natural beauty. Let's embark on a journey through this nation where the past and present dance in harmony.
Seoul: The City that Never Sleeps
Seoul, the pulsating capital, is a city of contrasts. Witness history at the Gyeongbokgung Palace, then lose yourself in the bustling streets of Myeongdong, a shopping paradise. For a touch of modernity, the digital displays at Dongdaemun Design Plaza are sure to captivate. And families with young kids? Lotte World, the world's largest indoor theme park, promises a day of thrills and fun.
Busan: A Coastal Delight
Busan, with its beautiful beaches and vibrant fish markets, offers a seaside retreat like no other. Haeundae Beach, with its pristine sands, is a great place to relax and watch the waves. The Gamcheon Culture Village, with its colorful houses and artistic vibes, is a treat for the eyes and soul. And for a taste of the best seafood? The Jagalchi Fish Market is a must-visit.
Incheon: A Blend of Green Spaces and Entertainment
Incheon, often the first touchpoint for travelers, is more than just an entryway. The Songdo Central Park offers serene boat trips amidst urban landscapes. Families can explore the rich culture at the Incheon Tri-bowl or dive into the world of K-pop at the city's state-of-the-art concert arenas. With plenty of places to discover, Incheon ensures every family member finds their slice of joy.
Best Asian Cultural Family Trip
South Korea, is one of the most welcoming Asian countries, which allows you to interact with the culture more deeply than other places. Whether you're diving into the world of K-dramas and K-pop in Seoul, basking on the beaches of Busan, or soaking in the cultural delights of Incheon, South Korea promises an enriching journey for every family.
So, as you chalk out your next family trip to Asia, remember this peninsula is buzzing with excitement and awaiting your arrival.
Essential Tips for Embarking on Family Vacations in Asia
Traveling with family can be an exciting yet challenging venture, especially when it's across the vast and diverse landscape of Asia. Whether it's your first family trip to this beautiful continent or you're seasoned travelers, some tips can make the journey smoother.
1. Packing Smart
It's easy to overpack when you're traveling with kids of all ages. However, Southeast Asia, with its bustling markets and shopping paradises like Seoul and Bangkok, often calls for some extra luggage space. So, pack like a minimalist and remember, many items can be bought locally at a fraction of the price!
2. Snack and Play
Long transfers or day trips can be tiring for young kids. A stash of their favorite snacks and some entertainment, be it a coloring book or a tablet loaded with games, can be a lifesaver. Cities like Tokyo, with attractions like Sanrio Puroland and Ghibli Park, are filled with fun activities, but during the journey, it's best to be prepared.
3. Dive into the Rich Culture but Stay Safe
Asia boasts a rich culture and history, from ancient temples in Kyoto to bustling streets in Kuala Lumpur. While it's a great place for families to immerse in diverse traditions, always research safety precautions, especially in crowded areas.
4. Don't Skimp on Insurance and Vaccines
While Asia offers an array of unforgettable experiences, it's crucial to ensure your family's health. Investing in good travel insurance coverage and checking the recommended travel vaccinations for destinations can make a world of difference.
5. Embrace Public Transport
From the efficient trains of Japan to the colorful tuk-tuks in Chiang Mai, public transport in Asia is not just a means to get around; it's an experience! Not only is it economical, but it also offers a genuine glimpse into the local life.
6. Local Cuisine
Asia more diverse than most people realize, especially when it comes to its culinary delights. Whether it's street food in Bangkok or fine dining in Tokyo, be adventurous with your palate. Most restaurants feature at least part of their menu visually, which makes it easy for kids to point to their meal they want. Adults should make regular use of the google translate camera option to get a clear idea about what foods they are trying.
Asia, with its vast landscapes and vibrant cities, promises a family vacation filled with wonder and exploration. With these essential tips in hand, you're all set to dive into the best family vacations in Asia. From the pristine beaches of Koh Samui to the cultural sites in George Town, every moment promises to be an enriching chapter in your family's travel diary.
Crafting Memorable Family Vacations in Asia
Lot of people criticize our family for traveling with our kids so frequently from such a young age. There is this idea that just because your child won't remember the trip it isn't worth taking.
I couldn't disagree more. Children who are raised to savor experiences and see their parents enjoying life will internalize those lessons.
Embracing the Unexpected
Often, the best family vacations are sprinkled with unplanned moments. Maybe it's a spontaneous boat trip around the nearby islands of Phi Phi, or perhaps it's stumbling upon a local festival in downtown Azabujuban. Asia, with its friendly locals and diverse landscapes, always has a surprise up its sleeve. So, keep your itinerary flexible and let Asia's natural beauty guide your way.
An Investment in Memories
When you choose Asia as your family vacation destination, you're not just booking a trip, you're crafting memories.
I will never forget the time my uncle brought me to Japan and we ate Yakiniku in Osaka. Everyone was speaking Japanese and the grilled meat just kept showing up on my plate. After the meal my uncle says, "Veronica, I had no idea how much you liked cow tongue." My eyes popped out of my head and my jaw hit the floor. Apparently I had spent the entire night stuffing my face with cow tongue without even realizing it. He laughed at me and I still can't believe nobody told me before or during the meal.
Hire a Photographer
Even if your kids won't technically remember your trip to Asia, you can trick them a little by documenting the vacation with photographs. Moms almost always end up hidden behind the camera, which is why you should hire a local photographer.
We hired photographers in both Bangkok and Tokyo to document our family in these epic locations. Relive your memories over and over for your children with photographic evidence of the adventure.
Every Journey Tells a Story
Your family trip to Asia will be a unique blend of preparation and faux pas. Everything in Asia is so different, in a good way. There would be no point in traveling if everything was all the same around the world.
Asia is a beautiful combination of diverse cultures, new tastes, and scenic wonders. Paint it with memories, laughter, and shared experiences. As you plan your family vacations in Asia, remember, the best places aren't just the popular destinations but the hidden gems and spontaneous detours.
Gear up, and let Asia's magic fill your travel diary. Happy adventuring!
FAQ: Family Vacations Asia