I'm a native Oregonian, having been born in Portland. In this article you'll read some of my best insider tips about Oregon family vacations coming from a mom of two girls.
But, before I share my thoughts on the best places for your next family trip, I want to disclose my most embarrassing Oregon travel story.
Nomad Veronica's Imperfect Guide to Oregon Adventures
Professional travel writers probably do a fair bit of research about a potential destination before heading out for their adventure. I would say that it's less natural for me to be extremely organized when it comes to planning any trip, but especially one within the state of Oregon where I've lived the majority of my life.
So, before having kids my husband and I decided to do a little road trip around the entire state over a long weekend. We were aiming for Crater Lake which of course looks epic in every photograph. But, after hours and hours of conversation on our scenic drive we had the bright idea to take a detour and see Klamath Falls.
Klamath Falls Detour
I think we had seen a sign that reminded us of our proximity to that city, which we had both heard of but never been to. In 2010 we had smart phones, but they weren't nearly as helpful as a phone these days. My role as passenger was to pull up a map, which I did. I navigated us to Klamath Falls so we could go see a picturesque waterfall.
Only after a multi hour detour, my map said we had arrived and I realized I had just navigated to the city of Klamath Falls and not the falls themselves. For some reason I couldn't pull up a way to navigate to the actual waterfall. We decided to stop for lunch and at Taco Bell we asked the cashier if they knew where Klamath Falls was. They laughed. There are no falls.
The freaking name of the city is Klamath Falls and there are no waterfalls. Sitting there at lunch feeling like fools we tried to salvage our detour by finding something interesting to see in Klamath Falls. Wanna know what google told us? The highlights of Klamath Falls were the tennis courts and baseball field at a local park. I kid you not.
I tell you this story to warn you that I am not a professional travel writer. Oregon is my home state and this article is meant to give families plenty of ways to fill their days if you plan on visiting.
Oregon Family Vacations
Skip to:
10 Best Areas of Oregon for Families
1. Portland of Course
Keep Portland Weird is the motto and point of pride for this city. In Portland your love for coffee can be a personality trait and food trucks serve some of the best food in the city. Anyone who finds out I'm from Portland will inevitably comment on how green they perceive it to be. And it's true there are a lot of trees for an urban area.
Over the years we have been members of all the cities kid-friendly museums. In fact, after we became minimalists our families began gifting us these memberships for holidays.
Washington Park
Washington Park is a sprawling urban jungle housing:
Rose Garden
Arboretum
Forestry Museum
Amphitheater (sadly the location we held my brother's funeral)
Hiking Trails
Oregon Zoo

The Oregon Zoo is home to over 200 species of animals. My favorites are the giraffes. Our kids really love the orangoutangs, elephants, and polar bears.

Children's Museum

For young kids the interactive world at the Children's Museum is not to be missed. They can brush the teeth of a crocodile and learn how water currents work.
OMSI
The Oregon Museum of Science and Industry, fondly known as OMSI, is a dream come true for curious minds. When I was a kid there was a time when OMSI was going to run out of funding. A radio show came to my classroom to interview students about how sad they would be if OMSI were to close. Apparently the program was heard by my estranged grandfather causing him to call and speak with me for the first time.
Portland's Culinary Scene: A Foodie's Paradise
After a day of exploration, families can dig into Portland's diverse culinary offerings.
Fancy some ice cream? Grab a scoop of unique flavors like lavender or olive oil at Salt and Straw.
Prefer a donut? The eternal debate between Blue Star and Voodoo Donuts rages on among Portlanders.
The city's food trucks are iconic. My mouth is watering just thinking about the Pad See Ew from E-San Thai.
Portland's coffee culture is legendary. While it is tempting to just hit up Oregon's own Dutch Brothers, there are countless other options.
2. Cannon Beach
We had distant family with a home at Cannon Beach so my childhood is filled with great memories of sandcastles, s'mores, and crashing ocean waves. The quaint village of shops and restaurants make shopping and dining a happy experience for everyone. Plus, the best hotels like the Inn at Haystack Rock, have jacuzzis in the room, so mom and dad can get a second room for some alone time.
Oregon family vacations to the coast are perfect for Portland natives to get out of the city.
Haystack Rock: Nature's Marvel
Although Goonies was largely filmed in Astoria on the northern Oregon coast one famous scene features Haystack Rock in our favorite coastal town of Cannon Beach. This 235-foot tall monolith is not just a stunning sight, but also a haven for intertidal animals. When the tide pulls away, it reveals a vibrant world of starfish, anemones, and tide pools, making it a perfect place for young explorers and their curious minds.
Ecola State Park
A stone's throw from Cannon Beach lies Ecola State Park, a natural wonder that boasts some of the best views on the west coast. The park offers a mix of easy and challenging hiking trails, all weaving through dense forests and opening up to breathtaking views of the Pacific Northwest coastline. The whole family will cherish the memories of picnicking amidst such beautiful scenery.
Galleries and Workshops
Cannon Beach isn't just about natural beauty it's a hub for Pacific Northwest art and creativity. Stroll the town's streets, and you'll encounter myriad art galleries showcasing local talent. Many even offer workshops, where your family can learn to create a piece of art as a unique souvenir of your Oregon family vacation.
Taste of the Coast: Culinary Delights
After a day of sandy adventures and artistic exploration, satiate your hunger with Cannon Beach's delectable eateries. For breakfast you'll want to make sure you have cash and head over to the Lazy Susan. Lunch is a crab louie at the Driftwood followed promptly by a chocolate caramel marshmallow bar at Bruce's candy shop. Finish your perfect Cannon Beach day with dinner at Wayfarer which ideally you made a reservation for.
3. Mt. Hood
Set your compass to Mount Hood. Getting outdoors and being in touch with nature is the center piece of any family vacation to Oregon. Standing 11,239 feet above the ground, it's the highest point in the state. It also happens to be the second most climbed mountain in the world behind Mt. Fuji.
Timberline Lodge
For another movie location you'll want to visit Timberline Lodge which was featured in The Shining. The rustic charm and breathtaking views make the lodge a perfect escape from the cold.
Winter Sports
Kids will shriek with excitement if you can visit Mt. Hood in the winter. Sledding, skiing, and snowboarding are staples of a day up at Mt. Hood. You can partake in one day lessons and rent any equipment you don't have. For experienced skiers and snowboarders you'll want to make sure you have a lift ticket to enjoy some real downhill excitement.
Hiking Around Gorgeous Lakes
I'm not much of a hiker myself, but my dad and husband have loved their years of hiking and camping near Mt. Hood. Their favorite lakes near Mt. Hood:
Trillium Lake
Lost Lake
Timothy Lake
Clear Lake
Cast Lake (Advanced)
Indoor Activities
Oregon is no stranger to a crummy weather day, if your hotel doesn't have an indoor pool there are two suggestions I can make to entertain yourself close by and inside. First, if you have younger kids we used to love going to Wippersnappers, which I am pleased to see is still open all these years later. Slightly older kids would probably enjoy Drop Shot which is new and has a golf simulator or axe throwing.
Always have indoor ideas because Oregon family vacations are prone to being rained on.
4. Sunriver Resort
In college I went to Sunriver with a boyfriend during the winter. We decided to go ice skating, to which I alluded I was pretty good at since I took lessons as a kid. Once we laced up and got on the ice it was immediately obvious that my boyfriend was an absolute expert skater. Unlike me who had barely skated since childhood, he in fact, placed ice hockey as an adult competitively. That will probably always be my most memorable moment in Sunriver.
A Planned Community
Sunriver Resort isn't just any vacation spot. It's actually an entire community with homes, shops, restaurants, spa, waterpark, even a seasonal ice skating rink. Nestled amidst the Cascade Mountains, accommodations range from cozy cabins to luxurious homes. If the house you rent has bikes you'll be able to venture around and see deer and find playgrounds.
Activities for the Entire Family
Boredom? That word doesn't exist at Sunriver Resort. Tee off at the world-class golf course or saddle up for some scenic horseback riding. Young children will be enthralled by the kids' club, which offers a variety of engaging activities. And for those seeking thrill? The outdoor adventures are limitless, from white-water rafting on the Deschutes River to mountain biking through the high desert landscape.
Spa Day
Oregon family vacations deserves a touch of indulgence. Sunriver's spa is the perfect place for parents to rejuvenate. With treatments inspired by the natural beauty of the Pacific Northwest, it's an oasis of relaxation.
Culinary Journey
For breakfast you should head to Cafe Sintra for an amazing Benedict. Then for lunch you'll never be disappointed at Blondie's Pizza. Our favorite dinner spot is Sunriver Brewing Company which provides the warm atmosphere of Sunriver plus a great selection of beers on tap.
Seasonal Splendors
Sunriver Resort is not just a summer haven, it's an all-year-round paradise. Winter transforms the resort into a snowy wonderland, perfect for skiing and snowboarding. And as spring blooms, families can enjoy serene boat rides or scavenger hunts.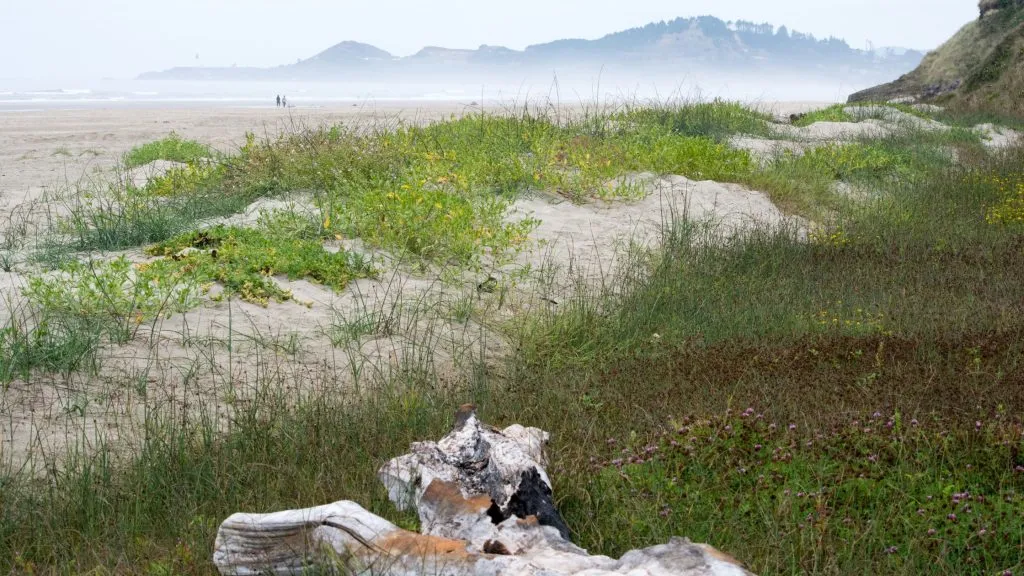 5. Newport
For a little more fishing community vibe you can head to Newport. It has been referred to as the Dungeness Crab Capital of the World, maybe mostly by local crab catchers. But, fresh seafood is a staple of your trip to Newport so get ready to eat crab with every meal.
Marine Life
The Oregon Coast Aquarium combines habitats for underwater species with homes to many coastal birds. In the aquarium you can see sharks, rays, and schools of fish that are both rehabilitated and studied. Outside you can see sea lions hanging out on the docks.
Local Artisans
Support local artists by buying their art at Newport Visual Arts Center. Admission is free and new exhibits are frequently brought in. Classes are offered regularly and donations are requested in exchange for your participation. Another fun class you could take is glassblowing through Oregon Coast Glassworks which allows you to create a keepsake to bring home.
On the Beach
Before heading out to the sand at Nye beach you can visit the Kite Company which is the largest kite shop in the Pacific Northwest. I've always said, "It's impossible not to smile when you're flying a kite."
Indoor Day
Anytime you visit Oregon it's good to have a bad weather back up plan. In Newport your indoor activity could be the Ripley's Believe it or Not Museum.
Outdoor Experiences
From chartering a fishing boat to whale watching there are unique ocean specific experiences in Newport. Another great outdoor option is to play disc golf at one of the many courses around the area.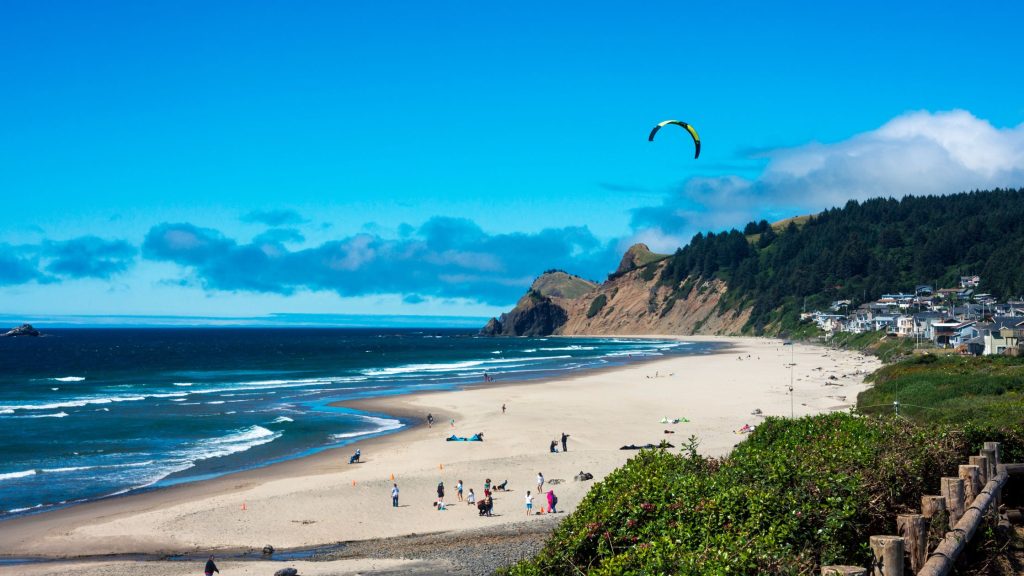 6. Lincoln City
Dreaming of a place where dense forests kiss sandy beaches? Lincoln City, nestled along the central Oregon coast, is where those dreams come true. This unique town has it's own vibe like a blast from the past. Oregon family vacations simply driving up the coast will have plenty to see and do.
Sandy Adventures
Lincoln City boasts seven miles of stunning coastline. From building sandcastles to exploring tide pools brimming with marine life, there's something for everyone. Don't miss the sight of kite-flyers painting the sky with colors, especially during the annual kite festivals. It's the perfect place for some sun, sand, and sea.
Into the Woods
Beyond the beaches, Lincoln City's hiking trails are vast. One of the most famous landmarks is God's Thumb which is a little over 4 miles. The views from the summit and the Knoll are epic.
A Treasure Hunt on the Beach
Here's a unique Lincoln City experience, hunting for glass floats. Local artisans hide these beautiful hand-blown treasures on the beach for lucky visitors to find. It's like an ongoing treasure hunt, adding an element of surprise to your beach strolls.
Shop Til You Drop
Oregon is already a great deal for shopping because there is no state sales tax. On top of that savings, Lincoln City has it's own outlet mall filled with designer stores with last years merchandise.
Check Out Chinook Winds
If you're visiting Lincoln City with your family you probably won't have a lot of extra time for gambling at the casino. But, the play place, arcade, and most shows are open for families to enjoy.
7. Bend
Bend, is such an up and coming hot spot in Oregon. People from all over the state have been moving to Bend for the past decade. That means the infrastructure and growth is happening at hyper speed. You'll love the mashup of big city amenities surrounded by nature.
What used to be a destination for Oregon family vacations is now the new hotspot for real estate.
The High Desert Museum
Dive deep into the heart of the Pacific Northwest at the High Desert Museum. This isn't just any museum; it's an immersive experience. Interact with live animals, learn about the native cultures, and uncover the history of the state of Oregon. Perfect for both young children and adults, it's a journey through time and nature.
Deschutes River Trail
For those itching for some outdoor adventures, the Deschutes River Trail offers a scenic drive like no other. Whether you're hiking, biking, or simply strolling, the trail promises breathtaking views at every turn. The gushing river beside you and the lush forests around make it an experience straight out of a fairy tale.
Smith Rock State Park
Not far from Bend, Smith Rock State Park is a haven for rock climbing enthusiasts. But even if you're not scaling the rocks, the park's stunning landscapes and hiking trails are enough to leave you in awe. It's nature's playground, waiting to be explored.
Brews and Views:
Bend might be the unofficial "Beer Capital" of the Pacific Northwest. With countless craft breweries, you can sip on unique brews while soaking in the city's vibrant atmosphere. And if beer's not your thing, plenty of other activities like wine tasting or ice cream shops cater to every palate.
The Best Cupcake on Earth
I would be remiss if I didn't dedicate an entire bullet point to Ida's Cupcakes. If you are traveling to Bend I urge you to find Ida's and get yourself the most delicious cupcake your mouth will ever experience. What's really cool about Ida's is that there are cake flavors and icing flavors and you get to create your own combination. I always go for chocolate chocolate, but my family has tried many combinations all with great results.
8. Silver Falls State Park
Picture this: A series of cascading waterfalls surrounded by lush forests, the gentle sound of water echoing in the background, and nature's tapestry unfolding before your very eyes. Welcome to Silver Falls State Park, a must-visit gem on your list of Oregon family vacations. It's a place where nature's symphony is in full swing, and each note is more beautiful than the last.
Trail of Ten Falls
Embark on the renowned Trail of Ten Falls, one of the best things you can experience in the state of Oregon. This trail weaves its way past ten stunning waterfalls, each with its unique charm. From the grand South Falls to the mesmerizing Twin Falls, every step is a celebration of nature's splendor.
A Haven for Photographers
For those with a keen eye for photography, Silver Falls State Park is pure gold. The perfect interplay of light, water, and greenery creates a tableau of memorable shots. With cascading waterfalls as your backdrop, you're sure to capture moments that define your Oregon family vacation.
Family Fun Amidst Nature
Beyond its waterfalls, Silver Falls offers myriad outdoor activities for the whole family. Young children will be captivated by the park's abundant wildlife, while the more adventurous can indulge in horseback riding or mountain biking through its scenic trails. There's something for everyone in this green haven.
Camping Under the Stars
Want to fully immerse yourself in the natural beauty of the park? Pitch a tent and spend a night (or more) under the starry skies. The park's well-maintained camping sites offer a great option for families seeking a closer communion with nature.
South Falls Lodge
Built in the 1940s, the South Falls Lodge is a testament to the park's rich history. Serving as a cozy retreat, visitors can enjoy a hot cup of coffee, sift through the gift shop, or simply soak in the rustic ambiance of this iconic structure.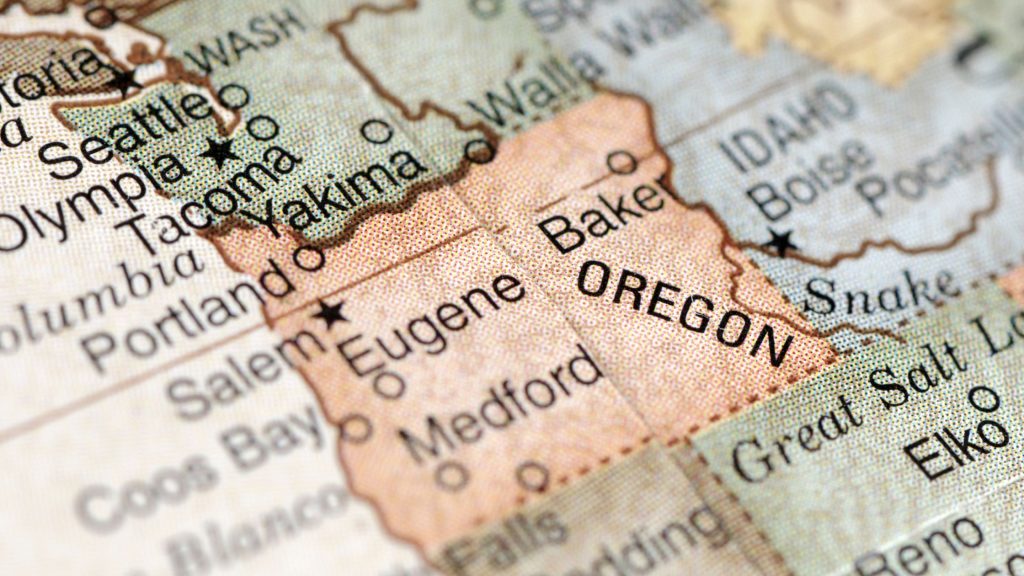 9. Eugene
Billionaire founder of Nike is the most famous alumni of University of Oregon which Eugene centers around. You'll find what can only be described as a hipster granola paradise in terms of restaurants, shops and people you meet.
Tour U of O
Thought I was done talking about movies? You'd be wrong. Animal House was famously filmed at University of Oregon. Visiting a college campus gives parents a time to reflect on their checkered past while away from earshot of your little ones. My parents went to U of O, so I grew up hearing about their good memories of the fish bowl and Autzen stadium. You can also watch The Steve Prefontaine Story to get in the mood to visit Eugene.
Cascades Raptor Center
Visit a wildlife hospital specializing in raptors. This organization specializes in the rescue, rehabilitation, and release of animals instead of indefinite displays like zoos.
Get Out Energy
Oregon family vacations are centered around activities. In Eugene you can bring the kids to Amazon park which has a giant play structure, hiking trails, and picnic tables if you are the type of family who travels with your own charcuterie board. On a rainy day your kids will love the Get Air trampoline park or Splash! indoor pool.
Pinball and Pints
One of the coolest family-friendly attractions has got to be the Level Up Arcade. This is the perfect spot to get out of the rain and start feeding machines quarters until you run out. Mom and dad can chill out with a beer because kids are allowed to hang in this dive until 9pm.
Farmer's Market
I told you Eugene was a crunchy granola type of place. Bring a reusable bag and head to the Eugene Farmer's Market to taste local foods, meet artists, and shop local. They are there every Saturday rain or shine April through mid-November.
Catch a College Game
Check the University of Oregon's sports teams pages to find a live game to attend. There's something magical about cheering on a team with thousands of screaming fans. Watching a football, baseball, or basketball game is standard. But, I used to love traveling down to Eugene to watch women's volleyball and I even attended a gymnastics event there. Be willing to attend an out of the ordinary sport if they are competing while you are in Eugene.
10. Crater Lake National Park
I'm ending this list with the original destination of the first story I told you. Crater Lake National Park is Oregon's only national park! There is so much green space in Oregon and yet Crater Lake is the only federally protected land. What I didn't tell you earlier is that we did eventually make it over to Crater Lake. There was still snow but we were able to camp on the rim. The sunrise over Crater Lake was incredible. Snow camping made me appreciate all the money my husband spent on high quality camping gear.
The Beauty of Crater Lake
Formed thousands of years ago by the collapse of Mount Mazama, Crater Lake isn't just a body of water. Its deep blue color and pristine clarity create a visual spectacle that resonates with the very essence of the Pacific Northwest. It's not just a lake, it's a natural wonder of the United States.
Oregon family vacations should include a balance between nature and city.
Drive Around the Rim
Crater Lake offers one of the most mesmerizing scenic drives in North America. The Rim Drive, encircling the lake, gifts visitors with panoramic views, perfect spots for picnics, and photo opportunities that will have your social media buzzing. A road trip around this iconic landmark is an absolute must.
Outdoor Activities Abound
Beyond its serene beauty, Crater Lake is also a hub for outdoor adventures. From hiking trails that weave through the Cascade Mountains to boat tours that unveil hidden nooks of the lake, there's something for every adventure seeker. And in the winter? Snowshoeing and cross-country skiing transform the park into a winter wonderland.
The Deep Blue Mystery
Crater Lake isn't just about scenic beauty; it's steeped in tales and legends. Local guides often regale visitors with stories of the lake's formation, its indigenous significance, and the mysteries that lie in its depths. A visit here isn't just a visual treat; it's an enriching journey through time.
Starry, Starry Nights
The beauty of Crater Lake isn't confined to daylight. As night descends, the park transforms into a celestial observatory. The lack of light pollution makes it a perfect place for stargazing, turning your Oregon family vacation into a cosmic adventure.
FAQ: Oregon Family Vacations