Holidays can be a tricky time for minimalist parents. Minimalist Christmas gifts for kids can seem impossible to find. The good news is that you don't have to give up your minimalist lifestyle just because it's time to unwrap some presents.
Minimalist Christmas gifts for kids don't have to be boring. These gift ideas come straight from me, Veronica, a parent of two minimalist kids. We have been a minimalist family for over five years.
Read on to discover the eight categories of gifts for the perfect minimalist Christmas for kids. In this article you'll discover:
Physical Gifts
Experience Gifts
Outdoor Gifts
Edible Gifts
Subscription Boxes
Digital Gifts
Electronics
Practical Gifts
Physical Minimalist Gifts
Everyone thinks minimalist Christmas gifts for kids can't be physical items that children are able to unwrap. Hogwash. Minimalism is all about owning the right things, not no things.
Grab your kids a daily affirmation calendar to enhance their self love. Every morning they can state a positive intention for the day to set the tone. Children greatly benefit from positive daily affirmations.
Traditional board games are a bit bulky to bring on a vacation or utilize on a daily basis. A game like Sushi Go is small and portable. Children can work on their addition skills, learn strategy, and grasp probability.
Most things in moderation won't count as clutter. Art supplies can go from useful to overwhelming if you're not careful. Stick with one set of quality colored pencils instead of markers or crayons. Colored pencils allow for more artistic freedom and are much less likely to make a mess.
Toys that occupy longer sections of time are ideal in a minimalist household. You have less items, so the items you do have better be entertaining. Magnetic tiles are a kid favorite. Plus, unlike legos, stepping on one isn't going to send you into a cursing tirade.
Creativity pours out of kids when they are given imagination items. We love a costume closet or items to role play different professions. But, a magic set was the ultimate favorite imagination item in our house.
Experience Gifts
Our lives are simply a collection of how we spend our time. Experiences are the pinnacle of minimalist Christmas gifts for kids. You can gift experiences for the children to enjoy with you as the gift giver or ways to fill their days all year round.
Memberships
Gifting a membership is not just wonderful for the child but also the parents or any caregivers in their lives. You can gift memberships to the zoo, children's museum, science museum, aquarium, theme park, or gardens.
Events
Children will have such a ball at a concert, play, or sporting event. Just because they are little doesn't mean they need to stay at home for ticketed events. Our kids loved live music, seeing Yo Gabba Gabba and Daniel Tiger, and attending baseball games.
Classes
When the kids were little we did music classes, swim lessons, yoga sessions, and even baby sign language. Now that they are older we've gifted them horse riding lessons, surfing instruction, and rock climbing sessions. Any hobby or skill your kids want to try out will probably have a lesson you can gift. Consider options like cooking classes, sewing lessons, gymnastics, dance instruction, musical instrument lessons, or computer coding.
Trips
If I had a nickel for every time a parent told me they couldn't travel because they have children, I'd be a rich lady. Don't use your kids as an excuse to never travel. You can travel with your kids. I know it's possible because I've taken my kids to eleven countries and counting.
Activities
Most days are basic, but you can gift badass days for Christmas. Take your kids zip lining, sky diving, bobsledding, or zorbing. More common activities might include ice skating, skiing, swimming, or boating. The most important thing about gifting an activity is that it will create lasting memories beyond their basic day to day life.
Minimalist Outdoor Gifts
Being a minimalist is all about intentional focus. Most minimalists have a goal of being outdoors and connecting with nature on some level. Outdoor gifts for kids are a great way to encourage them to get off the couch and breathe some fresh air.
So much energy and fun happens in backyards. Elevate summer fun with a trampoline and climbing dome. We let the kids use the hose and make it a cooling off activity from the summer sun. Neighborhood kids always love joining in on the jumping and climbing.
Our kids have loved having bicycles from a very young age. Now that we live in Tokyo they have super cool peddle assist bikes to make it up the steep hills. Teaching bike responsibility and encouraging independence are side benefits of being a bike owner.
Creating spaces for children to be alone is just as important as creating memorable experiences. The kids loved having a hammock for reading, resting, and reflecting. If you don't have two trees to hang it between there are stands which are designed to be sturdy enough for hanging a hammock.
Our kids have loved zip lines whether at school or flying through he jungle. Now they have at home options for a zip line. You'll be the backyard all your kids friends will flock to.
It's impossible to not smile while you're flying a kite. Every beach day is better when you go prepared with your octopus kite. If you have multiple children I highly recommend having multiple kites since taking turns with a kite is time consuming.
Our kids really got into sidewalk chalk during the pandemic. People in our neighborhood would leave love notes to each other while out on walks. They used painters tape to create patterns ahead of time and spent entire afternoons filling in their designs.
Yes, even gigantic things can be minimalist if you use them regularly. Summer movie nights in our backyard were beyond memorable. I highly recommend getting a projector and an inflatable screen to make these precious moments possible.
We love taking family walks together after dinner. By we, I mean the parents. Our kids are such complainers during what should be a healthy bonding time. A simple scooter ensures the kids can keep up with the parents during an evening stroll.
Edible Gifts
Nothing says minimalist like a gift that you eat. Many edible gifts have the added benefit of being experience gifts you'll get to take part in. I've always subscribed to the idea that calories don't count on weekends or holidays. Enjoy!
Recipe Roundup
Family recipes are a time honored tradition that deserve to be passed on. Write down your favorite family recipe and then go grocery shop for all the necessary ingredients. You'll be gifting a basket of everything needed for the child to prepare that meal with or without help from an adult.
Restaurant Gift Card
Eating out can get super expensive for parents. Help ease the burden of a restaurant night out by purchasing a gift card. Next time that child requests the lava cake from Outback Steakhouse, there won't be a financial reason to say no. Bonus, if you're a travel hacker, with the right card you can get great benefits by purchasing gift cards at your local grocery store.
Personal Chef
Hiring a personal chef to cook a family holiday dinner is super fun. Let your kid pick out the menu and make sure the chef is cool with your kid helping with prep work. The chef will come to your home with all of the ingredients to prepare the meal. Be intentional about spending time with your child instead of being distracted by cooking like you would normally be on that holiday.
International Flavor
In order to give this gift you should pick out four to six international eateries in your town and put that countries flag into a card. Tell them to pick the flag of the country they would like to eat at on the nights you designate.
Special Occasion Sweet
Christmas is a great day to splurge on sweets. I've missed birthdays before because of travel and sending Edible Arrangements fruit covered in chocolate is always a hit. Fun fact, an Edible Arrangements gift basket was my secret weapon to finally closing on a bank controlled house.
Subscription Boxes
Give a gift that keeps giving all year long. The trend among children's toys is the unknown package contents. Kids love to open a box and not know what they will find inside. Subscription boxes give a similar sense of excitement but centered around a theme of your choice.
Living in Japan has made me realize just how special the products here are. Anyone from around the world will be able to taste and enjoy the unique candy offerings from Japan.
Digital Gifts
In this day and age, most parents do anything possible to keep their kids off technology. But, there are ways that technology can be beneficial.
Some lifestyles lend themselves very well to consistent audio book listening. If you commute into school each morning or do an activity far away from your home, get your child listening to audio books. There are both fiction and non-fiction options for every genre of book. Your entire family can share a book library and swap suggestions for the next best read.
Movie Download
If you've never searched for "Cheap Digital Download for _______," are you even a minimalist? As a minimalist I will never own another DVD, Blueray, or VHS again. I don't even own a way to play a physical movie. Instead I house all my movies on VUDU which means I own a digital copy of the movie. You can score your kid a dozen movies for under $30 if you find the right deals for VUDU codes.
Find out how I converted my DVD collection to digital copies.
Music Album
Gone are the days of cassette tapes, CD's, or even iPods. Nowadays you can score your kids favorite artists record as a digital download. Support musicians by purchasing their full album directly from their website if possible.
App Money
If your kids are anything like my kids, they have some app that they have fallen in love with. For my kids, it's Roblox or Minecraft. Within most games there is a digital currency that isn't required but makes customization much more fun. You can gift your child a one time purchase or a subscription to the digital currency.
Electronics
Technology has become part of our lives whether we like it or not. The best we can do as parents is to choose technology that enhances our kids lives.
The constant dinging or sound effects of a game are beyond annoying for people nearby when our child is playing. Get a good pair of headphones for your child to not bother people during travel, on transit, or in waiting rooms.
Mommy and daddy have apple watches and the munchkins got Garmin watches. There is a gamified element of these watches which allows the kids to earn points for walking and use the points to play on their exclusive app. My kids have become pros and understanding time and scheduling because they always have the time on their wrist.
Gaming System
Nothing teaches siblings cooperation quite like a video game. If they fight, mom and dad will ban them from using the gaming system, so they work together to fight the bad guy or strategize moving to the next level. If I could go back in time I would probably have chosen to keep my N64 instead of keeping up with the times on games system technology.
Let your little ones creative shine with their own digital camera. My daughter loves taking her camera on our adventures. There are built in filters similar to Snapchat but way less advanced. You can download the photos taken from the camera and print the best ones.
Practical Gifts
Sometimes a gift ends up being an upgrade on a necessary item. Investing in quality items that will last a long time is a minimalist money hack. Minimalist Christmas gifts for kids can be practical and appreciated.
Our kids love a vibrating toothbrush. Sonicare toothbrushes have a two minute timer built in to encourage kids to brush their teeth long enough. Replacement brush heads are easily found anywhere and each toothbrush comes with a travel case. Our minimalist hack was to throw away all the chargers except the one that we use. The family takes turns charging their toothbrushes since it only needs to be done ever couple weeks.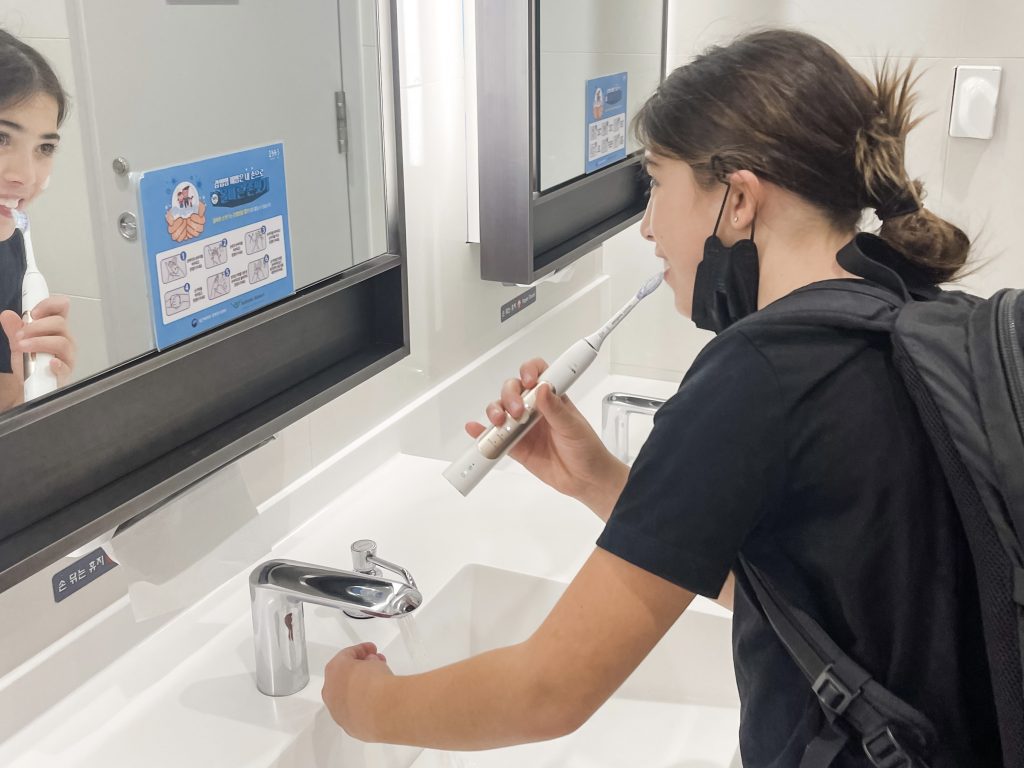 Saving money and investing money are constant topics of conversation around our house. Our kids are mini entrepreneurs with money goals of their own. Piggy banks can be as basic or advanced as your kids desires dictate. There are electronic banks that count the money for you or classic pigs with colorful designs.
Fuzzy slippers are a staple in our house. I like to keep the house cold year-round, so slippers are worn even in the middle of summer. As the kids have had new favorite characters or animals we have updated their slippers accordingly.
Encourage writing from a young age with a fun journal. Help your child become a better story teller by regularly writing in their journal. Even pre-writers can benefit from a journal to reflect on their day through drawings. If your child is open to sharing, make yourself available to listen to their stories.