Minimalism is often associated with neutral colors like white, beige, and gray. However, can minimalism also incorporate bright, bold colors? The answer is yes, minimalism can be colorful!
Minimalism is a lifestyle choice centered around joy, simplicity, and purpose, not just a specific color palette. The belief that minimalism is monochromatic is misleading and an excuse for people to reject minimalist principles.
Colors of Minimalist Homes
Minimalism is not just about having less, but about having only what you need and love. So, if you love bold colors and want to bring them into your home, you should absolutely do so. Colorful minimalism is just as minimalist as the stark white images you see depicted on social media.
The key to incorporating color into minimalism is to not buy unnecessary stuff in order to showcase color. Colorful paint, furniture, fixtures, or window treatments in this case would all be minimalist possessions yet fill your space with color.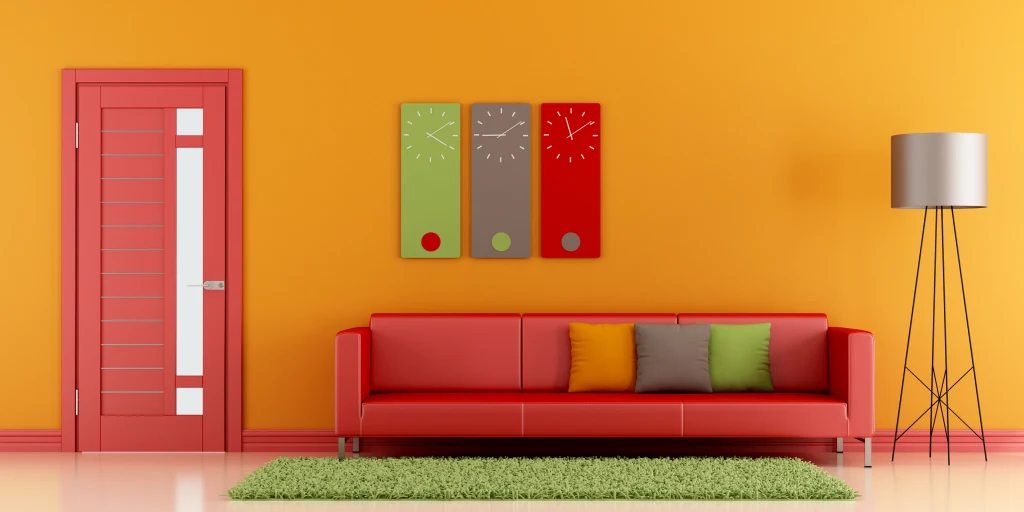 Colorful Minimalist Lifestyle
If you've been avoiding minimalism because of the lack of color, fear not. Creating a colorful minimalist home is in no way less minimalist than the monochromatic images on social media.
Colorful minimalist interior design does not require any special skills. Let your must have items fill your rainbow desires. Your colorful living room can be bold, bright, and still minimalist.
Here are three tips for incorporating color into your minimalist lifestyle:
Use Pops of Color
Use pops of color throughout your space to add interest. For example, add a brightly colored throw throw blanket, patterned pillows, or paint one accent wall in a bold color.
Picking a color theme is usually advantageous from a interior design perspective. If you like deep rich colors than everything within the space should reflect that theme. On the flip side, if technicolor is your jam, by all means, neon color it up.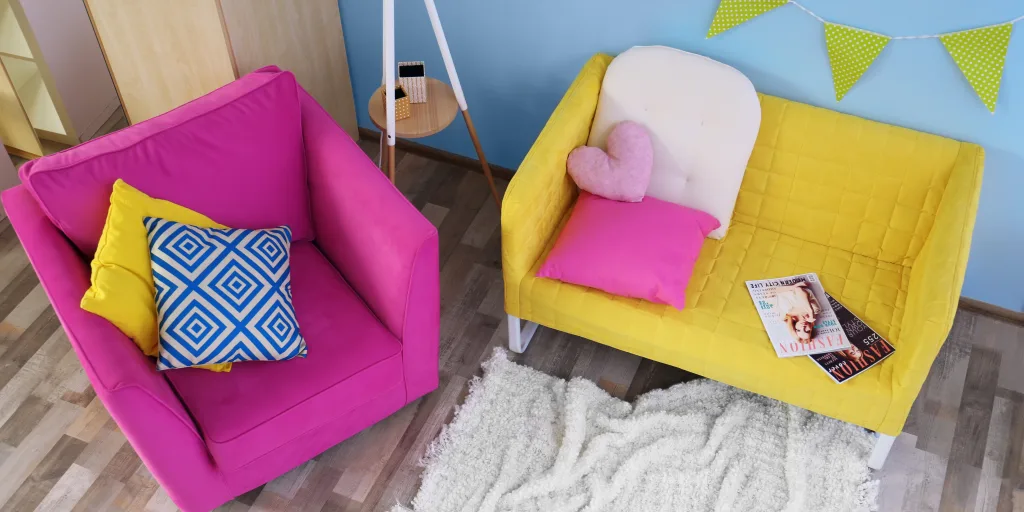 Invest in Statement Pieces
Choose statement pieces in your favorite colors to set the tone for your space. For example, a brightly colored sofa, area rug in a bold hue, or glitter infused artwork for visual appeal.
Most people stick with neutrals when it comes to the large pieces of furniture, fabric, or art work in their home. But, minimalist interior design style doesn't utilize small items to incorporate color. Therefore, you can take colorful minimalist interior design to a whole new level.
Add Color with Plants
Plants are an excellent way to add color to a minimalist space. Choose plants with colorful leaves or flowers to add a pop of color to your home.
The number of minimalists who consider plants to be a clutter loophole is honestly hilarious. Minimalist style is entirely personal and based on your priorities. If plants bring you joy, then bring on the plants.
How Not to Add Color
While this isn't an official do's or don'ts list for designing a minimalist home, that's basically what it turned into. Some of the advice I ran into while I was researching minimalist interior design was just so awful.
I get the sense that interior designers are trying to ride the wave of the minimalism home trend, but they don't really understand the concept. Creating a cluster of seven vases, three large pillars, or nine decorative orbs is not exactly minimalist home decor.
Here are three tips for how not to incorporate color into your minimalist lifestyle:
Use Colorful Accents
Using colorful accents like vases, candle holders, or sculptures to add a pop of color to your home is less than ideal. You will have a natural inclination to buy unnecessary stuff in order to create the color scheme you desire.
Colorful accents scream clutter. My best guess is that this advice is being given because interior designers believe minimalists are looking for mostly neutral colors in their minimalism inspired homes. As a person aspiring to become a minimalist you know better and can avoid the colorful accent advice.
Stick to One Color
I can see in my head the vision of an entirely white room with a red chair, red area rug, and red artwork. The idea that minimalist interior design fits an ascetic like that is so stereotypical.
Your minimalist home doesn't need to begin with a white base. Sticking to one color for your interior design is a choice but it doesn't make your home more or less minimalist.
Pick Subdued Colors
Some advice suggests your home will be more minimalist if you choose subdued colors. Implying that minimalist interior design is required to project a certain ascetic is misguided.
In one article promoting this advice the subdued entryway had a wicker basket filled with large white feathers as decor. I really think these supposed experts offering these ideas, chose not to speak with any minimalists, before writing advice on minimalist interior design.
If the colors in your home and the furniture you choose don't spark joy, then you're doing minimalism wrong. Anyone telling you that the colors in your home must be subdued to be minimalist is confused.
Minimalism Can Be Colorful
Minimalism and color can go hand in hand. If you love bold colors or neon colors or rich colors, don't be afraid to incorporate them into your minimalist lifestyle.
There are many ways to create visual interest without creating clutter. Color is my favorite way to make a room interesting while still keeping it minimalist.
The key is to choose what sparks joy to create a cohesive look. Happy decorating!