When my kids were little I used to tilt my head in jealousy anytime I saw a mom who could give their baby a cold bottle. My oldest was so finicky about having a warm bottle. If you're in the same boat, I'll save you some trouble and give you the top 5 list for the best travel baby bottle warmer.
True portable baby bottle warmers have a tendency to take a long time just to create room temperature milk. Picking a viable option for your kiddo will depend on how much time you want to spend warming their bottle or how much space you want do dedicate to a portable warmer.
From middle of the night feeds to pulling over at a rest stop on a road trip getting milk to a constant temperature with no hot spots is an art. I'll give you the updated version of all the best baby bottle warmers we used with our little one, so you can travel more easily.
In this guide, we'll dive into the top 5 best travel baby bottle warmers. From compact design to ease of use and everything in between, I've got you covered. Whether you're a new parent looking for the best way to keep your baby's bottle at the perfect temperature or a seasoned traveler searching for the latest warmer features, this is the guide for you.
Skip to:
Factors to Consider in Choosing the Best Travel Baby Bottle Warmer
When selecting the best travel baby bottle warmer I found that a lot of my friends tried to convince me that it wasn't a good idea to get my kid stuck on using a warmer. But, you know when a baby wants something it's better to just get in instead of battle with them.
I'm sure my first born would have preferred warm breast milk, it would have been a lot easier for everyone if she had been a good breast feeder. But alas, we needed bottle warmers to survive that first year and a half. We used traditional steam heating at home with a lift-out basket, portable wraps that plugged into cigarette lighters, and warming flasks.
Here are some aspects of baby bottle warmers that you should consider before going on a bottle warmer spending spree. Oh, and don't worry about the critics saying you shouldn't appease your picky baby. You do what you want and feed that baby warm milk if that's what they prefer.
Power Source
The first thing to consider is how the warmer works. Do you need a car adapter, a USB port, is it battery-powered, or does it plug into a wall? Think about where you're most likely to use it. If you're often on the road, a warmer that plugs into your car is a great option. Alternatively, for flights, a battery-powered bottle warmer is a great choice.
Ease of Use
When you have a hungry baby on your hands, the last thing you need is a complicated gadget. Ensure that the warmer you choose is straightforward in its heating process. Digital displays, clear temperature settings, and simple instructions can make all the difference.
Warming Time
Every minute counts, especially with a crying baby in the backdrop. The best portable bottle warmers should deliver warm milk or warm baby food jars in no time. Look for devices that promise optimal temperature in just a few minutes.
Size and Compact Design
If you're traveling, you'll likely have a packed diaper bag or dedicated baby travel bag. The last thing you need is a bulky device. Compact size and design are crucial. Consider warmers that fit easily into your bag, leaving room for other essentials.
Additional Features
The market for baby gear is ever-evolving. Many modern warmers now boast features like compatibility with different bottles of major bottle brands, such as Dr. Brown. Others might offer a digital display or even a warm water bath system. Determine which features are most valuable to you and prioritize them in your search.
Choosing the best travel baby bottle warmer doesn't have to be overwhelming. With these factors in mind and a clear idea of your specific needs, you're well on your way to making an informed decision that'll make feeding time a breeze, no matter where you are.
Top 5 Best Travel Baby Bottle Warmers
1. Tommee Tippee Travel Bottle Warmer
Compact Design
Warms Baby Food Jars
Warms with Hot Water
Requires Pre-Planning
Intended for Closer to Nature Bottles
Renowned for its efficiency and ease of use, Tommee Tippee Travel Warmer is a game-changer for on-the-go parents. With a stainless steel thermal flask, it keeps water hot, ready to mix with formula or warm bottles at the perfect temperature.
2. Philips Avent Fast Baby Bottle Warmer
Fast Warming Time
Compatible with Various Bottle Sizes
Baby Food Warmer Option
Defrost Option
Requires a Power Source
Not as Compact
Philips Avent Bottle Warmer offers an advanced yet user-friendly warmer that quickly heats bottles using steam heat. With multiple temperature settings, it's versatile enough to warm baby's bottle to body temperature or a bit warmer, depending on preference.
3. Baby Brezza Smart Bottle Warmer
Offers a Warm Water Bath
Evenly Warms to Desired Temperature
Suitable for Smaller Bottles
Higher Price Point
Needs Regular Maintenance for the Water Reservoir
This Baby Brezza steady warmer heats without destroying breastmilk proteins like traditional steam warmers. However, for those in a hurry it does have the steam warmer option. With its LCD display and easy settings, it's a top choice for many busy parents who want options for their hungry baby.
4. Energy Mami Portable Bottle Warmer
Adjustable Temperature Options
Can be Plugged into a Car, External Battery, and at Home
Hanging Strap
Extremely Portable
Takes Longer to Warm
Better for Less Ounces of Milk
While you're out on daily errands you might need a fully portable bottle warmer like the Energy Mami Portable Bottle Warmer that plugs into a USB port in the car. This warmer takes a little bit longer to heat the milk, but it's great if you know you'll need a bottle for later use. My old lifestyle before becoming nomadic meant we were in the car a lot and this was my warmer style of choice. I had a different brand, but this is better version of our favorite warmer from back in the day.
5. Buki Portable Bottle Warmer
Fully Wireless
Rechargeable External Battery
Doubles as a Night Light
Digital Temperature Indicator
Takes Longer to Warm Milk
Battery Takes 6 Hours to Charge
Nowadays the best travel bottle warmers are leveling up to make travel easier and easier for families. My favorite version above now has a fully wireless version with a built-in rechargeable external battery. You can warm 4-5 bottles per full battery charge. The Buki Portable Bottle Warmer is a great option for international long haul flights.
There you have it — the best portable bottle warmers. Each of these warmers stands out in its own right, offering unique features and conveniences. Remember, the best way to choose is by considering what aligns with your lifestyle, travel habits, and baby's needs. Happy feeding!
Safety Tips Using a Bottle Warmer
Navigating the world of baby products can be a bit daunting, and safety is always paramount. Your chosen best travel baby bottle warmer is no exception.
While these devices offer ease of use and convenience, it's essential to use them correctly. Let's look at some top tips to ensure your little one's milk is not just warm but also safe.
1. Monitor the Temperature
It's a common misstep to think hotter is better. Always aim for body temperature when warming up your baby's bottle. Use your wrist to test the milk's warmth. If it feels just right and not too hot, then it's likely a comfortable temperature for your hungry baby.
2. Avoid Hot Spots
Microwaves are notorious for uneven heating, which is why many parents opt for bottle warmers. However, even the best bottle warmers can sometimes produce hot spots. Always give the bottle a good shake or swirl to distribute the heat evenly before feeding.
3. Don't Refreeze Breast Milk
If you're using your warmer to heat breast milk storage bags, remember never to refreeze previously thawed milk. Doing so can compromise the milk's nutritional and safety profile. Follow all breast milk temperature and storage guidelines from your pediatrician.
4. Stay Nearby
It might sound obvious, but always pay close attention when your warmer is in action. This isn't just to prevent overheating; it's to ensure no accidents occur, especially if you're using steam heat.
5. Regular Clean-Up
Just as you'd clean your baby's bottles, don't neglect your bottle warmer. Regular maintenance helps prevent any build-up, ensuring optimal performance and longevity. Plus, a clean warmer is more likely to heat bottles to the desired temperature consistently.
6. Check Compatibility
Not all bottles fit in every warmer, especially those with unique designs. Always ensure your baby's bottle brand and size are compatible with your warmer to prevent any improper use.
7. Read the Manual
It might sound annoying, but always glance through the user manual. Different models have varied features, and a quick look can offer a wealth of information on how your warmer works best.
While the perfect travel baby bottle warmer can be a game-changer for busy parents on-the-go, ensuring safe and proper use is key. Keeping these tips in mind will not only ensure your baby's safety but also give you peace of mind during those middle of the night feedings or long road trips.
More Noteworthy Travel Baby Bottle Warmers
While we've discussed our top picks for the best travel baby bottle warmer of 2023, there are several others that have impressed us with their unique features and rave reviews. These bottle warmers might not have made the top three, but they're certainly worth a closer look!
Dr. Brown's Insta-Feed Bottle Warmer and Sterilizer
Dr. Brown's warmer works wonders for both formula and breast milk. It not only ensures your baby's milk reaches the perfect temperature but also acts as a sterilizer. The dual functionality is a great feature, making it a convenient choice for many new parents.
Baby's Brew Pro Portable Bottle Warmer
Baby's Brew offers a solution that's both efficient and versatile. With multiple temperature settings, it's perfect for heating up breast milk storage bags, formula, or even baby food to the perfect temperature.
BOLOLO Portable Milk Warmer
With its super-fast charge and easy-to-read LCD display, BOLOLO stands out as one of the best portable bottle warmers. It's especially handy for formula-only feedings, ensuring every ounce of milk is at the right temperature. Its compact size is also a plus, fitting snugly in any diaper bag.
Mumgaroo Portable Bottle Warmer
This innovative warmer boasts four different adapters, making it versatile for various baby bottles. It's a great option for families with different bottle brands at home. The Mumgaroo warmer heats uniformly, ensuring no hot spots, and its ease of use is a major win for many busy parents.
Honorable Mentions
While our top five picks offer exceptional performance and value, these honorable mentions are also worthy of your attention. They each bring a unique set of warmer features to the table, catering to the specific needs of parents and their little ones. Always keep your family's travel style in mind and choose the best travel baby bottle warmer that aligns with your lifestyle.
I hope you see that using a bottle warmer isn't spoiling your baby or trapping you at home indefinitely. Years later I still hear the judgement ringing in my ears from people telling me I was making too big of a deal about warming my babies milk. All I knew was that she wouldn't drink the dang milk if it was cold. And if I didn't feed her she cried. That's why bottle warmers exist. You are not the only one who need them.
Get the bottle warmer that will work best for your baby while doing your best to bock out the unwanted advice from people who aren't in your shoes.
Making Feeding Time Easy on the Road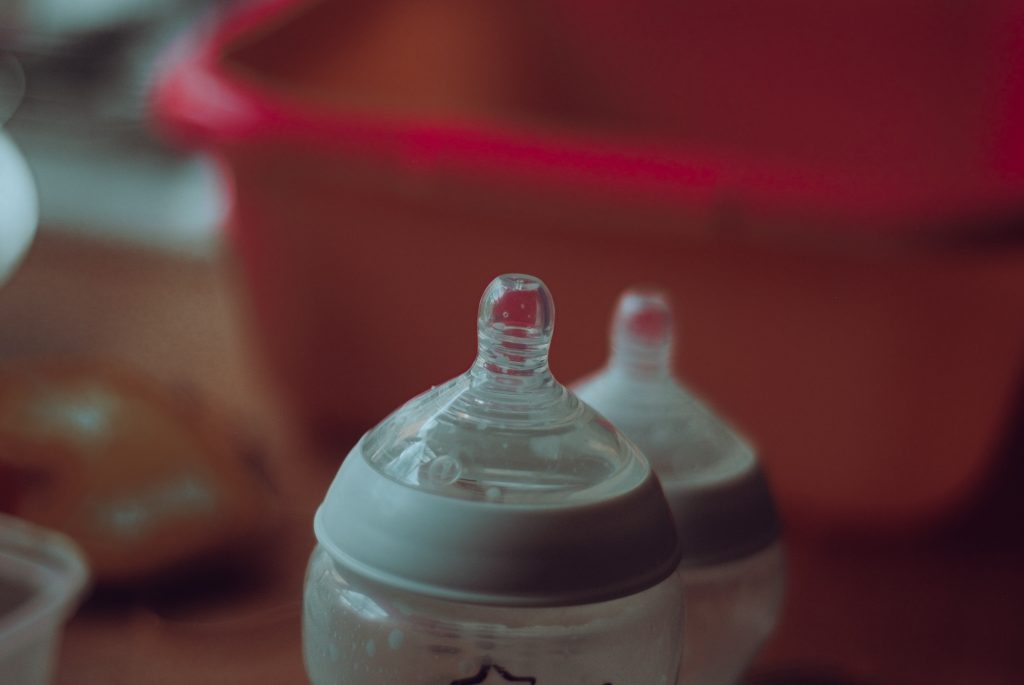 Traveling with a little one can be a daunting task. From packing diapers to ensuring you've got their favorite toy, there's a lot on a parent's plate. Thanks to the best travel baby bottle warmers, feeding time becomes less of a challenge and more of a smooth routine, even miles away from home.
The key is to find a warmer that aligns with your specific needs and lifestyle. Whether you're after a compact design that fits easily into a diaper bag or a high-tech option with an LCD display, the market offers something for everyone. And as we've highlighted, there are plenty of great options out there, from the ultra-fast Philips Avent Fast Bottle Warmer to the versatile Mumgaroo Portable Bottle Warmer.
Remember, it's not just about warm milk. It's about ensuring that the milk is at the ideal temperature without any hot spots that could hurt your precious one. It's about the convenience of warming up baby food jars in the middle of the night or while on road trips without scrambling for a bowl of warm water. The perfect travel bottle warmer addresses all these concerns with ease.
Moreover, investing in the best travel baby bottle warmer also means less stress for you. A crying, hungry baby paired with the uncertainty of how to warm their bottle is a situation no parent wants to be in. With the right tool at hand, you can offer your little one comfort in record time.
Affiliate Disclaimer
Before we wrap up, it's important for us to be transparent with our readers. Nomad Veronica is committed to providing you with valuable information and recommendations. As part of this commitment, we want to let you know that some of the links in this article are affiliate links.
What does this mean? It means that if you click on one of these links and make a purchase, we may earn a small commission, at no extra cost to you. These commissions help support the work we do here and enable us to continue offering you in-depth guides, product reviews, and travel tips.
Please understand that we only recommend products and services that we genuinely believe will benefit you and your family. Our recommendations are based on thorough research, user reviews, and expert insights.
Your trust is important to us, and we appreciate your support. If you have any questions or concerns about our affiliate links or recommendations, feel free to reach out. We're here to help you make the best decisions for your family's travels. Thank you for being a part of the Nomad Veronica community.
FAQs: Travel Baby Bottle Warmers