Hey there, fellow travelers! Are you ready to jet-set but feel your old luggage isn't cutting it? You're in the right spot because today, we're diving into the best stackable luggage sets that cater to every budget and make traveling simpler.
Whether you're a business traveler hopping on a last-minute international flight or planning a long, leisurely road trip, the right luggage set is your ticket to stress-free packing and easy-breezy adventures.
Skip to:
You're standing in the bustling airport, your lightweight luggage gliding effortlessly beside you, thanks to those smooth 360-degree spinner wheels. You breeze through security with your TSA-approved locks. You look like you belong in the VIP airport lounge because your stackable luggage set was an excellent choice.
These stackable sets maximize storage space while fitting snugly in the overhead compartment. Or if you need more stuff to make your trip a success, the matching luggage in your three-piece set is easy to spot on the luggage carousel.
But wait! Before we unveil our top picks that have left countless travelers starry-eyed (we're talking rave amazon reviews!), let's chat about what makes the top luggage brands. Are you a hardshell luggage aficionado for those rough-and-tumble trips, or do you swear by softside luggage with external pockets for your myriad of travel accessories?
Perhaps you're seeking the convenience of a USB port for on-the-go charging or interior pockets to keep your items just a zip away.
Whether you're a frequent flyer or a holiday globetrotter, your perfect luggage companion is waiting in our curated list, packed with options for every style, need, and budget. Ready to transform your travel game with some suitcase magic? Let's roll!
Why Stackable Luggage Sets?
Different types of vacations require different sizes of luggage. A larger checked bag for international flights is not the same thing you would take on a long weekend.
Getting a quality luggage set that you can use individually or together will save you money and stress.
Maximized Convenience for Every Adventure
First off, let's talk about the sheer convenience that stackable luggage brings to the table. Stackable luggage sets fit perfectly on luggage carts, plus they are different sizes allowing family members of different ages to be in charge of their own suitcase.
No more juggling a duffel bag perched on top of your 20-inch carry-on or awkwardly wheeling two different styles of suitcases simultaneously. With these sets, you're effortlessly moving from point A to point B with your belongings neatly assembled. It's the ultimate travel ease, especially for those who struggle to manage several pieces of luggage at once.
Style and Functionality
Now, onto the good looks! Stackable luggage sets aren't just about practicality; they bring a whole fashion statement to your travel ensemble. A matching set of luggage exudes a chic, coordinated vibe that makes you feel like a star on tour. Get you own set and tell us which one is your favorite.
From sleek hard cases in a variety of colors to more subtle tones for the minimalist traveler, there's a style to match every personality. Plus, there's something incredibly satisfying about seeing a neatly organized, aesthetically pleasing set of suitcases in your hotel room or rolling across the conveyor belt. Talk about traveling in style!
Space-Saving
One major perk that cannot be overstated is how much of a space-saver these sets are. When not jet-setting worldwide, the smaller cases tuck neatly into the larger sizes, making storage a dream. It is perfect for those of us who might not have ample space at home but love to have a full set of luggage options available. Let's face it: a solo trip's luggage needs differ vastly from a family holiday or a business trip with extra files and a laptop bag.
Economical
Let's touch on budget-friendliness because who doesn't love saving a little bit? Investing in a stackable set is often more economical than purchasing individual suitcases. You get multiple sizes and types for different trip durations and purposes, all in one go. And the best part? You don't have to compromise on quality for the sake of your wallet.
You could absolutely opt for the super economical Amazon Basics collection. Amazon reviewers love their luggage! But, for a frequent traveler you might end up spending more money in the long run because they need to be replaced more often. Less money up front, but more money in the long run.
Frequent Traveler's Best Companion
Lastly, for the frequent travelers among us, the only thing we care about is durability. I always opt for a hard shell suitcase with a colorful outer shell so I can identify it on the luggage carousel. Take the bigger carry-on when that size suits your needs and opt for the large case when checking luggage is unavoidable.
Plus, with options like TSA-approved locks, multi-directional spinner wheels, and hard-sided luggage for rough handling, you can rest easy knowing your belongings are secure, whether stored in an overhead compartment or checked in. Frequent flyers, rejoice!
Ready to change the way you travel? Let's explore the best stackable luggage sets that are both a great deal and have an excellent average customer review.
See Also:
Can You Bring a Razor on a Plane
Pack for Vacation Like a Minimalist
The Top Stackable Luggage Sets of 2023
In the ever-evolving world of travel, 2023 stands out as the year when easy maneuverability and style converge, thanks to the best stackable luggage sets. From the bustling airport terminals to the quaint, cobblestone streets of exotic locales, these innovative travel companions ensure a hassle-free experience while keeping you fashionable every step. Whether you're a solo adventurer diving into the unknown or a family trotting the globe during the holidays, having the right travel gear can turn any journey into a smooth sail.
This year, the top stackable luggage sets are not only about space-saving and easy navigation. They're an investment, with the most durable material, security, and style – a treat for frequent flyers and occasional travelers alike. These sets understand the modern traveler's psyche, offering flexibility for various trip types and durations.
Join us as we unpack the best of 2023, showcasing the best suitcases that revolutionize how we travel, blending function with fashion in unprecedented ways. It's more than just large suitcases it's the best hardside luggage set, designed to make every journey memorable. Strap in as we delve into this year's top picks, reshaping the travel narrative, one trip at a time!
SkyValet Triple Pack
Elevate your travel experience with SkyValet Luggage's Triple Pack, a trio of smart, sleek suitcases usually priced around $999. The set includes the 22″, 26″, and 29″ sizes, each thoughtfully designed to cater to various trip durations, from a quick weekend jaunt to an extended vacation. Noted for their robust construction and modern aesthetics, these suitcases are a testament to SkyValet's commitment to premium travel gear.
What makes this luggage set a standout? Its Shark Wheels®. These unique wheels, inspired by the geometry of shark fins, ensure a smooth, all-terrain roll, providing an effortless glide whether you're navigating through a crowded airport or cobblestone streets. The multidirectional spinner wheels coupled with the luggage's lightweight, durable exterior promise a smooth travel experience.
SkyValet doesn't just offer a travel solution; it offers a travel revolution. The built-in wireless charging pockets are compatible with all smartphones, ensuring you stay connected no matter where your adventures take you. And for those who value security, the TSA-approved biometric fingerprint lock offers peace of mind, ensuring your belongings are safeguarded with the latest technology.
The Triple Pack's interior proves SkyValet's understanding of the modern traveler's needs. The spacious compartments are lined with a luxurious, soft fabric and include organizational pockets that make packing a breeze. The compression straps help secure your items, while dedicated compartments for tech ensure that your gadgets are always within reach.
SkyValet's luggage is more than just a means to carry your belongings, it's a travel statement. Available in sophisticated color options like matte black, graphite, and rose gold, these suitcases are designed to stand out in a sea of mundane luggage. Whether you're an occasional traveler or a frequent flyer, the Triple Pack from SkyValet Luggage is an investment in travel luxury, promising durability, functionality, and style in one package.
Samsonite Supra DLX 3 Piece Set
Experience travel like never before with the Samsonite Supra DLX 3 Piece Set, one of the best stackable luggage sets for travelers prioritizing efficiency and style. With a commendable 4.3 out of 5-star customer rating, Samsonite is one of the best luggage brands for serious travelers. You can usually pick up this Samsonite luggage set for under $400, making it a very economical choice.
The Supra DLX is a three-piece luggage set that enhances your travel lifestyle. Simplistic and streamlined, its minimal exterior design stands out in a crowd, promising the exceptional quality and resilience Samsonite is known for. Its 100% polypropylene shell, adorned with a linear texture, exudes a contemporary appeal that savvy travelers love.
Forget the clutter. The Supra DLX interior speaks volumes with features like elastic tie-down straps, a side mesh pockets, and a zipped lining divider, ensuring everything has its place. You've got stand out colors like alpine green and grey to choose from in addition to more common colors like black and blue.
Travel feels like a breeze with the Supra DLX. Dual-spinner wheels guarantee easy mobility, eliminating any travel-induced hassle. The dual-stop pull handle and retractable rubberized top and side handles make it easy to pick up these pieces up and dash through the airport.
The carry-on from the Supra DLX set takes connectivity a notch higher. It's uniquely designed with a USB port and battery pocket (battery not included), revolutionizing convenience during your journeys. The exterior USB port cover adds a layer of protection, ensuring you stay connected safely.
The Samsonite Supra DLX 3 Piece Set reimagines what travel can feel like, offering a blend of efficiency, modern design, and technological advancement. Upgrade to this set and prepare for a journey defined by comfort, style, and supreme organization.
E.V.M. 3 Piece Set
When it comes to unparalleled convenience and style in travel gear, the E.V.M. 3 Piece Set stands out, making it one of the best stackable luggage sets available today. Offering a carry-on spinner, medium checked spinner, and large checked spinner, this collection brings incredible value usually for under $400. Its robust hard-side protection and TSA-friendly lock mean security concerns are a thing of the past. The E.V.M. set caters to every need, whether you're jetting off on short trips or extended family vacations.
Constructed with a lightweight yet enduring polypropylene hard-side shell, each piece in the E.V.M. set is built to last. The textured shell adds to the aesthetic and is extremely scratch-resistant, keeping your luggage looking newer for longer. Unique colors include redrock, sky blue, and white in addition to the standard black.
Bid farewell to packing woes with the E.V.M. set's spacious main compartment featuring handy compression straps. Adding internal organization pockets ensures that keeping your belongings orderly is as effortless as possible. Moreover, the TSA-approved combination lock provides extra peace of mind.
Gliding around is a breeze thanks to the four dual 360-degree spinner wheels, ensuring increased maneuverability wherever you find yourself. The expandable hard shell is an added boon, offering that much-needed extra space without compromising on convenience. The premium features plus limited lifetime warranty make the E.V.M. one of the best luggage sets.
Comfort hasn't been overlooked, with a telescopic push-button handle that adjusts to various heights, catering to all users. Navigating airline regulations won't be a hassle, as the E.V.M. set considers carry-on bags' size and weight allowance. However, confirming specific restrictions with your airline is wise to ensure smooth travel.
American Tourister AIR Move 3 Piece
Traveling is about embracing adventure, and the AIR Move 3 Piece Set by American Tourister is designed to be your reliable companion. This set is the most economical on our list and yet is still one of the best stackable luggage sets on the market. Whether planning a quick getaway, a business trip, or a family vacation, this set has the perfect bag to suit any journey.
The AIR Move set doesn't just offer one solution – it presents three. With a carry-on, medium, and large spinner, you're equipped for trips of any duration. The variety in size ensures you have the flexibility to pack exactly what you need, from the essentials to extra outfits for those just-in-case moments.
Bid goodbye to one-size-fits-all travel discomfort. The AIR Move features a telescopic steel tube trolley handle, easily adjustable to match your height, promoting better posture and ease of movement. Paired with the dual spinner wheels, expect a smooth and effortless transit through bustling terminals and beyond.
Crafted from a vibrant polypropylene material in fun different colors like sunset yellow and coral red, these cases combine lightweight convenience with robust durability. The lively aesthetic, underscored by American Tourister's signature zipper pulls, adds a touch of joy to any journey, ensuring your luggage is as stylish as it is secure.
Experience hassle-free packing with a split case design featuring two distinct compartments, a zipper divider, and cross straps that secure your belongings. Whether you're packing souvenirs or necessities, everything stays in place. Plus, with a Recylex® lining, you choose sustainability with every journey.
Travel with peace of mind, thanks to the integrated TSA lock. It keeps your valuables secure and speeds up airport security checks, letting you focus on the journey ahead rather than the safety of your belongings.
Delsey Paris Christine 3 Piece
Embark on your next journey with the Christine Hardside Spinner Luggage Collection, a chic and contemporary 3-piece set available under $600. This collection, featuring 20″, 24″, and 28″ spinners, is designed to accommodate all types of travel, whether it's a business trip, a family vacation, or a solo retreat. Recognized for its elegance and crafted for durability, this set stands as a paragon of luggage excellence.
What distinguishes the Christine Collection? Each case boasts a resilient hardshell with a captivating, glossy finish, ensuring your travel gear remains unscathed from the rigors of transit. The set is also remarkably versatile, with cases that nest within each other, saving you storage space when not in use.
Maneuverability is paramount with the Christine Collection. The multi-directional 360° spinner wheels offer a glide as smooth as silk across airport concourses and hotel lobbies. Combined with an adjustable telescoping handle, these cases offer effortless control and comfort to travelers of any height.
The collection isn't just practical; it's intuitive. The spacious main compartment is ingeniously designed with a divider and straps to secure your belongings and minimize shifting during travel. A zippered mesh pocket provides additional organization, perfect for keeping smaller items accessible and secure.
Attention to detail is evident in the Christine Collection's features. A built-in TSA-approved combination lock adds an extra layer of security, giving you peace of mind as you traverse the globe. The collection is mostly white with a fun color palette of mauve, yellow, blue, or teal trip, which infuses your travel routine with a dash of personality while maintaining sophistication.
Travelpro Platinum Elite Set
Navigate the world of professional international travel with our only softside stackable luggage set thanks to the Travelpro Platinum Elite Set. This premier luggage ensemble is designed specifically for the business traveler, merging sleek design with executive-class practicality. Discover how this set delivers a seamless, stress-free travel experience for professionals.
When your travel itinerary reads like a sequence of business meetings, the Travelpro Platinum Elite Set becomes your go-to companion. This premium collection combines sophistication with functionality, specifically catering to the needs of business professionals. It's not just luggage; it's your on-the-go office and wardrobe with easy storage and TSA locks.
What sets the Travelpro range apart? Its durability. Crafted with high-density nylon fabric and a damage-resistant coating, these pieces handle travel's physical demands. They stand resilient against the hustle and bustle of airports, taxi trunks, and overhead bins, ensuring your business attire remains immaculate.
Time is of the essence for business travelers, and the Platinum Elite honors that. Its precisionGlide™ system enhances stability and maneuverability, allowing you to navigate crowded terminals seamlessly. The built-in USB port and dedicated power bank pocket mean you're always just one plug away from your next business call or email.
The interior is where the Platinum Elite truly shines. Its deluxe tie-down system, removable garment bag, and accessory exterior pockets are a game-changer for organization. Pack suits, presentations, and tech gadgets without the stress of wrinkles or clutter. Everything has its place, so you can focus on the deal, not your luggage.
Business trips are diverse, and this set gets it. From quick overnight jaunts to extended stays, it offers versatile packing solutions. Adjustable hold-down straps, wet pockets, and expandable compartments adapt to your schedule's specifics, whether a single-client dinner or a full-blown conference tour.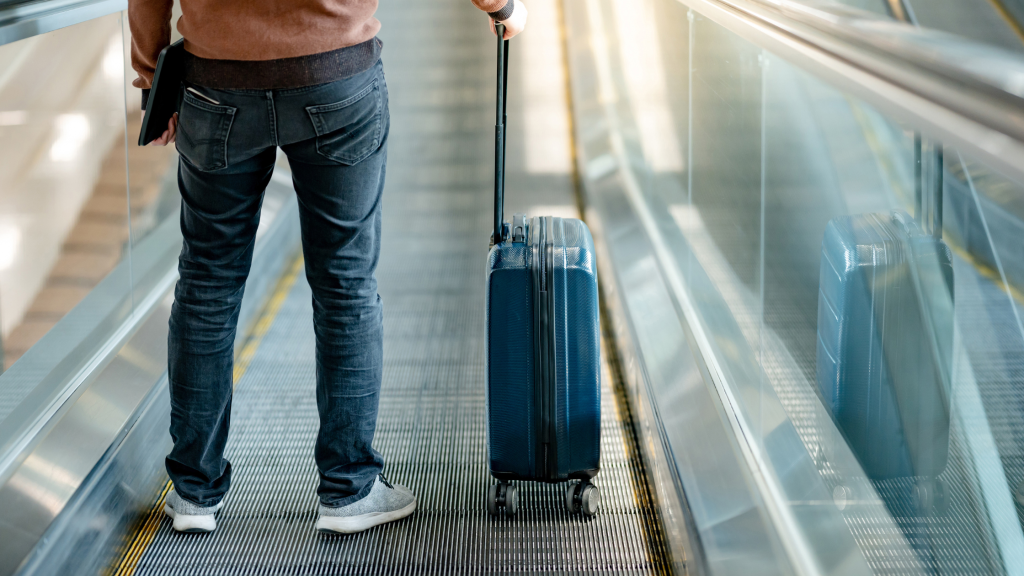 FAQs About Stackable Luggage Sets