If you're a parent who's constantly on the go, we understand that ensuring your toddler gets a good night's sleep during your adventures is a top priority. That's why we've put together the ultimate guide to finding the best travel bed for toddler aged kiddos.
When it comes to traveling with toddlers, having the best toddler travel bed in your luggage can make all the difference. Whether it's for road trips, hotel stays, or even outdoor family adventures, a portable travel bed is a must-have.
In this guide, we'll explore various types of toddler travel beds, providing you with a range of options that cater to different needs and preferences.
Skip to:
The Perfect Bed for Your Little Explorer
Before we dive into our top picks, it's important to understand the value of having a reliable travel toddler bed in your travel bag. Finding the best travel bed for toddler can transform an ordinary night's sleep into a great one, creating a safe and familiar sleep environment for your child.
As we discuss the pros and cons of different options, from inflatable toddler beds to folding toddler travel cots . You'll discover the perfect solution that fits your family's unique child sleep needs. With the right bed, you can keep your toddler near you, ensure a good night's sleep, and provide a safe place for your child during your family vacation.
We've tested and reviewed the top picks for 2023, and we're excited to share our insights with you.
Whether you're a parent with young children or older toddlers, we've got you covered. Let's find the perfect portable bed for your little one and make your family vacations even more enjoyable.
9 Portable and Smallest Travel Bed for Toddler
When it comes to selecting the best toddler travel bed, you might be overwhelmed by choices. Here's some of the best portable toddler beds:
1. Hiccapop Inflatable Toddler Travel Bed
Easy Setup
310lbs Weight Limit
Safety Bumpers
Outdoor Use
Warranty Difficult to Use
2. CloudSleeper – Kids Inflatable Travel Bed
Integrated Pump
Packs Up in a Packing Cube
Breathable Mesh Cover
Bed Box Makes Airplane Sleep Possible
Weighs Only 3lbs
Only One Month Return Window
No Bumpers
150lbs Weight Limit
3. EnerPlex Kids Inflatable Travel Bed
High-Speed Pump
66″ Length for Taller Toddlers
Unique Bumper Design
Available in Blue or Pink
Higher Price Point
150lbs Weight Limit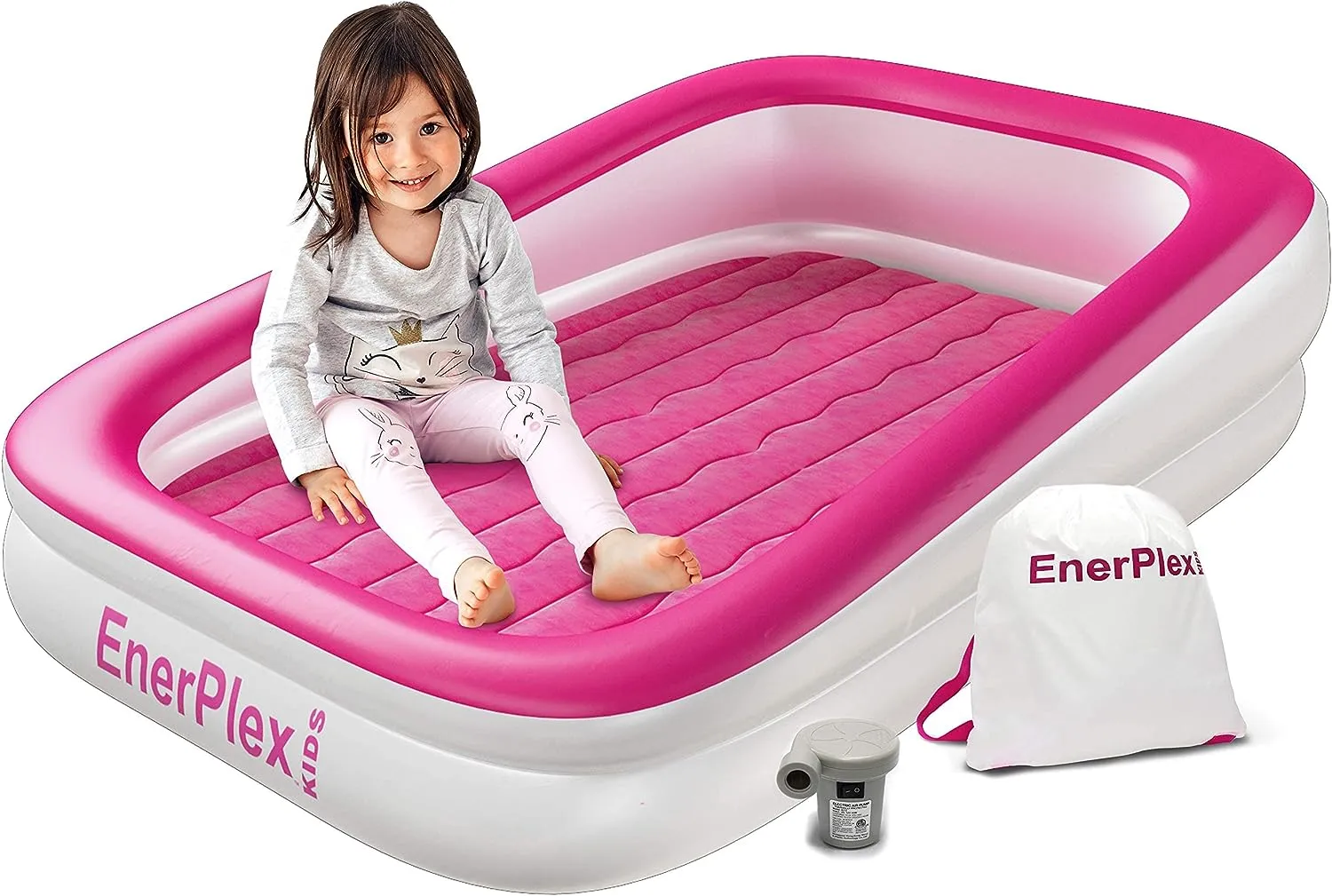 4. Intex Cozy Kidz Inflatable Toddler Airbed
Budget-Friendly
Folds Down to a Compact Size
Available in Orange or Blue
Holds Air Longer
No Bumpers
Hand Pump Sold Separately
100lbs Weight Limit
Intex Kidz Travel Bed is a budget-friendly option for families. It's easy to transport and offers a comfortable place for your child.
5. Hugbino Inflatable Toddler Travel Bed
Quick Inflate and Deflate
Bumpers on All Sides
Less Noisy Than Other Beds
Fits a Standard Crib Sheet
No Color Options
100lbs Weight Limit
6. ELTOW Inflatable Toddler Bed
Budget-Friendly
Comes With Quick Fix Patches
310lbs Wegit Limit
Electric Pump Included
Includes Lifetime Warrenty
Sleeping Length is Only 40″
May Not Be Suitable for Older Children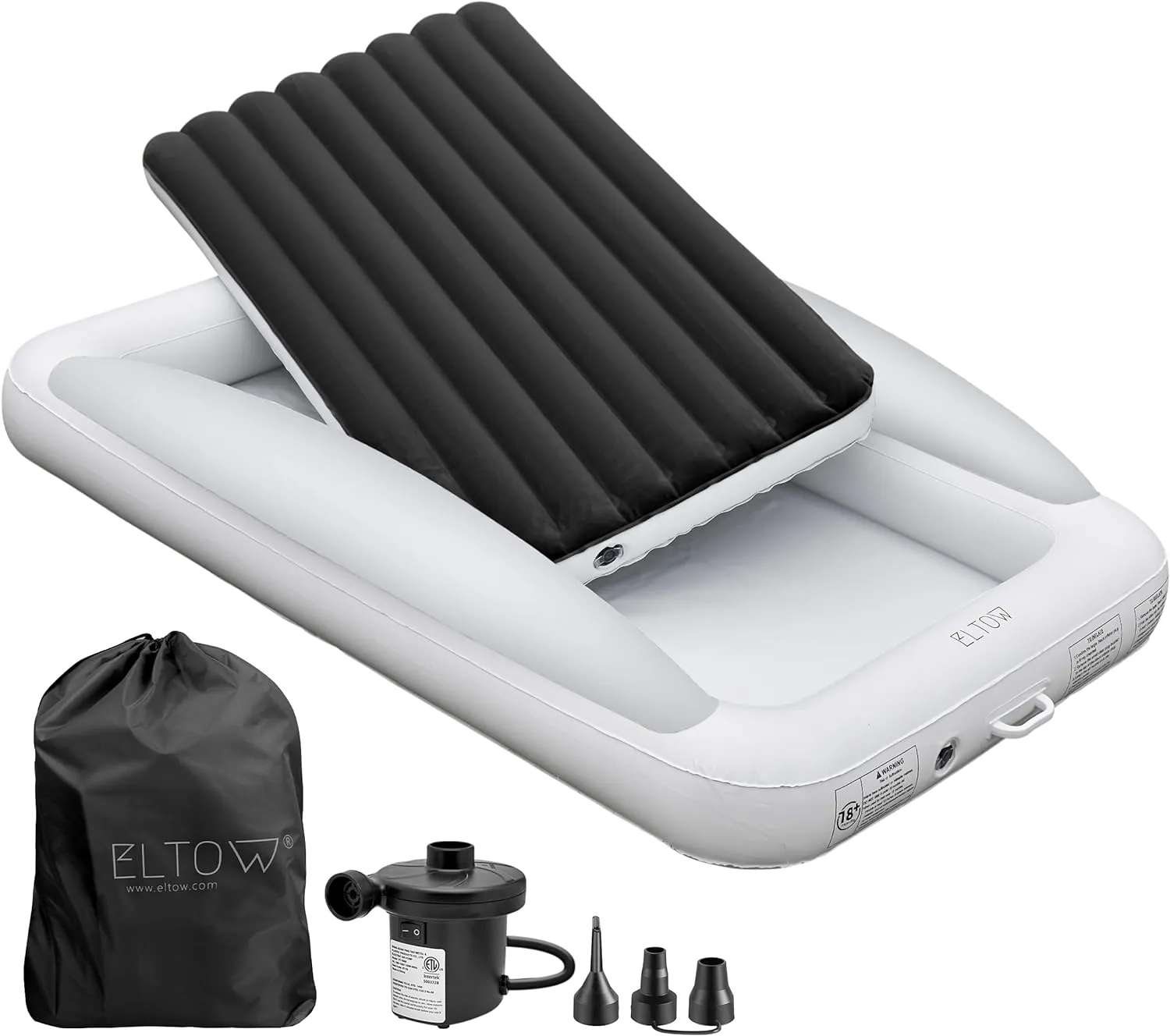 The ELTOW Inflatable Toddler Bed is a great choice for families on a budget. It offers a comfortable place for your child, making it a good option for short trips.
7. Regalo My Cot Portable Extra Long Toddler Bed
Steel Frame
54″ Long Sleeping Area
Fold Out Setup
Easy to Clean Nylon Material
75lbs Weight Limit
Not as Portable as Inflatable Options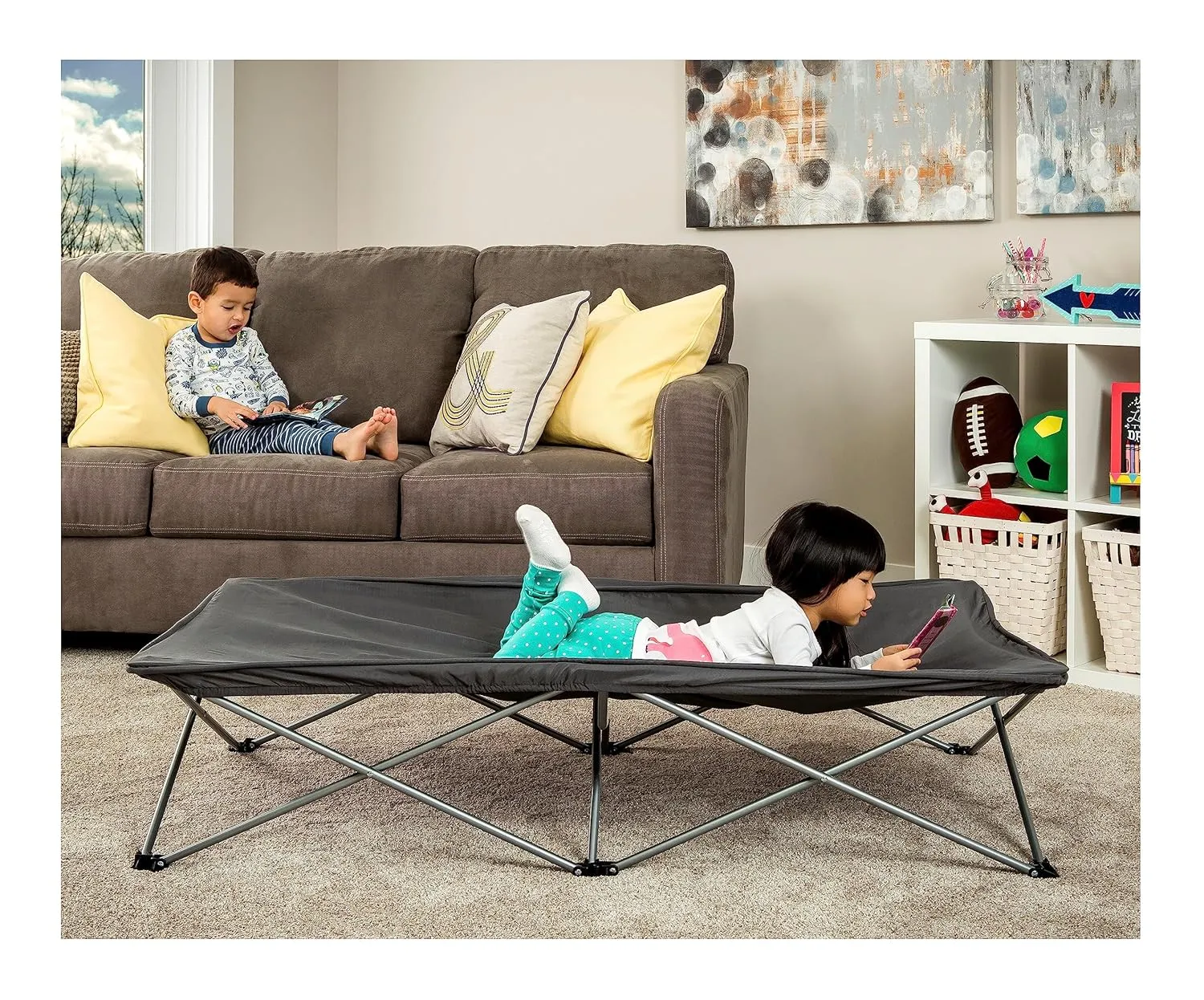 The Regalo My Cot Extra Long is a reliable folding cot. It's perfect for travel and offers an extra bed for your child. We love the long version so it can grow with your child.
8. Joovy Foocot Toddler Travel Cot
Zero Flame Retardant Chemicals
Storage Pockets
Fold Out Setup
Comes in 4 Color Options
75lbs Weight Limit
Not as Portable as Inflatable Options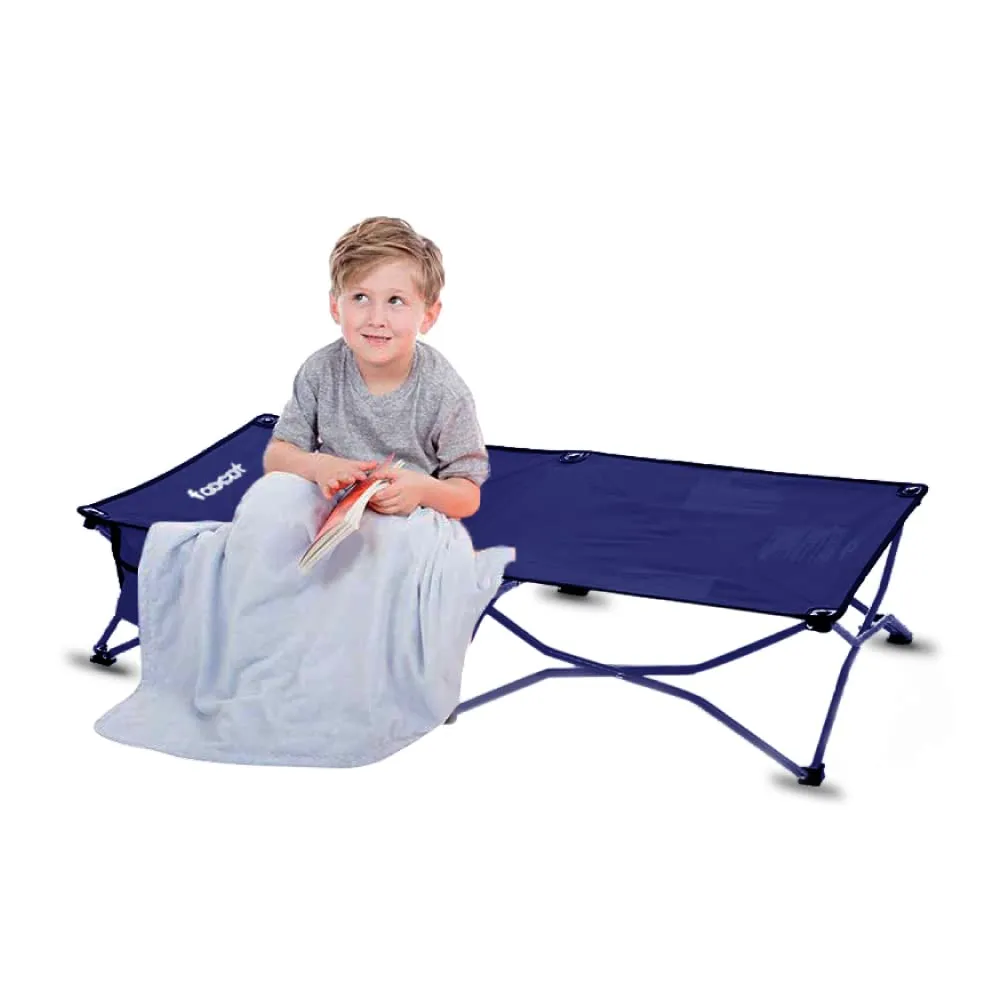 The Joovy Foocot Toddler Travel Cot offers budget friendly convenience. Letting your child pick from the four colors is a great way to involve them in being excited about sleep.
9. Wildkin Original Nap Mat for Toddlers
Folds into Small Size
Many Color Options
Built in Removable Pillow
Added Bonus of Matching Accessories
Award Winning
Not Ideal for Outdoor Use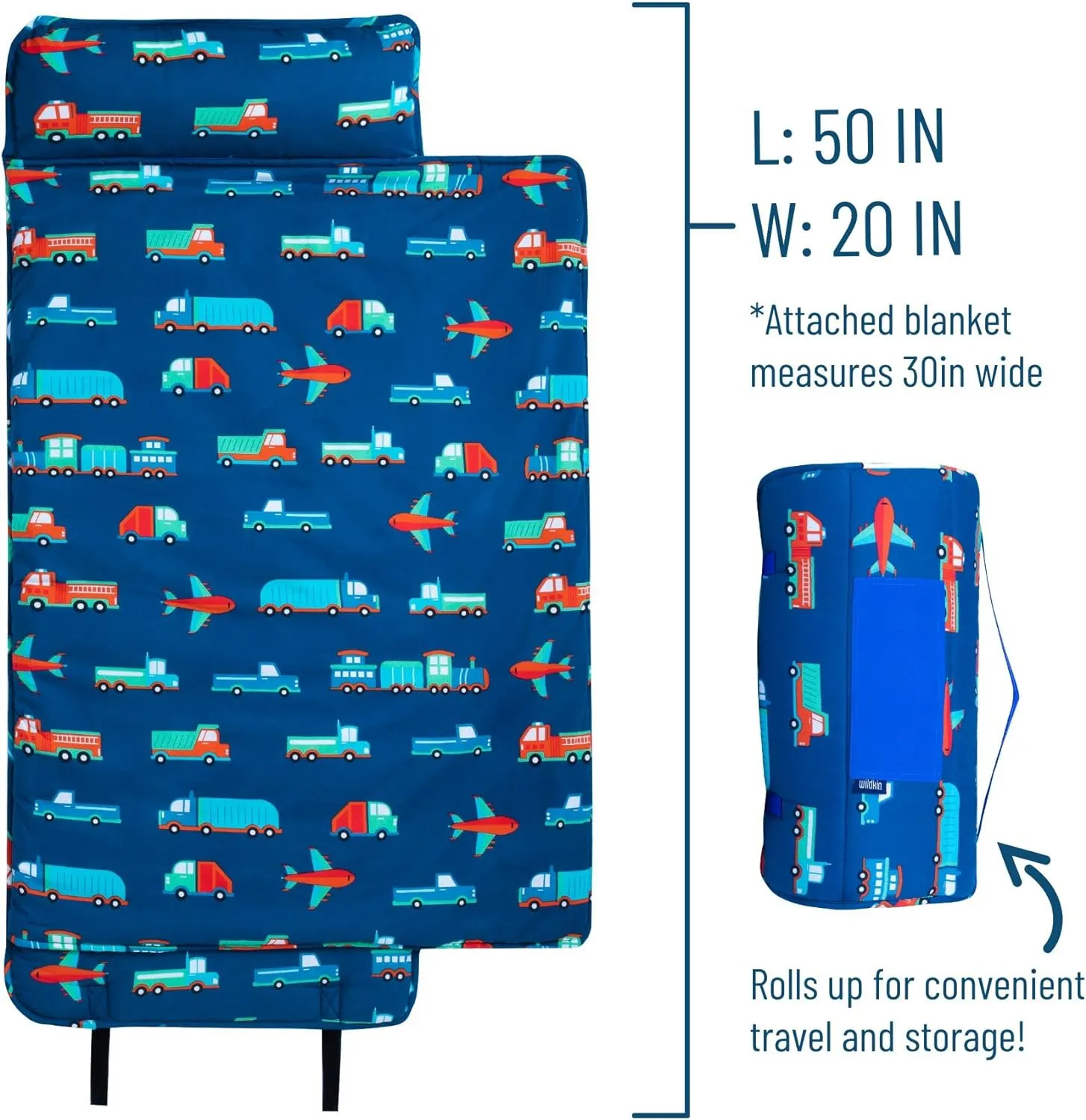 The Wildkin Original Nap Mat is a long time favorite of preschools and daycares. An award winning one-item solution for toddler sleep on the go.
What to Look for in a Portable Toddler Bed
It's not always possible for every family member to have a regular bed on vacation. Even a portable hotel bed can be cost prohibitive in some situations.
I just think it's a good idea to keep your child's sleep situation consistent while traveling, if possible. Choosing the best portable and smallest toddler bed for your child is a decision that requires careful consideration. To make an informed choice, there are several key factors you should keep in mind:
Comfort
Ensuring your child has a comfortable place to sleep is paramount. Look for a bed with a comfortable mattress that provides adequate support. The bed's dimensions should also allow your toddler to stretch out comfortably. Inflatable mattresses often offer excellent comfort and are a popular choice among parents.
Safety
The only thing more important than comfort is safety. Your child's safety should be the top priority when selecting a portable toddler bed. Consider options with side bumpers or that are low to the ground to prevent your child from getting hurt rolling off during the night. Make sure the materials used are safe for your child, and that the bed complies with safety standards.
Ease of Use
When you're on the go, the last thing you want is a bed that's difficult to set up. I think back and cringe about the disastrous first time pack n play setup. Look for a toddler travel bed that is easy to inflate and deflate. Many inflatable toddler beds come with an electric pump for quick and hassle-free setup. Folding toddler cots should also be straightforward to assemble.
Portability
Ensure that your chosen bed is easy to transport. Portability is a key feature for any travel bed. Look for beds that come with a carry bag or have a compact size when folded. This makes it convenient to bring your toddler's bed with you, whether you're heading to a hotel room or embarking on a road trip.
Outdoor Use
If you're an adventurous family that loves outdoor activities, consider whether the bed is suitable for outdoor use. Some toddler travel beds, like inflatable ones, work well for camping trips and other outdoor adventures. Make sure the bed can handle the rigors of outdoor use.
Weight Limit
One of the first things you should check is the bed's weight limit to ensure it can accommodate your child, especially if you have a tall toddler. Knowing the weight limit will provide peace of mind and guarantee your child's safety during sleep.
Noise
Something that is not often talked about is the amount of noise air mattresses or travel cots make while young kids settle into bed. Do you know what I mean? That rubber squeaking or fabric rustling is extremely distracting. Using a fitted sheet on the bed is a good hack to reduce noise, plus it gives you a washable cover to clean in between uses.
By keeping these factors in mind and assessing your family's specific needs, you can select the best portable and smallest toddler bed that caters to your child's comfort, safety, and your travel style.
Why Do You Need a Travel Bed for a Toddler?
Traveling with a toddler presents a unique set of challenges, and ensuring your child gets a good night's sleep is a top priority.
But why is having a travel bed for a toddler so crucial? Let's explore eleven compelling reasons:
1. Travel Crib Too Small
Hotel cribs and portable cribs provided by accommodations may be too small or uncomfortable for your toddler. Having your own portable toddler bed ensures your child has a comfortable place to sleep.
2. Avoid Sharing a Bed
While sharing a bed with your toddler might be tempting, it can lead to restless nights for both of you. A portable toddler bed offers your child a dedicated sleeping space, promoting better sleep for everyone.
3. Familiar Sleep Environment
Children thrive in a familiar environment. Using a consistent toddler travel bed can provide your child with the comfort of sleeping in a known and trusted space, no matter where you are.
4. Multiple Children
If you have more than one child, a portable toddler bed is a practical solution, ensuring each child has their own space, reducing nighttime disturbances, and minimizing sibling conflicts..
5. Travel Style
Your travel style matters. Whether you're on a long flight, road trip, or camping adventure, a portable toddler bed can cater to your specific travel needs, ensuring your child's sleep remains undisturbed.
6. Plan to Use Frequently
Frequent travelers will benefit greatly from having their toddler's bed on hand. It saves you time and effort, especially when you're on the move often.
7. Toddler Moves Too Much
If your toddler is an active sleeper, a portable toddler bed with side bumpers or bed rails can prevent them from rolling off during the night.
8. Keep Toddler Near You
Having a toddler travel bed allows you to keep your child close to you, ensuring you can attend to their needs during the night without disturbing the entire family.
9. Use at Grandma's
Sometimes you just need to send the kids away so mom and dad take a trip alone. When visiting relatives, having your toddler's travel bed can provide a sense of security and familiarity, making your child's sleep more restful while you're away.
10. Get Toddler Excited
A dedicated toddler bed with fun designs or cozy features can get your child excited about bedtime, turning it into a positive and enjoyable experience.
11. Maintaining Hygiene
Relying on hotels or family to keep a clean baby bed for your visit is asking a lot. Bringing your own travel bed for your toddler is the best solution for ensuring a clean sleeping environment.
Incorporating a portable toddler bed into your travel plans can make a significant difference in your child's sleep quality and overall travel experience.
It's a practical and valuable investment that enhances the comfort and enjoyment of your family's journeys.
Tips for Using a Portable Toddler Travel Bed
Using a toddler travel bed effectively can ensure a smooth and restful night's sleep for your child during your travels. Here are some valuable tips to make the most of your portable toddler bed:
1. Set Up in a Hotel Room
When you arrive at your hotel room, prioritize setting up your toddler's bed first. This way, it's ready when bedtime comes. Ensure the bed is placed in a safe and convenient spot in the room.
2. Use Fitted Sheets
Pack standard crib sheets that fit the dimensions of your toddler's bed. This ensures a snug fit and reduces the risk of the sheet coming loose during the night.
3. Ensure a Good Night's Sleep
Stick to your child's regular bedtime routine as closely as possible. Familiar sleep cues, such as a favorite stuffed animal or bedtime story, can help your toddler feel comfortable and fall asleep more easily.
4. Keep Your Toddler Warm
Pack a small sleeping bag or extra blankets to keep your child warm. Hotel rooms can have varying temperatures, and ensuring your toddler is cozy is essential.
5. Make Sure It's Safe
Before your child goes to bed, double-check that the toddler travel bed is securely set up and that any safety features, like travel bed rails or side bumpers, are in place.
6. Consider Naptime
Toddler travel beds are not just for nighttime. Use them during naptime as well to provide a consistent sleeping environment for your child.
7. Keep the Bed Near You
If possible, place your toddler's bed close to your own sleeping area. This way, you can easily attend to your child's needs during the night without leaving the room.
8. Make It Exciting
Choose a toddler travel bed with a unique design or features that excite your child. Turning bedtime into a positive experience can make it more enjoyable for your little one.
9. Plan for Long Flights
If you're taking a long flight, an inflatable toddler bed can be a real lifesaver. Your child can sleep comfortably during the journey, making the travel experience more pleasant for everyone.
Learn How to Hang Out in Airport Lounges for FREE
10. Be Prepared
Pack all the necessary items, including the matching pump, in an easily accessible location. This way, you won't need to scramble to set it up when you arrive at your destination.
11. Know Your Bed
Before your trip, practice setting up and taking down the toddler bed at home. Familiarity with the process will save you time and stress on your travels.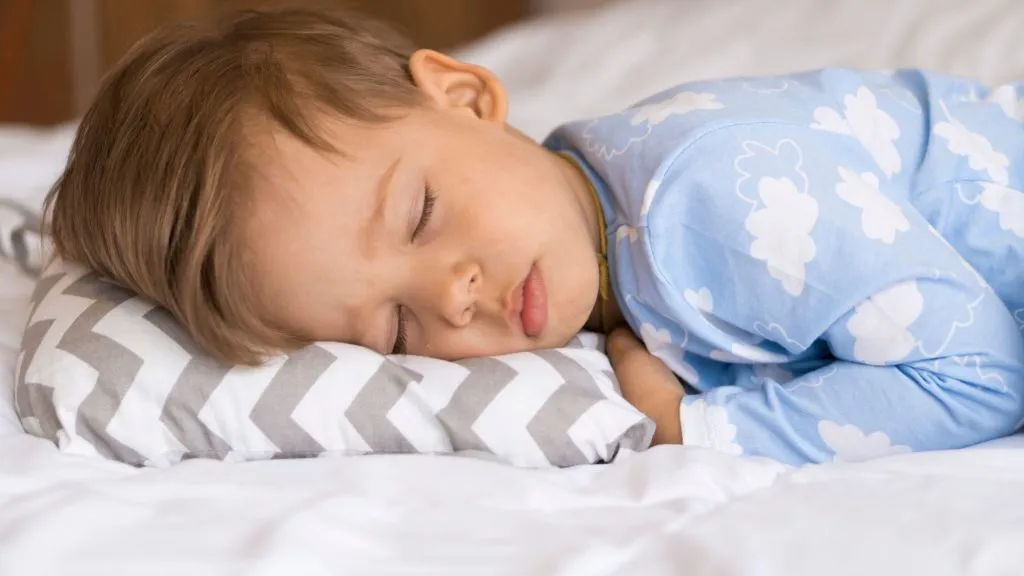 By following these tips, you can ensure that your child gets a good night's sleep in their toddler travel bed, making your family adventures even more enjoyable. A well-rested toddler is a happy toddler, and a happy toddler makes for a memorable family trip.
The Final Verdict: Our Votes for Best Toddler Travel Bed
After exploring the various types of portable toddler beds and understanding the key factors to consider, it's time to make a decision. Choosing the best toddler travel bed for your family is a decision that can greatly enhance your travel experiences. Let's sum it up and provide our final recommendations:
Top Picks
Best Overall: ELTOW Inflatable Toddler Bed
Our top pick, the ELTOW Inflatable Toddler Bed, is a budget choice with maximum comfort. It offers great versatility and convenience, making it an excellent choice for families on the move.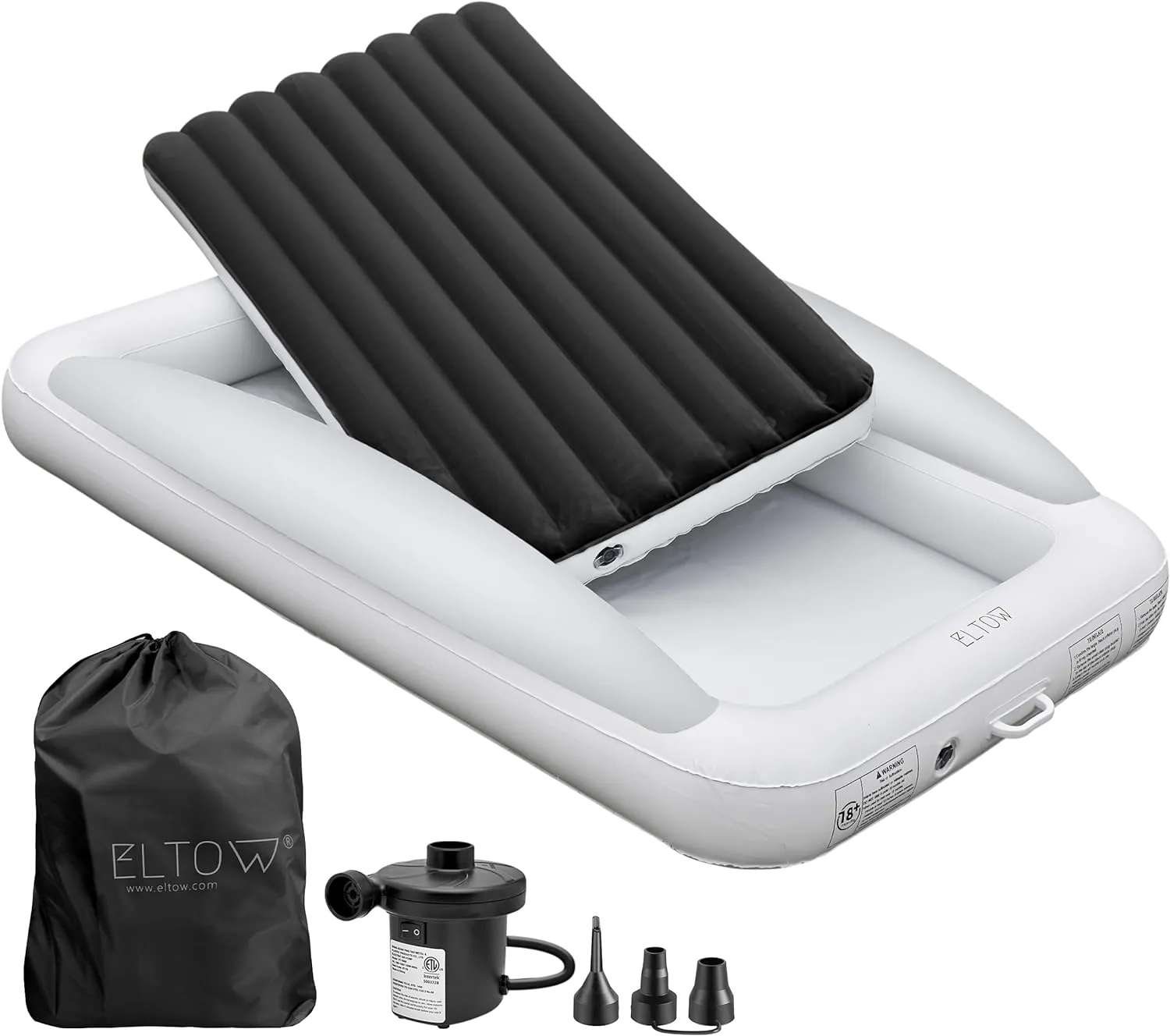 The ELTOW Inflatable Toddler Bed is a great choice for families on a budget. It offers a comfortable place for your child, making it a good option for short trips.
Best Small: CloudSleeper – Kids Inflatable Travel Bed
For those seeking a compact and easily transportable option, the CloudSleeper Kids Inflatable Travel Bed is the best option. For families looking to get the best travel bed for a toddler that fits in a suitcase, this is the one.
Making Your Decision
When making your decision, consider the specific needs of your family. We looked at both the best inflatable toddler beds and the best travel cot options. Each of the top picks offers a unique set of benefits, and the right choice will depend on what aligns with your family's preferences.
Your toddler's sleep quality is a key factor in the success of your travels, and a reliable toddler travel bed ensures that your child enjoys a peaceful night's sleep, no matter where you are. So, take your time to choose the best toddler travel bed that suits your family's needs, and you'll be well-prepared for your next adventure.
With the right toddler travel bed in tow, you can look forward to memorable family vacations, cozy nights on the road, and restful sleep for your little one. Happy travels!
Affiliate Disclaimer
Before we wrap up, it's important for us to be transparent with our readers. Nomad Veronica is committed to providing you with valuable information and recommendations. As part of this commitment, we want to let you know that some of the links in this article are affiliate links.
What does this mean? It means that if you click on one of these links and make a purchase, we may earn a small commission, at no extra cost to you. These commissions help support the work we do here and enable us to continue offering you in-depth guides, product reviews, and travel tips.
Please understand that we only recommend products and services that we genuinely believe will benefit you and your family. Our recommendations are based on thorough research, user reviews, and expert insights.
Your trust is important to us, and we appreciate your support. If you have any questions or concerns about our affiliate links or recommendations, feel free to reach out. We're here to help you make the best decisions for your family's travels. Thank you for being a part of the Nomad Veronica community.
FAQs: Travel Bed for Toddler