I find it a bit funny that lists of the best kept secret family vacation spots have 35 places discussed or are all within the United States. Are they really the best places if you're listing every single place that comes to mind? I think AI is causing a bit of blog vomit across the travel and entrepreneurship niches.
I decided to create a list of just three of the most underrated summer travel ideas. Not many mommy bloggers are talking about these places to travel with kids. Full transparency, we haven't been everywhere. But, twenty countries later and this is my honest guide to the best unknown vacation spots with kids.
Discover the World's Best Kept Secrets: Family Vacation Edition
Everyone's heard of the bustling streets of New York City's Central Park or the sun-kissed beaches of San Diego. But what if I told you there were even better places, hidden gems waiting just for you and your family? Today, two of the best kept secret family vacation spots that we've personally enjoyed and one place on our family travel bucket list. These aren't just any spots, they're the crème de la crème of unique places, far from the maddening crowd, off the beaten path yet filled with kid friendly activities.
Imagine white sand beaches that haven't been touched by the usual tourist crowd, water parks bursting with locals, and vibrant cities that offer a unique blend of history and modernity. The best hidden vacation spots are those that remain relatively undiscovered, offering you a genuine and authentic experience.
Ready to embark on a road trip of discovery? From the natural wonders of Cabarete in the Dominican Republic, to the bustling heart of Bangkok, Thailand, and all the way to the ancient landscapes of Greece, there's a perfect place waiting just for you.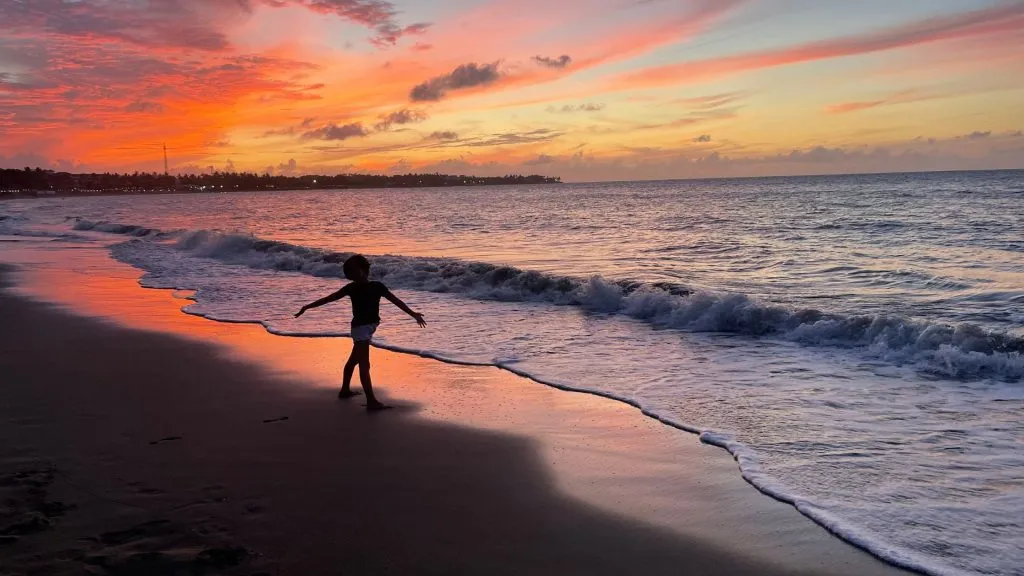 #1 Cabarete, Dominican Republic: A Caribbean Gem
Cabarete, tucked away on the Dominican Republic's northern shimmering coastline, is more than just a great place. It's a haven for families seeking a blend of adventure and relaxation. Its white sand beaches stretch endlessly, offering a beautiful backdrop for those looking for the best kept secret family vacation spots.
During 2020 our family made the choice to move to Cabarete after seeing a YouTube video advertising a school that checked all the boxes for us during those covid times. I still feel so lucky that the YouTube algorithm found us such a great spot to call home.
What the Kids Say
Our kids miss Cabarete constantly. They talk about our time there at least once a week. Their love for Cabarete prompted us to go spend a month there this summer in our old neighborhood.
The food, water activities, and freedom that they have in Cabarete makes them very insistent that we must buy a house in the Dominican Republic. Mommy and daddy would love to make their wish come true at some point in the future.
Our Take
I regularly talk about how different it is to travel somewhere as a tourist versus becoming a psudo-local. We absolutely experienced that in Dominican Republic. On our first stint in Cabarete we were there for a year. We enrolled the girls in school and settled in to our long term housing.
It's a huge regret of mine that I didn't fully appreciate the magical life we had. I wish I had explored more off the beaten-path places and took fuller advantage of the beautiful beach two blocks away. But, when you live somewhere you get complacent. Other people consider your city one of the best vacation spots in the Caribbean, but you just think of it as everyday life.
Going back this summer made me realize that even though summer is consider low season, it's one of the most underrated summer travel destinations. Seeing our old neighborhood as tourists pushed us to get in the , swimming pool daily, visit the mountain town, and go find the hiking trails with the waterfalls.
Best Things to Do
Kite Surfing
Wind Surfing
Surfing
Horseback Riding
Farmer's Market
Tennis Lessons
Monkey Jungle
?Zipline
Fancy trying your hand at some water sports? Cabarete is renowned for its wind and kite surfing, offering a unique experience for both beginners and pros. If flying in the air over the ocean seems a bit too extreme, go visit Danny just East of the Encuentro beach business area for longer and better prices surf lessons.
But that's not all! Take your family on a memorable horseback riding adventure along the beach starting at the Sea Horse Ranch equestrian center. Also, be sure to visit on Saturdays for the Sea Horse Ranch farmer's market and get some of Rhett's famous cinnamon rolls or pre-order one of Sandy's chicken pot pies. While you're there you can inquire about their evening tennis lessons so you don't have to play in the raging sun.
And for nature lovers, Monkey Jungle is just a short drive away. Teeming with squirrel and capuchin monkeys, it's the perfect place to support local business. Plus, while you're up in the mountains you can hop get strapped in for the zip line tour get up close and personal flying through the great outdoors.
Best Time to Visit
While Cabarete is a year-round destination, visiting during the off-peak season lets you enjoy its charm without the tourist rush. You'll find good reason to come between April and June, just before the heavy rains and after the peak tourist traffic.
Our last trip to Cabarete was half way through July until half way through August and compared to the sweltering humidity of Japan, it didn't feel that hot to us. Plus, by going during the least popular month we were able to save on airfare and accommodation. Definitely add Dominican Republic to your list of underrated summer travel ideas. In a whole month I think there were only two days ruined by rain.
However, if you're looking for where to travel in December, Dominican Republic is a fun place to celebrate Christmas. Many rental houses in Cabarete have special holiday rates and it's one of the best places to travel in December in my opinion. Restaurants do special festive meals, Santa wearing swimming trunks can be found all over, and Caribbean weather for Christmas will make you wonder why you didn't start tropical holiday seasons sooner.
Unique Experience
Cabarete boasts a rich blend of local culture and outdoor activities. Dance to live music on the beach like Van Avakian's Friday night performances at Serenade. Or track down international recording artist Justin James at the Hispaniola Diners Club for great views and mouth watering risotto in a parmesan cheese bowl.
Beautiful beaches are the cornerstone of life in Cabarete. If you live in Sea Horse Ranch you get a pristine beach all to yourself most days. Or head down to Playa Alicia for service from beach staff and nearby restaurants.
Within Cabarete you will find water parks in both Sosua Ocean Village and Casa Linda. You can learn to spin around and look graceful on hanging silks at the Cabarete Pole Studio. After all the relaxing you've done in Cabarete you should top it all off with a spa day at Andari Spa where you can get everything done from hair to toes.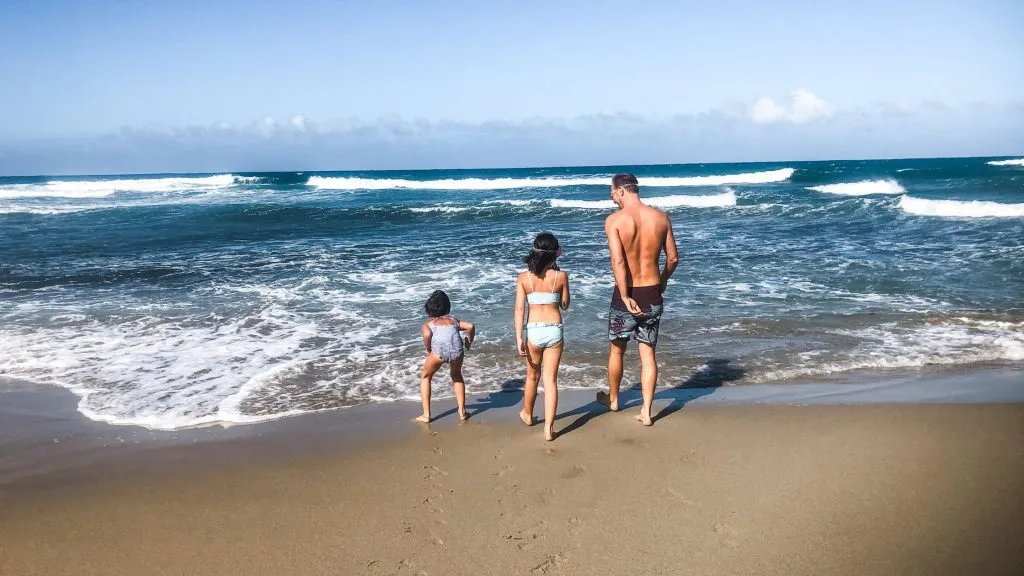 Best Food
Vagamundo – Santa Fe and Java Chip Frapachino
Cafa Cubano – American Breakfast
Gorditos – Everything! +Lemonade is FIRE
La Casita de Papi – Shrimp ala Papi
?Fresh Fresh – Hummus
?Knuckleheadz Burgers – Go on Tuesday for Best Price
Restaurant Le Bistro – Everything!
Natura Cabana – Risotto
Bliss – Churrasco with Mushroom Sauce
Parada Tipica el Choco – Fondue
Coconuts – Churrasco
Life is better when there's amazing food and wonderful people to share it with. If you're looking for an expat breakfast experience you'll eat at Vagamundo which is always buzzing with kit surfers. For a local experience and much cheaper meal you can head down to Cafe Cubano. You can't go wrong with lunch at Gorditos where the owners are like family or shrimp ala papi at La Casita de Papi. Dinner is perfect at Restaurant Le Bistro which is in a small alley right near the beach or Natura Cabana directly on the beach.
Nearby Gems
Something I always wanted to do but never did when we lived in Cabarete was the twenty-seven waterfalls of Rio Damajagua tour. It wasn't until we came back as tourists that we made the time to drive out to jump down waterfalls and slide down water slides carved into the rock. Read about the 27 waterfall adventure in The Hollywood Approach to get you inspired to jump!
Another surprisingly fun thing to do is the Del Oro Fine Dominican Chocolate factory tour. The factory itself is small and the tour doesn't take very long, but I never would have discovered the world's best brownies and hot chocolate had we not visited. We brought brownie mix and hot chocolate mix back to Japan and I'm tell you, it wasn't enough. We all regret not packing our suitcase with their delicious chocolate. I'm over here in Asia plotting how to start an import business just to get some more!
#2 Bangkok, Thailand: Urban Adventures Await
Bangkok, often dubbed the heart of Southeast Asia, is a bustling metropolis bursting with energy. But don't be fooled by its skyscrapers and busy streets. This vibrant city is also one of the best kept secret family vacation spots. Offering a mesmerizing mix of tradition and modernity, Bangkok is a perfect spot for families seeking unique experiences.
Our plan when we entered Thailand in December 2021 was to live there for a period of time. We call our lifestyle slowmading because we are not true nomads or expats. Thailand had a long term visa offering residence to people who could show a certain income level, we applied and were approved under that program.
I contacted some international schools in order to arrange tours but the ministry of education was still actively shutting down and re-opening schools based on the covid situation. We decided to just hang out for a while with Bangkok as a home base until some schools were open to tours and enrolling new students. Our stay in Bangkok ended up being about one month because a death in the family caused us to hustle home and be with loved ones.
What the Kids Say
Both the girls loved Bangkok! There were so many activities geared for kids right in the city and because of the low cost of living it was easy to say yes to virtually every entertainment option.
The city of Bangkok had a major impact on my younger daughter Charleigh who became inspired to write a book series about her traveling life. She and her dad have been working on Birthday Blues in Bangkok which is a fiction book inspired by her time in Krung Thep.
Our Take
When my husband stepped foot in Bangkok it was his first time in Asia. He didn't really know what to expect, but he immediately fell in love with the food. Covid times were wild because we were staying in a two bedroom luxury hotel for less than the price of rent back home. And two pieces of laundry per person were included per day in addition to free breakfast and happy hour.
?Being catered to by hotel staff and not breaking the bank is an epic combination for a traveling family. When our laundry usage went over our daily limit there was a local service that would come pick up our dirty clothes and bring them back clean and folded for just a few dollars. Taxis were inexpensive, food was cheap, and even buying a new iPhone was less expensive than back home.
I was very comfortable in Bangkok. The vibe of the city was friendly and welcoming. There were aspects that were a bit seedy like the old fat white men with young beautiful Thai women. But, overall it felt safe and had everything we could ever ask for in a city.
Best Things to Do
Ice Skating
Bounce Jumping
Laser Tag
KidZania
Luxury Movie Theater
Tour Wats
TukTuk Ride
Siam Park City
Many of the inner city activities for kids exist in the mega malls of Bangkok. Two of the top ten biggest malls in the world are in Bangkok. With elevated trains connecting malls there are plenty of places to travel even if it's a rainy day. Many of our days were spent ice skating at Central World before grabbing bubble tea at Xing Fu Tang.
As I mentioned the friendliness of people in Thailand was unmatched. My kids easily made friends at Bounce while jumping on trampolines and I loved going there because there's a massage area for moms to unwind while the kids play. The whole family got really sweaty in an overly competitive game of laser tag in Central World. We checked out our third Kidzania in Bangkok and it didn't disappoint, the girls immediately wanted to go back which we allowed, because my husband was working quite a bit during the weekdays.
Attending movies in Thailand is a trip. Before the movie a very dramatic orchestra piece plays during what I thought was an advertisement for a bank. But, then I noticed people would stand for the duration of the commercial. Turns out you are supposed to stand and honor the king of Thailand before the movie. Whoops. Seeing a movie in a theater with reclining seats and even once a lay down bed, was very inexpensive. The snacks were equally cheap, leading to us seeing four or five movies during our time in Bangkok.
Best Time to Visit
Bangkok's charm is ever-present, but for those looking to dodge heavy tourist traffic, consider planning your family trip between November and February. During these months, the city's climate is most pleasant, making it the best time for urban exploration.
If you're looking for where to travel in December, Bangkok is a great option. They do a lot of Christmas displays, but it's also clear that the impending New Year's is equally a big deal. Experiencing the holiday season in an Asian country is honestly so fun. Their take on our Western traditions is so endearing. I would consider Bangkok one of the best places to travel in December for families.
Unique Experience
We hired an amazing guide named Poté who showed us around and took family photos as we explored Wats, rode in a TukTuk, and took a ferry. The day we spent with Poté was like a history lesson with a bonus of priceless photos to keep at the end. I can't recommend him enough.
I know it can be nerve racking for less traveled tourists, but try the street food! Seriously, meat on a stick or mystery buns from a cart are some of the most delicious flavors you will ever put in your mouth. And always stop when you hear live music. Music lovers will hear a range of sounds spilling out of restaurants all over Bangkok, never be in too much of a hurry to stop and dance.
As an American visiting Asia there are some real issues with shopping for clothing if you're plus-size. I had an amazing experience shopping at Boozy Shop XXL. Getting to the shop was a bit dicey because it really didn't seem like roads they wanted pedestrians to walk on, but in the end the shop was like a ray of light in the skinny woman fashion of Thailand.
Best Food
Din Tai Fung in Central World
Fuji in Terminal 21
Sunrise Tacos in Terminal 21
Swensen's in Central World
Nara Thai in Central World
Anyone who's passed a Din Tai Fung in the United States has seen the long lines. But, have you ever looked at a menu and seen the high prices? Eeekkk. I wouldn't normally splurge on a restaurant as expensive as this if we are eating with the kids, but in Thailand it was so fun to order all the things and not break the bank.
Our family is really predictable, we eat tacos, Japanese, Thai, burgers, and desserts. As I was reflecting on the places we ate over the course of a month it dawned on me that we ate free hotel food a LOT. Living in a hotel has a lot of perks especially if you have elite hotel status and are entitled to breakfasts and lounge access.
Nearby Gems
Only a short drive from the city center, you'll uncover natural wonders and historical sites that many often overlook. I would highly suggest Kanchanaburi where kids can swim in Sai Yok Noi waterfall, visit ElephantsWorld sanctuary, and walk through the streets of Mallika City as if they were living in the time of King Rama the V. Your kids will have a blast at Tree Top Adventure Park and there's epic photo opportunities at Wat Tham Suea.
If you're world schooling or keen to teach your kids about WW2 history be sure to visit Thailand-Burma Railway Centre and stop at Bridge over the River Kwai aka the Death Railroad. These day trip sites provide a breather from the city's intensity, revealing a different side of Thailand that's equally enchanting.
Another fantastic reason to get out of the city is to visit an amusement park. With easy access from Bangkok, Dream World combines lush landscapes with rides and live shows. This is one of the few theme parks with a snow park element which is kept at minus 8 degrees Celsius.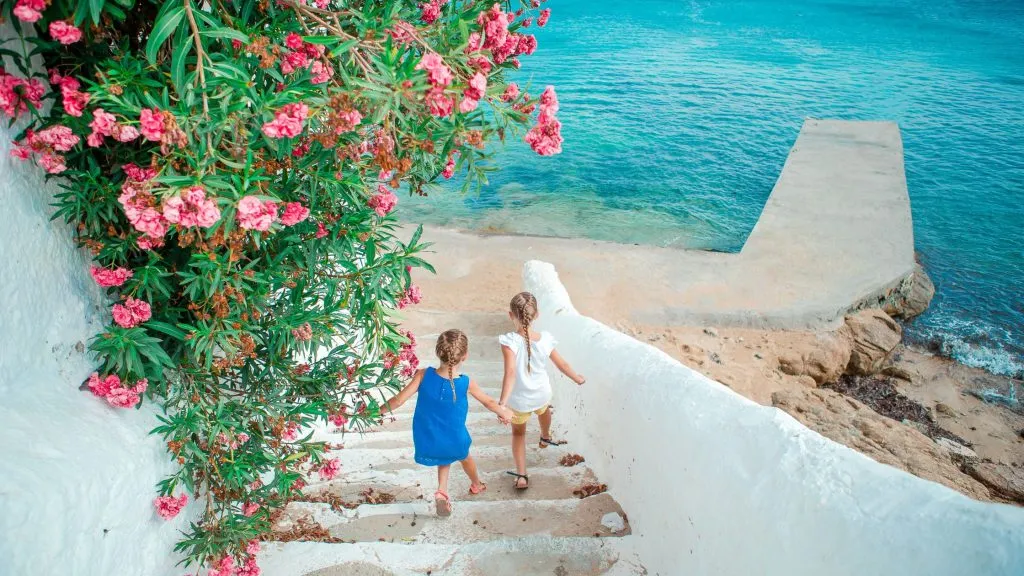 #3 All Over Greece: Where Ancient Wonders Meet Sun-Kissed Shores
Our family has been lucky enough to visit some amazing places. Some places we will take with us in our hearts and minds forever and other places like Cabarete and Bangkok will be repeat destinations on our around the world lifestyle. I wanted to include one place on this list of best kept secret family vacation spots that my family can't wait to visit!
There is no single country that has more cities on our bucket list than Greece.
Argolis
Athens
Cephalonia
Corinth
Corfu
Crete
Delphi
Meteora
Mykonos
Samos
Santorini
Thessaloniki
When one thinks of best kept secret family vacation spots, Greece, with its vast array of islands and ancient ruins, is at the top of my mind. From the blue rooftops of Santorini to the small towns in the mountains, Greece offers a panorama of experiences waiting to be explored.
What the Kids Say
A family we became really close with in Dominican Republic has family roots from Greece so the kids are super keen to visit so they can tell their friends. Every photo they see makes their eyes go big and they can't wait to see the sites in person. Both the girls are downright giddy to do a mommy-daughter flying dress photoshoot. The thing they are least interested in is the type of foods on offer in Greece.
Our Take
As I look at visiting Greece the thing I worry about most is missing something. Traveling with kids means the pace of being able to see everything and do everything changes. Days generally rotate between an adult once in a lifetime activity, a kid activity like a children's museum, and a rest day, then we repeat. Seeing that many cities and covering that much area with a slow travel schedule will take quite a bit of time.
What's special about Greece is that unlike a lot of places we travel the locations aren't famous because they were in a movie, that place is famous because it's straight out of mythology. The way Greek history is intertwined with stories is so different that learning about wars and religion around the world.
?My favorite restaurant in Seattle is a Greek place so I am very excited to try authentic Greek food and I have high hopes. I love the Mediterranean flavors and mix between fresh and deep fried dishes. One thing about traveling to Greece is that all the places I want to go do not have hotel chains that I am accustomed to, so finding the right accommodations will take a ton of research. If anyone stayed somewhere in Greece that they LOVED, please let me know.
Best Things to Do
Water Skiing
Parasailing
Glass Bottom Boat Tour
Allou! Fun Park
Aqualand Water Park
?Butterflies Nature Reserve
Bike Tour
Cave of Diktaion Andron
Labyrinth Park
Cinema Kamari
Pulling the top things off my Greece to-do-list is impossible. There is so much to see and do! Greece is made up of 227 inhabited islands which means water activities like parasailing, water skiing, and glass bottom boat trips are available on many shorelines. Kids will love the Allou! Fun Park and Aqualand for some traditional amusement park fun.
Connecting with nature at the butterflies nature reserve and riding on biking trails that used to be traveled by ancient mythological gods gives me chills just thinking about. Speaking of which, visiting the birthplace of Zeus in Cave of Diktaion Andron is an extreme bucket list destination.
Labyrinth Park is a mythological themed activity area with horse back riding, put put mini golf, petting zoo, and of course a maze. I can't wait to see a sunset overlooking the windmills in Mykonos or let night fall at the open air cinema in Kamari. All of it is just so epic!
In Greece you can immerse yourself in history by wandering through ancient ruins and soak up the sun on some of the world's best beaches. All over Greece there are landscapes and buildings that account for the best views in the known universe. As you finally get to see these postcard destinations in person you will realize why Greece is one of the best kept secret family vacation spots.
Best Time to Visit
While Greece is undoubtedly a year-round destination, spring (April to early June) and fall (September to October) present the perfect blend of pleasant weather and fewer crowds. It's during these months that the country showcases its natural beauty in full bloom.
My plan is to spend an entire summer in Greece. I think a slow travel summer is one of the most underrated Summer travel ideas for parents. If you've already made the investment to get airline tickets to a far away place you may as well see anything and everything you've ever dreamed about in that country.
Unique Experience
In Crete there is a extremely instagram worthy beach with pink sand called Elafonisi Beach. While in Crete you should visit one of the many monasteries available for tour. One thing I am very excited to do is a honey and olive oil tasting in Crete. Adults can try the famous raki drink which is made from the leftovers after pressing wine and has a very high alcohol content!
One thing I always think about as we travel is what information, skill, and memory I can take home with me from that vacation. We are a minimalist family, so bringing home trinkets is not really our thing. In Greece my plan is to take a cooking class in either Athens or Santorini so that I can bring a piece of Greece home with me.
Best Food
As I said, I have not had the pleasure of visiting Greece just yet, so exact restaurant ideas are more just speculation. On my list of places to try is Little Kook in Athens because it goes all out with rotating themes the the kids will love. I have this romantic idea that every cafe will be just as delicious as any other cafe and I can wander into any tiny town and have a magical meal. Don't burst my bubble on the ambiance and mystique of having no plan and everything turning out perfect.
Nearby Gems
There are so many locations within Greece that are worth a visit it's hard to say which side trips are a must do. Instead I will say, don't just stick to the popular spots. Venture off the beaten track to discover lesser-known islands or mountain villages. These less-traveled destinations, far from the usual tourist trail, offer genuine experiences and are worth visiting, because Greece is full of hidden treasures.
Our Journey to Hidden Treasures
As we conclude our virtual journey through some of the world's best kept secret family vacation spots, it's evident that our planet is brimming with unique places waiting to be discovered. Far from the familiar trails of popular destinations like Costa Rica or Puerto Rico, these gems offer unparalleled experiences. Your family will love the vibrant streets of Bangkok, the white-sand beaches of Cabarete, and the ancient wonders of Greece.
Remember, the best-hidden vacation spots are often those that remain slightly off the radar, offering authentic adventures and memories that last a lifetime. And while places like Myrtle Beach or San Francisco have their undeniable charm, there's a whole world out there, teeming with beauty, culture, and experiences off the beaten path.
So, next time you're planning a family trip, consider stepping away from the usual and diving into the extraordinary. Because the perfect place, that ideal vacation spot you've been dreaming of, might just be a well-guarded secret waiting for you to uncover.
Your Next Adventure Awaits!
Ready to discover the world's best kept secret family vacation spots? Immerse yourself in the great outdoors, explore the best hidden gems, and make memories that your family will cherish for years to come. Sit on the white sands of the Dominican Republic, eat street food in Bangkok, and walk through a botanical garden in Greece.
And if you've uncovered other best-hidden vacation spots that deserve a spotlight, share them with our Nomad Veronica community! After all, it's only a best kept secret because nobody has written about it so other families can enjoy the experience too.
Don't wait for the perfect moment. The world is vast, filled with beautiful beaches, mountain towns, and tiny treasures just waiting to be explored. So, pack those bags, plot that next road trip, and get ready to uncover the magic of the world's best unknown places.
FAQ: Best Kept Secret Family Vacation Spots