I love the misconception that minimalists don't or shouldn't buy anything. In fact there is an entire market for minimalist products because we demand high quality and aren't afraid to pay for it. Don't get me wrong, while we love to save money, it does save money in the long run to spend more for a high quality product instead of regularly replacing a low quality product.
Becoming a minimalist makes people feel like they are not "allowed" to make purchases. On the contrary, minimalists shop, they just shop with different goals. We want minimalist products that serve a purpose, fulfill a need, and don't burden us in other areas of our lives. If products are a hassle to upkeep, need to be replaced often, or take up too much space even if they have amazing marketing, they will be a no from minimalists.
#1 Walking Shoes
When it comes to minimalist shoes of course my vote goes to Birkenstocks. I love how you can dress Birkenstocks up and down depending on the occasion. Generally my favorite two styles are the Mayari or Gizeh in either silver or black.
Comfortable walking shoes are an essential minimalist product because being a minimalist allows for more connection to nature. Personally I don't have a vehicle as a result walking is my preferred method of transportation. Even if you have never splurged on a pair of shoes before it will save you money to buy high quality shoes that last longer.
#2 Journal
When minimalism became trendy it started being very popular with millennials. The same group of people who embraced minimalism were also very tech savvy. Subsequently there became a misconception that minimalists have to be tech savvy.
For those of us who still like to have places to write words on physical paper, that's still okay. You can have your choice of dots, blank, lines, or squares on your minimalist journal. You can pick your color and your size to suit your ascetic and lifestyle.
#3 Bedding
White linens just feel fresh and clean like staying at a luxury hotel. I'm not my best unless I get quality sleep which starts with minimalist bed linens. Adding texture to a solid color is a great way to keep your decor interesting without being cluttered.
My favorite duvet cover is this tufted Egyptian cotton version with a zipper closure. Similarly my kids have the same cover on their beds but in different colors. Minimalist products can be both functional and stylish if you find the right items.
#4 Rompers
My minimalist wardrobe secret is rompers! Lots of minimalists promote the concept of capsule wardrobes, I call my wardrobe "romper life." Whether I am getting dressed at home or packing for a trip my life is easier.
Just like my favorite shoes, rompers can be dressed both up or down. I have been living in a lot of hot climates this year so most of my rompers are shorts or capris, but rompers can also come in long sleeve full pant length.
#5 Knives
Knife blocks are typically sold in large sets with multiple knives that only get used because the other knives are dirty. I'm not a fan of that kind of clutter. Instead I opt for high quality Wusthof knives of three very different sizes.
My favorite knife is the middle serrated knife, but there are occasions for the other two. A magnetic knife strip hanging on your kitchen backsplash is the ideal minimalist storing method for your small knife collection. Spending more money on less knives might seem bad for your wallet but high quality minimalist products can last a lifetime.
#6 E-Book
So many potential minimalists are scared they would have to give up their books to become full fledged minimalists. While it is true that owning a large number of physical books is less than ideal it doesn't mean you can't find solutions to read to your hearts content. You can choose from audio books or electronic books.
People who prefer reading physical books will likely have an easier transition to e-books read on a Kindle. You can access books via a Kindle subscription or buying forever copies of the books you love. Download your books and read them even when you're not on wi-fi. Reading is a great habit that doesn't have to affect becoming a minimalist.
#7 Planner
Keeping life organized doesn't go away after minimizing your stuff hence needing a stylish minimalist planner. The secret to staying organized with your time is that you have to keep the planner open as much as possible. When you shut the planner and tuck it somewhere out of sight it becomes way less effective.
Even as a minimalist I like to use Sakura gel pens to jazz up the overall ascetic of my planner. Remember, minimalism isn't about having no possessions, it is about having the right possessions for you.
#8 Totes
There are so many reasons to have a tote. The trick is to only have large enough totes that they serve a variety of purposes and can hold a significant weight. Additionally, it is helpful if your tote can be folded and stored in a pouch for easy transport.
I highly suggest keeping a tote in your purse, one in the glove box of each car, at the office, and tucked in the pocket of your children's backpacks. You never know when you will need to make an impromptu grocery store, bring something home from the office, or your child needs to bring home a soaking wet raincoat.
#9 Plant
Much of minimalism is focused on how a clutter free space makes you feel calmer. Creating a relaxing environment can definitely include some house plants. I suggest getting a low maintenance money tree since it adds some green to your space.
A money tree only needs to be watered weekly meaning you don't need to have a green thumb to own this plant. Bring some good fortune and money vibes into your space with this little house plant.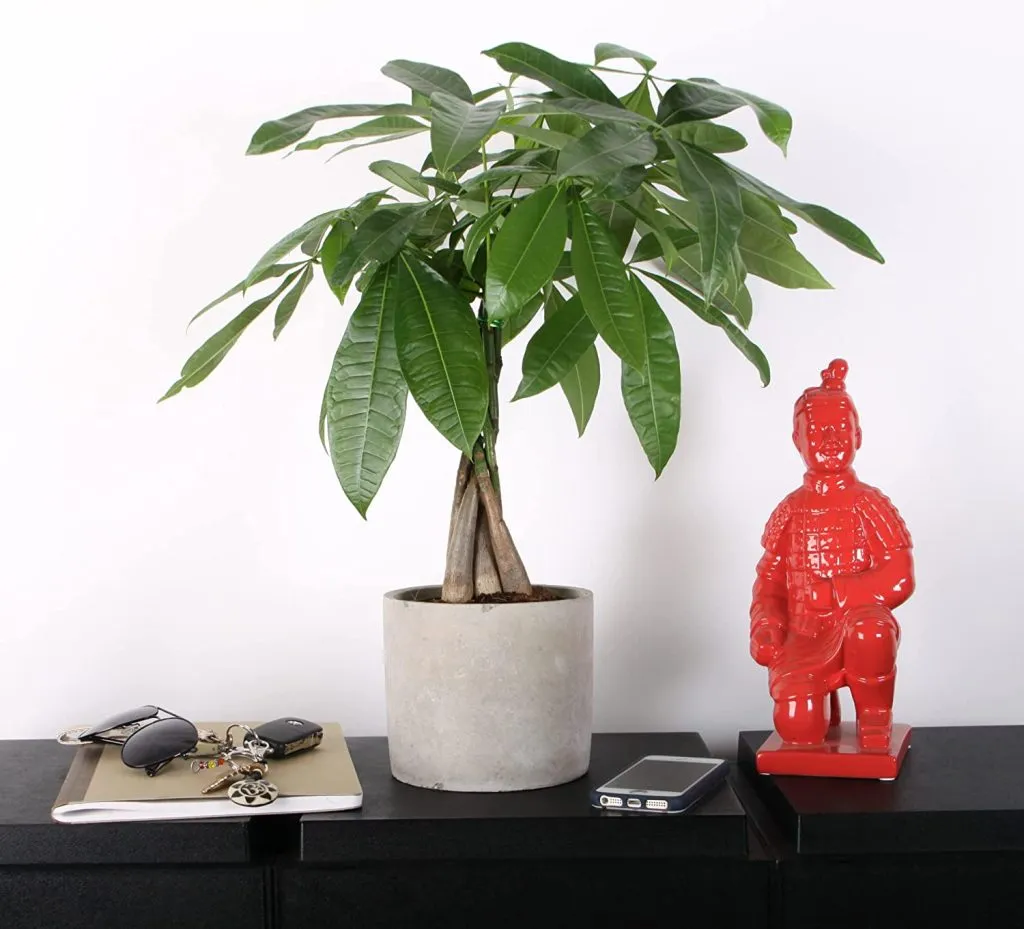 #10 Luggage
Minimalism is all about freedom and for many of us that means travel. My family of four lives out of six suitcases. Minimalist products tend to reflect their quality in the price tag, but usage cost is generally lower because the products last so long. If you're looking for high quality luggage with a lifetime warranty, your only option is Briggs & Riley.
Their hard shell Sympatico collection combines four wheels with an outside attached handle which creates more interior space. Travelers will attest that getting stuck mid-trip with busted luggage is super stressful. Give yourself an edge by going with high quality luggage and keep your travels stress free.
Minimalist Products I Love
Minimalism is intertwined with consumerism at every level. Spending less on virtually every category meanwhile eliminating spending on certain categories is a huge cost savings. The funds freed up by being more careful on purchasing decisions can be re-directed into higher quality products for items you are choosing to purchase.
I'd love to hear from you about minimalist products you are super fans of. Drop me a comment and tell me what I should be checking out for my next purchase.