I freaking love my family! It probably sounds so obvious to you because you're on an article researching multigenerational family vacations, but not everyone loves their family. Some people are perfectly content only seeing their families on holidays and big events like weddings or funerals. That's not me. I want to see my family all the time, including on vacation.
When I was a kid, my parents did their best. They took my brother and I to Disneyland and overseas to Denmark and Sweden. But, then my aunt took us to Hawaii and I fell in love with multigenerational travel. Getting to spend quality time with extended family in some of the best destinations on earth is my idea of a good vacation.
After years of travel restrictions because of a freaking pandemic this is the time to finally get multiple generations of family together and book a trip! I'm going to go deep in this article so feel free to skip down to the sections you care about most. My intention is to inspire multigenerational family travel so you can create memories that will last a lifetime with your favorite people.
Skip to:
Why Choose Multigenerational Vacation Spots?
Undeniably, there are different types of vacations. Sometimes I go on vacation and think, dang my parents would hate this. Other times I get there and realize how much more special it would have been if they had traveled with us.
Certainly everyplace could be okay for grandma and grandpa, but there are places more suited to multi-generational travel.
Quality Time Together
This is your chance to get older family members together with younger generations and really get to know each other. I don't mean just coordinating who's bringing the dessert and who's on drink duty. Ask the older adults questions about their lives so you can build a real bond with them.
Shared Costs
Let's face it, vacations can be pricey. However, when you're traveling with your extended family, costs can be shared. From splitting a large hotel room or vacation rentals with full kitchens to sharing transportation, everyone benefits from sharing costs.
Learning Compromise
With multigenerational trips, there's a delightful mix of activities. Maybe grandma prefers a scenic drive while the younger kids are all about water slides and theme parks. The beauty lies in combining these interests, ensuring everyone has their moment in the sun (sometimes literally!).
Built-in Babysitters
For those with young children, the beauty of having older children or other family members around is the luxury of an occasional break. A night out with your partner or a short spa session becomes possible, knowing the kids are in safe hands, having fun with their cousins or grandparents.
Enriched Travel Experience
Viewing a destination through the eyes of multiple generations adds depth to the experience. Older adults might appreciate the history and culture, while the younger ones are eager for outdoor adventures and water activities. Combining these perspectives means a richer, more fulfilling journey for all.
Planning Multigenerational Family Vacations
So, you're on board with the idea of multigenerational travel. Awesome! But before you start packing those bags, there are some vital points to ponder. Planning multigenerational family vacations can be like assembling a jigsaw puzzle, but with the right considerations, you'll have a masterpiece in no time.
Get Everyone Involved
The first step to a memorable multi-generational vacation? Getting input from everyone. Creating an agenda that suits both adrenaline junkies and beach cocktail sippers is possible with careful planning.
Think Accommodation
Accommodation can make or break a trip. For large groups, vacation rentals or resorts with adjoining rooms or suites are a great option. Decide if your family dynamic is better off having shared spaces, your own rooms, or a mixture of both.
Balance Activities
While water parks and horseback riding may thrill the younger kids, older family members might lean towards leisurely boat trips or a visit to small towns. Striking a balance is key. Make room for group activities, but also set aside free time where members can explore individual interests.
Consider Mobility
Not all family members have the same energy or mobility levels. Always factor in physical limitations. Perhaps choose destinations with both adrenaline-packed and leisure options close by, so everyone feels included.
Budget Discussions
It's no secret that finances can be a touchy subject. Be upfront and discuss budgets early on. Make sure everyone is comfortable about who covers what before and during the trip, transparent financial planning can prevent disagreements later.
Flexible Itinerary
While planning is essential, flexibility is the golden key for family trips. Young children might tire easily, or older adults might want an unplanned detour. A flexible itinerary ensures everyone gets the most out of the trip without feeling rushed.
Remember to Relax
While the urge to cram everything into one trip can be strong, remember that multigenerational family vacations are, at their core, about spending quality time together. Factor in days where the entire group can just relax, whether that's by the swimming pool or lounging in the living area of your vacation rental.
Accommodations for Multigenerational Family Vacations
Finding the right place to sleep is crucial when embarking on multigenerational family vacations. After all, it's the place where everyone will gather after a day of adventures, share meals, and create memories. Let's dive into some options that can serve as the perfect home base for your entire family.
Vacation Rentals
In order to get all the comforts of home, vacation rentals are a fantastic choice. The biggest benefit of a rental house is the full kitchen allowing for home cooked meals instead of trying to feed a large group of people at restaurants three times a day . Plus, the ability for the family group to stay under one roof while having their own rooms is undeniably appealing.
Resorts
One of our families favorite things is a good breakfast buffet, so an all inclusive is the dream scenario. Younger kids will enjoy spending the day at a kids' club, while moms can enjoy indulging in a spa and the older children enjoy water sports. Resorts can be the perfect place for multigenerational family vacations, offering activities for all age groups and simplifying planning.
Hotels
Hotels, with their range of options from standard rooms to suites, can cater to large families. With amenities such as a swimming pool, hot tub, and often an in-house restaurant, they offer a convenient option. For short stays, a hotel room or two can be just the ticket.
Cruises
Family cruises are an excellent pick for those who prefer everything in one place. With entertainment, food, and accommodations all on board, cruises are a stress-free way to please every generation. Plus, the chance to explore multiple destinations without constant packing and unpacking is a bonus.
Camping or Glamping
If your family loves the great outdoors, camping in national or state parks can be a memorable and budget-friendly option. Your outdoorsey family can spend summer vacation around a campfire or exploring the new outdoor activities.
Boutique Inns and B&Bs
For smaller family units or those desiring a more personalized touch, boutique inns or bed-and-breakfast establishments in small towns can offer a quaint and charming experience. Often, these places can provide a taste of the local culture and hospitality. If you plan far enough in advance your family could be the only guests occupying the B&B which would ensure more privacy.
#1 Walt Disney World, Florida
We loved our multigen trip to Disney World. At the time of our trip the kids were 2 and 4 and we brought my parents along. In total that made six of us experiencing Spring Break in Disney World.
The Magic of Disney
The heart of Walt Disney World lies in its iconic theme parks. My goal on family vacations is always to create memories and build bonds. I remember the first night at Disney my daughter was watching the fireworks show and just gasping with joy. I've seen too many fireworks shows to count so I was watching her be so excited that I cried. I literally cried because my kid was so happy and I felt like a good mom in that moment.
Experiences Beyond the Rides
Beyond the roller coasters and character parades, Disney offers immersive experiences. Make reservations, so you can eat together at world-class restaurants or take the entire family to watch Broadway-style shows that leave everyone spellbound.
Creating Extraordinary Memories
Disney's seasonal events are the icing on the cake. Celebrate the holidays with Mickey's Very Merry Christmas Party, lose yourself in the beauty of the Epcot International Flower & Garden Festival, or spook it up at the Halloween celebrations. There's always a reason for festivities at Disney.
Accessibility and Convenience
One of the highlights of Walt Disney World is its attention to guests of all age groups. With easy transportation options, rentable wheelchairs or strollers, and a plethora of amenities, older family members to young kids can navigate the parks with ease.
#2 Tokyo, Japan
My oldest daughter and I visited Tokyo originally in 2018 with my aunt and uncle. We had the opportunity to meet up with multiple family members from different generations. Now our multigenerational trips to Tokyo are a little bit of a cheat, because my family lives in Tokyo. Our extended family comes to Tokyo to visit us so we have multigenerational weeks together.
Temples and Palaces
At the heart of Tokyo lie its historic treasures. The tranquil Meiji Shrine, the majestic Imperial Palace, and the centuries-old Sens?-ji temple offer peaceful retreats for the entire family. A stroll in these sacred grounds offers a glimpse into Japan's rich history and is a treat for older family members who appreciate cultural depth.
Modern Entertainment
The futuristic skyline of Tokyo is a playground for the younger generation. From the dizzying heights of Tokyo Skytree to the neon-lit streets of Akihabara, the city pulses with energy. Dive into the world of anime, experience high-tech gaming, or simply marvel at the city lights – there's no shortage of fun things to do! Our family loves spending a couple hours in a karaoke room singing and laughing at each other's poor pitch.
A Culinary Odyssey
Tokyo is a haven for food lovers. When dining with a larger group there are countless private rooms available for reservation. Plus, so many meals in Japan are intended to be long conversational events. Sit down to boil your own food at shabu shabu or grill your own meat at yakiniku. Remember, many of the restaurants are not street level, so look up if you want to find places that aren't counter service.
Shop, Explore, Repeat!
From the upscale boutiques of Ginza to the bustling markets of Asakusa, shopping in Tokyo is an experience in itself. Hunt for unique souvenirs, explore the latest in fashion or tech, or simply soak in the vibrant street life. Plus, with convenience at its core, Tokyo offers easy transportation options, making it accessible for all age groups.
#3 Puerto Rico
I have personally never been on a family trip to Puerto Rico. But, I have visited on a corporate trip with over a hundred people. The biggest lightbulb moment of my life happened in a hotel conference room in Puerto Rico. That is where I realized I had spent my whole life chasing a dream based on social expectations. One year after that trip I packed our family into 8 suitcases and left America for good. So Puerto Rico will always have a special place in my heart.
Old San Juan
Wander through the cobblestone streets of Old San Juan, and you're transported to a bygone era. Pastel-colored buildings, historic forts, and lively plazas paint a picture of Puerto Rico's colonial past. A treat for history buffs and a great way for the entire family to connect with the island's roots.
Sun, Sand, and Surf
Puerto Rico's coastline is a dream come true for beach lovers. From the tranquil waters of Flamenco Beach to the surfing spots in Rincon, there's a stretch of sand for everyone. Build sandcastles with young kids, indulge in water sports with adrenaline junkies, or simply relax under the sun – the shores promise a good time for all.
Rainforests and Bioluminescent Bays
The El Yunque National Forest offers an adventure in the heart of nature. With waterfalls, hiking trails, and exotic wildlife, it's an outdoor classroom for kids and a refreshing retreat for older family members. And as night falls, the bioluminescent bays light up, creating a magical experience for the entire group.
Savor the Flavors
Puerto Rican cuisine is a flavorful fusion that tells tales of its diverse heritage. From savory mofongo to sweet tembleque, dining in Puerto Rico is a feast for the senses. Families can bond over meals, explore local eateries, and even partake in cooking classes to take a piece of the island home.
#4 New York City
Again, unfortunately I've never had the pleasure of visiting on my own multigenerational family trip, but we have met up with friends in New York multiple times. Of course New York has something for everyone, it's not just a hub for the United States, it's known as the capital of the world. If you can avert your eyes from the mental illness and plug your nose from the fecal matter than you can have a really enjoyable time in NYC.
NYC's Icons
New York City's skyline is studded with iconic landmarks. Stand in awe of the Statue of Liberty, take in the city's panorama from the Empire State Building, or soak up the neon glow of Times Square. NYC is an urban playground that offers endless instagram worthy moments.
Museums and Broadway
There are so many museums! On our last trip there we visited the Museum of Modern Art and the Ice Cream Museum! Our kids have also enjoyed the Museum of Natural History. My husband and I took in some Broadway shows pre-kids, but it hasn't worked out to see a show on our vacations yet. I highly recommend Wicked.
Central Park
Central Park, an oasis in the heart of NYC, is a great place for the whole family. Kids can sail miniature boats, the young at heart can indulge in horseback riding, and older family members can relax by the Bethesda Terrace. The park truly encapsulates the essence of NYC – a blend of calm amidst the chaos.
I know the iconic thing to do is a carriage ride through the park, but honestly, you can skip it. The price is too high for the experience.
Culinary & Shopping Adventures
Food in New York is out of this world. Your favorite word for a multigenerational trip will be: reservation. Do not attempt to eat with a large group in the foodie paradise of the world without a reservation. The best places will fill up months in advance, so make your restaurant bucket list early.
#5 Costa Rica
If you've read my lists before, you might know I like to throw in aspirational places in addition to my personal favorites. Costa Rica has been on my radar as a potential place for us to relocate for a few years now. I would love to visit Costa Rica with my extended family to see if they would enjoy living there as much as I'm confident I would.
Rainforest Revelry
You can delve deep into the heart of Costa Rica's lush rainforests. With guided tours available for every age group, your entire family can witness the marvel of nature – from colorful toucans to playful monkeys.
Beach Bliss
White-sand beaches flanked by azure waters make Costa Rica's coastlines a favorite destination for the whole family.
Volcanoes & Hot Springs
Costa Rica is home to several active volcanoes. Embark on a family group trek to Arenal or Poás and marvel at their might. Afterwards, let the older generation relax in natural hot tubs, while younger generations explore nearby waterfalls.
Sustainable Travel & Eco-lodges
Costa Rica is at the forefront of eco-tourism. Choose from a myriad of eco-lodges that offer comfortable accommodations while ensuring minimal environmental impact. It's a lesson in sustainability, especially for the younger generations.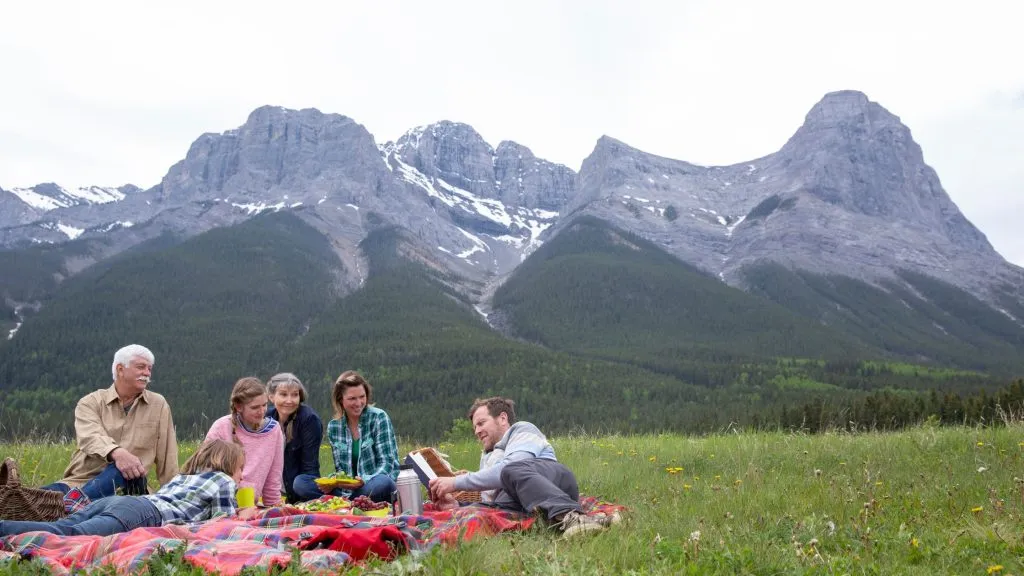 Tips for Making the Most of Your Vacation
Planning a trip that caters to the needs and desires of every family member, from energetic young kids to the older generation, can be a daunting task. But, with multigenerational family vacations becoming a favorite way to bond and create memories, it's essential to get it right. Here are some top tips to ensure everyone has a great time.
Early and Inclusive Planning
The best way to kickstart your multigenerational vacation is by getting everyone involved in the planning process. From selecting the perfect place to sorting out the type of vacation, having a say ensures everyone's excited and on board.
Respect Individual Preferences
Remember, multigenerational trips are all about quality time together, but everyone needs their space. Allow family units or individuals some free time to explore on their own or indulge in activities they love.
Flexible Scheduling
While having a plan is great, being too rigid can be a downer. Ensure there's a mix of fun activities and downtime. It's essential to strike a balance between action-packed days and relaxed evenings.
Consider Accessibility
Always factor in the physical limitations of older family members. Whether it's choosing a hotel room close to the elevator or selecting destinations with minimal trekking, it's essential to ensure comfort for all age groups.
Opt for Large Group Accommodations
Vacation rentals or resorts with adjoining rooms are a good option for multigenerational travel. They provide the opportunity for family bonding while ensuring everyone has their own rooms for privacy.
Diverse Activities for All Ages
Choose destinations that offer a range of activities. From water parks for young kids to scenic drives for the older generation, ensuring there's something for everyone is key.
Seek Expert Advice
If you're unsure about a destination or need recommendations tailored to large families, consulting travel experts or a travel agent specializing in multigenerational family vacations can be invaluable.
Document Your Journey
Encourage every family group member, young or old, to document their experiences. Be it through photographs, journals, or videos, it's a great way to reminisce later.
Stay Connected
In large travel groups, it's easy to lose track. Ensure everyone has a way to communicate, be it through local SIM cards or messaging apps. Safety first!
Remember to Relax and Enjoy!
Lastly, while planning is essential, remember to let go and enjoy the moment. These multigenerational family vacations are all about creating memories, sharing laughs, and spending quality time together.
With these tips in mind, you're all set to embark on a memorable journey with your loved ones. So, pack your bags, gather your clan, and set forth on the adventure of a lifetime!
Thoughts on Multigenerational Family Vacations
Ah, the magic of multigenerational family vacations! Few things compare to the joy of having the whole family, from bubbly young kids to wise older adults, come together to explore, bond, and create everlasting memories. Let's wrap up our journey with some concluding thoughts on this beautiful travel trend.
The Beauty of Togetherness
The essence of multigenerational travel lies in togetherness. It's the perfect place and time where several generations come together, from sharing good food to exciting adventures. It's the laughter of younger children mingling with the stories of older family members that make these vacations truly special.
Embracing Diversity
Every family trip brings with it the diversity of age groups, preferences, and interests. Embrace it! The beauty lies in finding common ground, where adrenaline junkies can find their thrill while others soak in the serenity.
Memories Over Material
In today's fast-paced world, multigenerational family vacations serve as a reminder of what truly matters. Beyond the scenic drive or the theme parks, it's the shared moments, the group photos, the late-night chats, and the joint discoveries that stay etched in our hearts.
The Joy of Rediscovery
Seeing the world through the eyes of different age groups is a unique experience. It's not just about younger generations experiencing things for the first time but also about the older generation reliving their youth and discovering new aspects of familiar places.
Preparing for Future Adventures
Each trip lays the foundation for future ones. With every successful vacation, you become more attuned to the needs of your family, making the next outing even better. And hey, with years of travel restrictions in the past, there's no better way to reconnect than to plan the next great adventure!
Value Every Moment
Multigenerational family vacations are less about the destination and more about the journey. Whether it's a short drive to a nearby state park or an expedition to far-flung destinations, cherish every moment. It's these memories, after all, that weave the fabric of our family's story.
As we wrap up, always remember that travel isn't just about seeing new places but also about experiencing them with those we love. Here's to many more multigenerational family vacations, filled with love, laughter, and exploration! Safe travels!
FAQ: Multigenerational Family Vacations